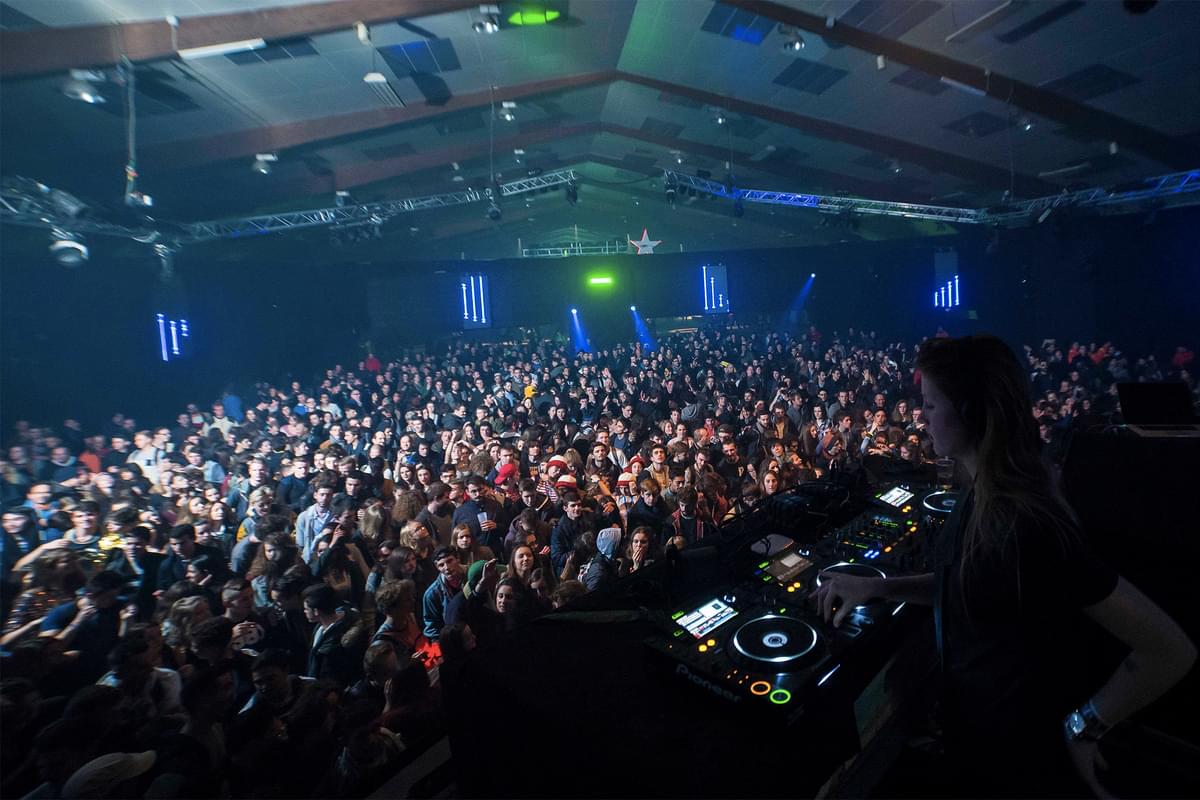 Recontres TransMusicales De Rennes: Festivals as cultural ecosystems
16 December 2015, 15:00
Robbie Wojciechowski heads to France to visit Recontres TransMusicales De Rennes - a festival that began as a form of student rebellion and ended up re-imagining the story of a small French city.
As we pass through France – through the Euro tunnels, through Calais, on towards Paris, past the media hotspots and outwards towards the Eastern coastline – the panic and anger of the last few weeks of devastation in France slips away. People aren't dwelling on what's happened here. They're moving forward, and getting on with their everyday lives.
It's community, music, liberty and fraternity that are bringing people together again - the foundations of French identity swinging firmly back into motion. And what better example of this than Recontres TransMusicales, Brittany's own new music festival, that brings bands from all over the world to Rennes, a dainty not-often-thought-of French city, giving it it's own place on the country's musical map.
Started by maverick French promoter, Jean-Louis Broassard, 37 years ago - the festival began as a reaction against the Paris-centric conviviality of France's music scene. Born out an anarchistic spirit – at the heart of TransMusicales is an ide to reverse the status quo. Pulling the foundations away from the Paris-focused egocentricity of the 70's French music scene, Jean-Louis became inspired by the gigs he'd been to elsewhere in Europe. It was seeing bands like The Clash that gave him the power and ideas – to build a local music scene, one step at a time.
In the mid-70's, Jean-Louis was just a medical student at the university. Working alongside friends running local nights, for him it became about building a local-minded focus towards putting on good music. From there things scaled up and soon him and his friends were planning a two-day festival that would let him bring bands over from the rest of Europe. Back in those early days, Jean-Louis and his friends set four rules:
The festival's booking must reflect the reality of musical life.
It must showcase emerging artists.
It must promote artistic originality.
Brew the necessary conditions for this experimentation to happen.
Proudly – the festival still follows these rules today. Whilst the music scene has changed, so to has the fluidity of Jean-Louis bookings, as he picks an eclectic selection of unheard of artists, as he curates every year's festival.
Hidden in this city, are little enclaves, pockets of music – that prove the heart and fire of this small city is very much alive.
This year the bill spans everything from Californian black metal, to British indie pop, North African-inspired jam music, and Thai punk rock. And yet somehow, as a line-up they all fit together. Passing between all these bands feels like no tough chore, instead, a welcome distance from seeing the same touring bands that occupy British festival line-ups every summer.
In pure facts – the festival takes place over 25 venues (12 of them concert halls), with two festival sites, 86 acts, and over 10,000 music fans. Located partly in the city of Rennes, and partly in a series of aircraft hangers a 20-minute bus ride away, there's a real split in energies. The former see's the festival takes over non-traditional venues across the city, including the Champs Libre, where the festival hosts conferencing and afternoon music. At the latter, lies a custom-built site across nine aircraft hangers, each one a space crafted to perfection. There's spectacular clubbing space complete with 30-foot high screens, a darker second space for grittier raving, two giant gig venues that could match Alexandra Palace for size, and social areas for VIPs, eating, downtime and networking.
The smallest of these venues, probably has space for upwards of 1500-2000+ people, and in that sense, TransMusicales, can feel incredibly far removed from reality. On first entering the hangers, it's difficult to feel like you haven't just walked into a festival at the Excel Centre, the sheeted metal feel that incarcerates each of the spaces can become almost overwhelming just in it's sheer size. Venues become time warps, where nights slip away without you even noticing. On so many occasions were we skewed by the fact it was rushing towards 5am, and yet we'd only watched ¾ bands. In a way, it reflects the fact that each venue is like it's own scattered world, with a singular and individual feel.
For a town like Rennes, a sleepy, french city that's seemingly split by it's two vibes – Trans Musicales acts as the perfect disturbance.
It's hard to predict what will be successful here – I imagine the huge hangers don't fill many new bands with great confidence. In Hall 3, the second gig venue, the sheer size of the space means that some bands work while others fall flat. Who will work is entirely unpredictable – just as we find out when we go to see Khun Narin's Electric Phin Band – a Thai rock band who's marrying of traditional Thai music and upbeat punk rock turn the dense space into a playground. The scene is one of an audience swirling their arms wildly, others spinning across the sheer mountain of space.
In a whole different way, we're blessed with this same of kind of intense and almost indescribable energy on our first night, in the form of California-based Queen Kwong [above]. Whilst front-lady Carré Callaway seems to spend the whole show in an incredible rage over troubles with the lights, for the audience it's her rage that pulls the intensity inward. As she paces from side to side, lurching forward every now and then to shout down the mic, it's hard not feel overly absorbed. By the end, a thousand music fans are throwing their firsts the air, their eyes still firmly fixed on Callaway.
On the French side of things, we find ourselves watching some incredibly promising material. Her are early favourites – a duo who's catchy soul music works perfectly in the space. The size and grandeur is there, and while lyrically, it's not all that, the vibe and energy they push in Hall 3 on Thursday evening is sure of a promising future. They're one of a few local success stories here, and will be sure to be a band promised bigger things, their own breed of powerful soul captivating the thousands down below them watching. Meeting them after in the VIP area, they're followed by an entourage of teenage girls looking for autographs.
Another of the impressive French offerings over the weekend is the 3Some Sisters, a contemporary drag group whose layered harmonies are almost operatic in formation. It's music that couldn't be booked anywhere else – but here, in these huge aircraft hangers, it just seems to work. There's cabaret and theatre to what they do. And in Britain I fear, the same thing would only find an audience in a small drag orientated club somewhere in the darker corners of Glastonbury, but here it works perfectly, with the French getting behind it on masse.
There's a feel here that something radical is happening here, something radical that's been going on for years now. In many ways, you wouldn't find yourself far from the mark, comparing it to the likes of Studio 54. In a whole other way, it's closest perhaps to the energy of The Warehouse Project in Manchester. Articulate and clever booking, paired with incredible spaces to see music, and large and varied audiences make TransMusicales prominent and important.
For a town like Rennes, a sleepy, french city that's seemingly split by it's two vibes – Trans Musicales acts as the perfect disturbance. Just like it's old partner festival, Bar En Trans, which takes over pre-existing venues across the city, it reflects the slightly younger, punkier energy of the town. I imagine Rennes pioneering modernist architect Georges Maillols, the architect behind the inspiring re-imagination of Rennes' buildings – would be proud. Just as Georges was inspired to find new way of living in a traditional city, in great modernist housing structures that wouldn't be unfamiliar in a Jacques Tati film, there's that same slightly edgy ideas at the backbone of TransMuscicales too.
In a way we don't quite have in Britain, at least not without it being swamped by industry, Trans Musicales offers an array of spectacular new material, and a space that helps exemplify it. It gives everyday people access to things first. It's perhaps the impact of that that makes founder, Jean-Louis Broassard's ethos so effective.
There's a feel here that something radical is happening here, something radical that's been going on for years now.
You can return from Trans Musicales with a list of new bands you would've never otherwise come across. Included in that are the likes of sure-for-success math-rock inspired Totorro, North-African electro gods Imarhan, and Erased-Tapes signee Rival Consoles.
At Bar En Trans, the venue-orientated brother to Trans Musicales, the same ideas are implicit. Bars mean intimate fun, but with such interesting influences culminating in a wealth of different ideas in French music, you can experience a whole wealth of material in just one venue. A highlight is the textually beautiful Midnight Ravers, whose simple soulful music is hugely inspired by Malayan music tradition. It's at their acoustic roots where they're best, harmonising a rowdy bar of French locals. Fever is tight pitched for Bar En Trans, and the city is booming with faces young and old out to enjoy some music. Hidden in this city, are little enclaves, pockets of music – that prove the heart and fire of this small city is very much alive.
The niche these festivals put across as perhaps part of the source of there success. In Britain, many ventures like this would be forced towards closure due to lack of ticket sales, but here a vivid interest in the music keeps things going. And that's nice when you consider the project started out as a form of student rebellion into re-imagining the story of a small French city. As Jean-Louis says, festivals should be cultural ecosystems – producing and both affected by their local area, changing with it, but ultimately – it's the immediate population that are your fan base, and working with them is key to success.
The next Recontres TransMusicales De Rennes runs in early December 2016. Find out more at
lestrans.com
.
Get the Best Fit take on the week in music direct to your inbox every Friday