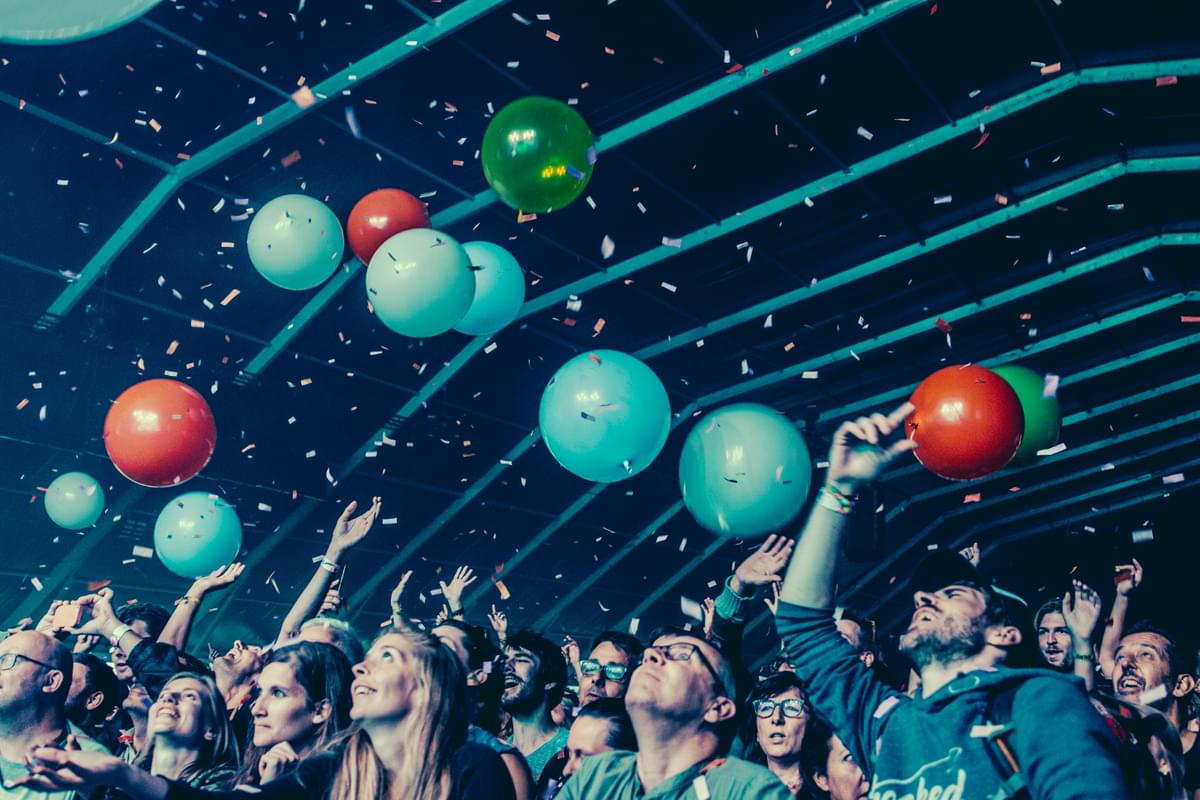 Big names and new faces at Pukkelpop 2017
24 August 2017, 12:50
One of the biggest festivals in Europe, with a daily attendance of over 60,000, Pukkelpop welcomes about 200 acts on eight stages over four days each year.
Established in 1985, it can pride itself on having hosted Nirvana a month before the release of 'Nevermind', as well as legendary names like Beastie Boys, Nick Cave & the Bad Seeds, Public Enemy, Iggy Pop, Sonic Youth, Björk, Pixies, Eminem, Daft Punk and more throughout the decades. It is also unfortunately known for the tragic death of the lead singer of synth pop band Ou Est Le Swimming Pool, who committed suicide on the festival grounds in 2010. But don't let that put you off, Pukkelpop is more importantly a place where tens of thousands of people from all over the world gather to hear the music they love and party hard. Cheesy, but true.
The headliners
Headliners this year included The xx, Solange, Editors, BadBadNotGood, Tove Lo, Mura Masa, Bastille, London Grammar, Mumford and Sons and Vince Staples amongst others. Dance music heavyweights like Richie Hawtin, Ben Klock, Maceo Plex, Dave Clarke and local favourites such as Belgian drum and bass duo James Marvel & MC Mota kept the party going in the Boiler Room tent (no affiliation to the London-born platform) throughout the weekend.
How does it work?
Pukkelpop Festival's catch phrase is "Welcome Home", and it does have everything you need to feel at home, if your home is an extravagant music themed amusement park that is. Each of the eight stages offers a different experience, from the gigantic outdoor Main Stage, to the medium-sized Marquee tent, to smaller stages Club, Castello and Lift dedicated to new talent and finally to the massive, half-covered Dance Hall and Boiler Room dance-floors. The smallest of the official stages, the Booth, is a hidden club-style space where you can hear sets by the best upcoming DJs from Belgium and around. Alongside the main shows, there are dozens of alternative parties, shacks and areas to discover, from a barber in a container to the Dutch-themed foam party hub Petit Bazar, secret sessions in a bus to a Think Tank tent.
Getting around
The festival site is pretty big, so expect to walk a lot. There are lockers available, they are fairly pricey (€7 for a day, €20 for the whole festival) but can be life-saving. There are a few phone charging points, but if you really want to stay connected, portable phone chargers are the way to go; it's easy to find compact ones online for cheap. The festival app is very useful to find your way around the site and the schedule, and to discover everything there is to do at Pukkelpop, which is a lot.
Eating and drinking
You will find every kind of street food under the sun at Pukkelpop, most of it the same as you'd find anywhere, plus a few Belgian specialities. Waffles of course, but also the lesser-known stoofvlees, a kind of beef stew served on chips. Like a Belgian version of the Quebecois dish Poutine. Go explore Food Wood, a lovely stretch of grass with lots of food trucks and a street party vibe.
The festival operates a tokens system, and to pay for food and drink you will first need to exchange money (cash or card) for paper tokens. One token equals €3. Most food items cost 3 or 4 tickets, so between €9 and €12; a half pint of beer costs 1 token. The beer served at all stalls is the Belgian pils Maes, but a few spots serve Mort Subite Kriek, a delicious, dark-red fruit beer made with Belgian morello cherries. Despite what its name would suggest – Mort Subite is French for "instant death" – this Lambic-style beer is fairly light, with an alcohol content of 4.5%.
How do I get to Pukkelpop?
The festival site is situated in Kiewit, a village near the city of Hasselt, about 50 miles east of Brussels. A train line connects Brussels to Hasselt and Kiewit, and amazingly your festival ticket entitles you to a free e-train return ticket! Kiewit station is within walking distance of the festival site, and a free shuttle bus connects Hasselt station to the festival. To get to Brussels from London, you can fly but the easiest option is still the Eurostar. The train journey takes only 2 hours, less than to go to Paris!
Where can I stay during Pukkelpop?
The vast majority of festival-goers stay at one of the campsites surrounding the festival, Camping Chill, Camping Relax or Camping Relax+. Campsites are located next to the festival site, a short walk or shuttle ride away from the stages. They offer basic amenities and even activities like yoga or badminton. But if you want extra comfort you can choose to stay in one of the hotels in Hasselt, and use the free shuttle bus from Hasselt station to the festival.
What We Saw
Amelie Lens
Hailing from Antwerp, Amelie Lens (above) is one of the most exciting newcomers on the techno scene, and seeing her in her home country felt revelatory. Her grandmother was present to witness her granddaughter on the decks for the first time and could be seen fist pumping on the side of the stage. Lens' hard-hitting, spacious techno brought on an electric atmosphere to the enormous Boiler Room tent, and her well-timed cycles of acid breakdowns, crescendos and drops sent the crowd into a frenzy time after time throughout her hour-and-a-half set.
Nicolas Jaar
On record, Nicolas Jaar sits at the intellectual, atmospheric end of the electronic music spectrum. His live show, however, puts cerebral minimalism and political considerations aside in favour of an unadulterated dance music experience. The very slow build-up could discourage the less patient members of the public, but the wait is absolutely worth it. Starting off with ominous drone sounds, Jaar takes his time to introduce the bass and finally his low, speak-singing voice. With the overly serious, slightly crazed expression of a mad scientist, he twiddles knobs and actions drum pads until the floor bounces with the weight of thousands of people moving to the pulse of his layered soundscapes.
Petit Biscuit
Petit Biscuit, a.k.a. Mehdi Benjelloun, is the French whiz kid who, at only 17 years old, has already racked up 205 million Spotify plays for his track 'Sunset Lover' and sold out his first ever US tour. His dreamy, rhythmic instrumentals combine swirly guitar lines, chopped-up vocal samples and impactful beats, and seem to take as much inspiration from French electronic artists like Air or fellow-wunderkind Madeon as from the English downtempo bass music of Mount Kimbie, Bonobo and Gold Panda. Coming across as a fairly shy teenager in interviews, he looks very much in his element when performing to audiences of thousands, and brings his sparse, soft productions to life in a euphoric, dancefloor-oriented live show.
ABRA
ABRA (above) followed Mykki Blanco on the Castello stage early on Thursday afternoon and both brought a consequential amount of sass to this Belgian field. The Atlanta singer and producer performed her laid-back yet punchy R&B songs clad in a tight-fitting full body leotard, her long sleek hair flowing behind her, blown by an invisible fan. The beats shone through on the high-quality sound system and her voice became more affirmed and emotive as the show unfolded. Her stage presence, hovering between giddy enthusiasm and diva-ish poise, brought to mind Grimes as much as it did Rihanna. She closed with her hit 'Fruit' and hearing the whole audience sing the entire first chorus loud and clear was an impressive token of her popularity. Accompanying her on stage was DJ Zora Jones, an artist in her own right who created a boundary-pushing audio-visual interactive platform, 'Fractal Fantasy', worth checking out.
Clark
Warp Records' Clark, real name Chris Clark, is not to be confused with fellow techno-master Dave Clarke, also on the line-up at this edition of Pukkelpop. Part banging techno set, part sound art experiment, Clark's show was sonically epic as well as visually compelling. Alternating between hard-hitting techno surges and moments of spaced-out melodic piano samples and high-pitched bleeps, the show was made complete by two energetic dancers in minimal, eccentric costumes, their faces covered by masks or back-to-front wigs, flanked by two blocks of flashing LEDs. A feast for the ears, eyes and body.
Our festival survial tips for Pukkelpop 2018
Pukkelpop has a track record of storms, but don't let that put you off, just pack rain-proof clothes and sturdy, waterproof shoes to conquer any potential mud. Good to know as well, folding umbrellas are allowed on site, a rare exception at festivals. That being said, sunshine is very much on the cards (it's still August after all!) and even a grey sky can be blindingly bright, so pack sunglasses too.
The sound is well-balanced enough that you won't need earplugs for most of the festival, but it's good to have them for gigs in the smaller tents, where the bass levels can be body-shattering.
If you're not familiar with the Belgian music tastes, it can be hard to predict the levels of popularity of the various acts so I'd recommend arriving in good time to catch your favourites. Guernsey producer Mura Masa's set was so popular it was impossible to squeeze an elbow into the Dance Hall tent!
Get the Best Fit take on the week in music direct to your inbox every Friday