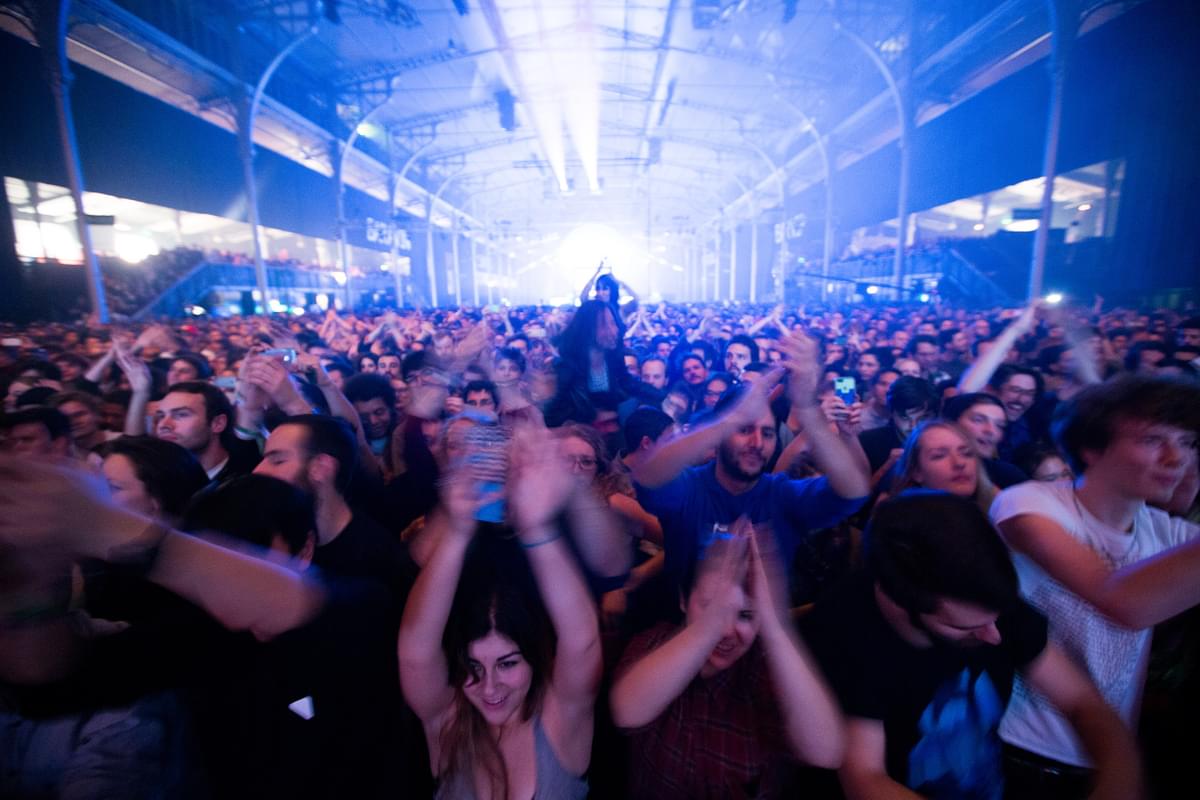 French artists lead the vanguard at Pitchfork Paris
14 November 2018, 10:48
In the middle of Paris' glorious Parc de Vilette stands a stern looking steel structure; as bold as it is beautiful, it's at the centre of Paris' thriving creative culture.
Formerly an abattoir, the Grande Halle de la Vilette plays host to some of Paris' ground breaking events and this weekend was no exception. For this weekend, Pitchfork ditched their Chicago home and brought their legendary music festival to Paris' warehouse district.
With two stages set at opposite ends of the venue, the festival stuck to a regimental schedule: as one band finished another began. Cola Boyy kicked off the proceedings with his disruptive brand of disco before seamlessly segueing into Rolling Blackouts Coastal Fever's set of jangly post-punk. Starting as they meant to go on, Rolling Blackouts merged woven melodies with the maniacal opting for an early stage dive and emerging as a highlight of the festival. Hotly tipped newcomer Yellow Days' south London soul was a welcome break while John Maus' energized electronica was brilliant. Following the tragic death of his bandmate and brother, Maus' set felt especially impactful with every beat accentuated by his fast fist pumping and soaring vocals.
"You have to see Étienne Daho" was a commonplace comment heard around the venue on Thursday night and, framed by neon lights, the French veteran strutted around the stage to the sound of screams. Daho is somewhat of a French national treasure and - taking visual advice from The 1975 - this performance was a lesson in showmanship. From one veteran to the next, Julian Casablancas + The Voidz took to the stage. Fifteen years ago, with his inimitable growl, Casablancas crafted his own unique space within the indie-rock scene; however, tonight's show is more synth pop meets The Strokes and left us yearning for at least one nod to his former band.
However, Thursday night was all about headliner Mac Demarco. Opening with woozy "On The Level", it's clear that not only has his sound matured but the artist himself. Following relentless touring and album cycles, Mac played a streamlined set. "This Old Dog" was sickly sweet", "Rock and Roll Nightclub" was a call to arms while "My Kind Of Woman" was an amalgamation of both. It's clear that Mac is loved internationally and, truly, "Still Together" remains one of the greatest closing songs to date. Hitting the high notes, and squeezing in a few Misfits covers, Mac's set was almost predictable yet that didn't make it any less enjoyable.
If you dared to go down to the woods on Thursday, you'd be sure to find a great surprise. With a wealth of music at their fingertips, Pitchfork programmed an incredible line up and the afterparties at The Trabendo were second to none. Having released one of the best albums of the year, Yves Tumor was extraordinary. With little stage production Tumor created a compelling, no-frills show balanced by brilliant lyricism. Drawing in a huge crowd, it was a shame that he didn't make it to the main event.
Following the release of debut album Devotion, there was an air of excitement surrounding Tirzah. Opening the proceedings on Friday night, her understated electronica eased us in to the second night. In a live setting Tirzah's disjointed beats and silky vocals were at times a wash but, pop punks Dream Wife were quick to disturb the balance. Frontwoman Rakel Mjöll's incomparable energy lifted the slightly sedate crowd and thrust us into killer performances from French artist Lewisofman and the ever touring Car Seat Headrest. However, it was French band Bagarre that really stole the show in the first half; their cult-like presence and industrial sounds sent the crowd into much-needed frenzy.
With a newly renewed sense of excitement, it was CHVRCHES' turn to take centre stage. Having largely spent their time touring in America, their return to Paris was eagerly awaited and pure pop perfection. "We Sink" was an emotionally intelligent banger while "The Mother We Share" welcomed incredible crowd karaoke.
Dev Hynes has been at the forefront of underground music for the past decade and we've seen him perform in many different guises. Be it as producer or performer, Hynes has always known how to strike a chord and this performance as Blood Orange was fantastic. Switching between piano and guitar, and supported by an extensive live band, "Champagne Coast's" moreish hook rung out around the venue while "You're Not Good Enough" was driven and dancey. Forever oozing charisma, Blood Orange's set was cool and confident.
Finally, Kaytranada took to the decks to send us off in to the night. Having worked with Robert Glasper, Anderson .Paak and many more, it's easy assume that he has impeccable taste. Set against animated visuals Kaytranada combed his way through a 2-hour set of deep house, spinning through some of his greatest hits and unreleased cuts. Despite being billed as a live set, Kaytranada proved to be a breath of fresh air and a set for the crate diggers we all hold within.
From the word 'go' Pitchfork have been at the forefront of new music discovery, championing underground artists and avant-garde extraordinaires. On its final day, artists like Muddy Monk and Snail Mail were the epitome of its ethos. Guitar hero and original trailblazer Stephen Malkmus had an almost boyish charm - despite almost 30 years of experience - as he skittishly strode across the stage much to the crowd's appreciation. Off to a slow start, Unknown Mortal Orchestra's psychedelic R&B really hit home on old album tracks and closing song "I Can't Keep Checking My Phone" is a certified festival hit.
Justin Vernon has become an elusive yet important presence in the ever-changing music industry; a frequent collaborator with Kanye - and questionably Eminem - this performance was lead with intrigue. Set against a decaying stage, Vernon's Bon Iver harnessed raw emotion with an added new age feel. Older cuts felt fresh with added synthetic elements while newer cuts were widened with acoustic arrangements. Vernon is a master of melody and songs like "Heavenly Father" were pitch perfect and showcased his bellowing baritone as well as his faultless falsetto. With a fantastic band in tow, duelling drummers and distorted synths added inimitable textures as the set ebbed and flowed through the experimental and the emotional. As the set came to a close we're encouraged by Vernon to 'make each other feel safe' and its impossible not to be overcome by his everlasting emotion. Feeling a little fragile Jeremy Underground, Peggy Gou and Daniel Avery picked up the pieces and closed the proceedings.
Over the past twenty years, Pitchfork has become one of the giants at the forefront of new music discovery. Starting as an online magazine and gradually becoming a music media powerhouse, this year's festival celebrated both established and unknown artists. Bigger artists such as Blood Orange and Bon Iver can easily be seen on British soil however it's the lesser-known French acts that deserve real credit; it was refreshing to see bands like Bagarre and Étienne Daho wrapped up in the enthusiasm of their home crowd. With French artists like Christine and The Queens topping the charts it's clear that this nation's cultural underground has a great deal to offer; last weekend at Pitchfork Music Festival I saw that there's plenty more to come.
Get the Best Fit take on the week in music direct to your inbox every Friday