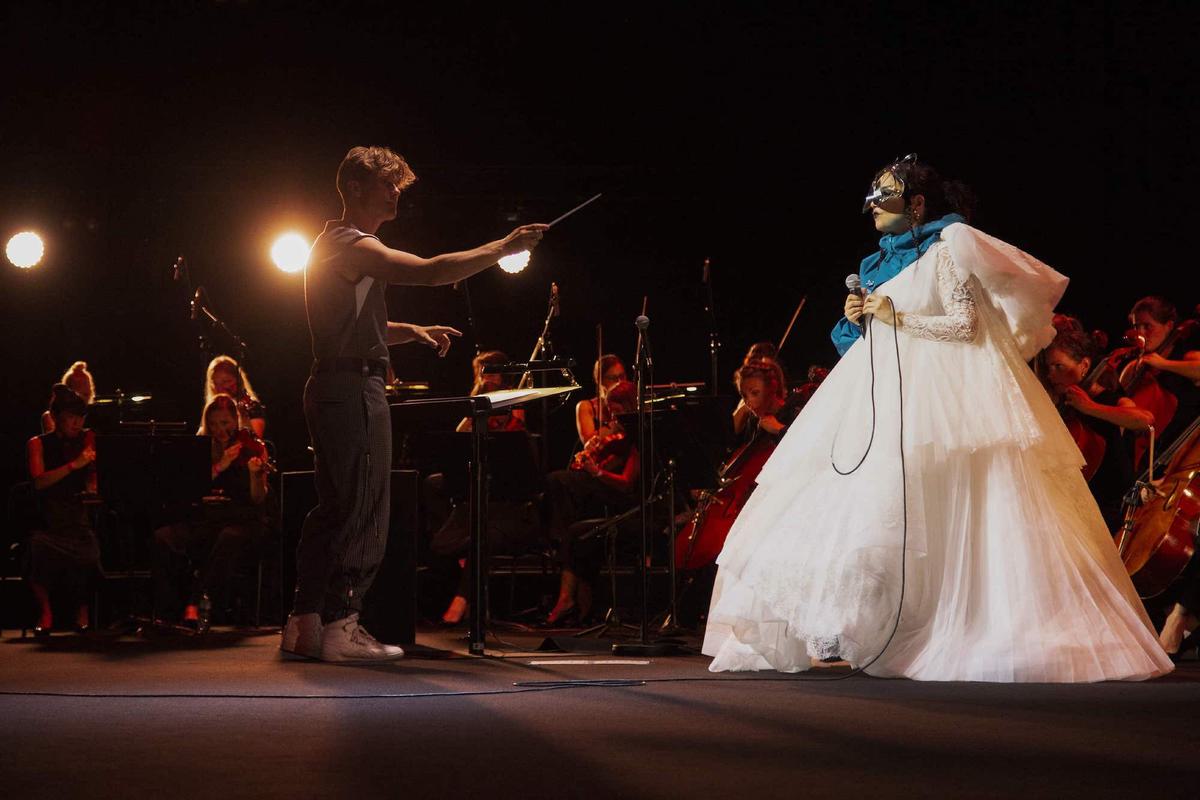 Education, entertainment and sonic perfection are at the heart of Montreux Jazz Festival
05 July 2022, 09:00
Montreux's colour palette feels instantly familiar the moment you step off the train. It's a city painted with the same washed out, pleasantly garish shades that Wes Anderson is so fond of.
Bursts of stacked balconies, distant chateaus and grand hotels with their Belle Époque-signage are scattered down the forested incline, which lines one side of this neat and compact town. On the other side is Lake Geneva – an expanse of blue, crystal water so pretty it's almost too much to process – and beyond that, France.
As the home to a legendary jazz festival, Montreux isn't what you expect. It's very different to its distant jazz-obsessed cousin Montreal, which is held in city that sustains a population of almost two million; Montreux has less than 30,000. The Riviera is a sleepy, relatively isolated region that feels shut off from the rest of Europe, gated by mountain peaks and terraced vineyards.
Despite Switzerland's wealth, this also isn't a town dominated by the rich and the yearly jazz festival is a more egalitarian affair than one might expect. There are only two ticketed stages at the event, with 11 more showcasing hundreds of artists for free and an impeccable line-up that gives Primavera and Glastonbury a run for its money. This edition finds Anitta, Mitski, Tinashe, Arlo Parks, The Smile, Marc Rebillet and Phoebe Bridgers sitting comfortably alongside the likes of Gregory Porter, Theon Cross, Melody Gardot and the legendary Herbie Hancock, making his thirtieth appearance at the festival.
Diana Ross is here fresh from her Glastonbury legends slot, while Goldlink, Stormzy, Fred Again and Loyle Carner are playing the festival's second stage – the 2000-capacity Jazz Lab in the basement of the Montreux Musique & Convention Centre, the festival's base and a pleasing cross between London's Royal Festival Hall and the Centre Pompidou in Paris.
Montreux has always been curatorially sharp, ever since Quincy Jones had a hand in expanding the festival back in the early 90 but the real joy here is seeing performances that could actually be career-bests. Everything is being filmed and recorded for the festival's archives which currently comprise over 17,000 hours of audio and video. Among its library there are some legendary sets from the likes of David Bowie, New Order and Talk Talk.
The opening weekend of Montreux is marked by two of modern music's greatest figures: Nick Cave and Björk. It's not the first time Montreux has hosted the Nick Cave and the Bad Seeds. Cave and the gang played the same room here five years back – but this year they perform every single song like it's the closing shot on the Pyramid stage at Glastonbury. A Bad Seeds show is rarely a misfire: Warren Ellis is the most Warren Ellis I've ever seen him while Cave leans even harder into the gruff-but-kind preacher, baptising the audience with hands on skulls and a joyous back-and-forth between songs.
Five songs in and almost an hour has passed; when they finish on "Ghosteen Speaks" it's another ninety minutes later and there's fans muttering that it's among the best shows they've ever seen from the band. More than that, it's a sonically perfect performance too. The exceptional acoustics of the 4000-capacity Auditorium Stravinski have been the subject of several thesis and hearing music in this this space might just be enough to erase the memory of a thousand shitty venues.
Quite significantly, the Festival's also added a new building this year, comprising eight rooms over a stately-three floor property. The Lake House is part nightclub, part library, part arts-centre and offers a programme that compliments the festival's history as much as its present. Didn't get tickets for the Nick Cave show? You can come here and check out a reading of his 2009 novel The Death of Bunny Munro or lose yourself in a full evening of screenings devoted to Cave. As well as the obvious choices – 2014's incredible 20,000 Days on Earth, and Uli M Schueppel's The Road To God Knows Where, which follows the Bad Seeds on tour in 1989 – there's Wim Wenders' Wings of Desire, where Cave is both a symbolic inspiration and actual presence in the movie.
Elsewhere in the Lake House, it's an Aladdin's cave for anyone who loves music: a hidden room houses a pool table, jukebox and Beatles pinball machine. You can try out one of the most expensive record players in the world – a bargain at 170,000 dollars - with a library of over 300 vinyl recordings from Montreux's history. The festival have also assembled the largest single collection of books on jazz and contemporary music in the country, and each day journalists, writers, producers, musicians and actors from the world of music and culture stop by to shed light on a book or album.
The building also houses The Memphis, a low-key lit theatre styled after a New York jazz club. Late into the night, the venue hosts performances from across the world of jazz – an escape for the purists who might find Ashikko, Self Esteem or Måneskin a bit too abrasive for their taste. There's also. whispers of secret after hours collaborations at The Memphis; Lizzo and Jon Batiste jammed together here back in 2019.
There's also La Loggia, a studio where I encounter Detroit techno legend Carl Craig guesting on a recording of the festival's daily podcast "Jazz Is…" Gilles Peterson, Gregory Porter, Marc Rebillet, Don Letts and Patrick Watson will also feature on episodes across the next two weeks.
Björk's set closes the first weekend of Montreux and is another crowning moment for the Icelandic legend, 24 years after she last played here, supporting the release of Homogenic. That record remains a centrepiece of tonight's set but it's a very different artist who takes the stage for this stop on the Orkestral tour. Back then she was emerging from the shadow of Britpop and still finding her feet as an artist beyond the wildly inaccurate 90s indie poster girl image the media had given year. Over two decades later, she continues to lead avant-garde pop with shows that centre on innovation and reinterpretation.
The Orkestal tour always felt like an inevitability, bringing together her love of acoustic purity and expansive arrangements with local talent. Tonight she's joined by the Sinfonietta de Lausanne – ten violins, ten violas, ten cellos and two double basses – a collaboration that feels very fitting for Montreux, which itself supports Swiss talent throughout the line-up. The Sinfonietta's worked here before – with the likes of Gilberto Gil and Woodkid - but Björk has her own conductor for this tour, fellow Icelander Bjarni Frimann Bjarnason.
Her set is a near perfect synthesis of sound and back catalogue, with only a few misfires (two selections from Selmasongs feel redundant, especially "I've Seen It All" which – Thom Yorke-less – suffers without an additional voice). Deconstructing the techno production from her Mark Bell-collaboration "Pluto" to close out things is a genius move though. The original recording's primal electronica is transformed into a chaotic urgency that's a jarring reminder of Björk's ability to fuck with our heads as much as our hearts.
Montreux Jazz Festival continues through to 16 July with headline sets from John Legend, Robert Plant & Alison Krauss, Woodkid and more