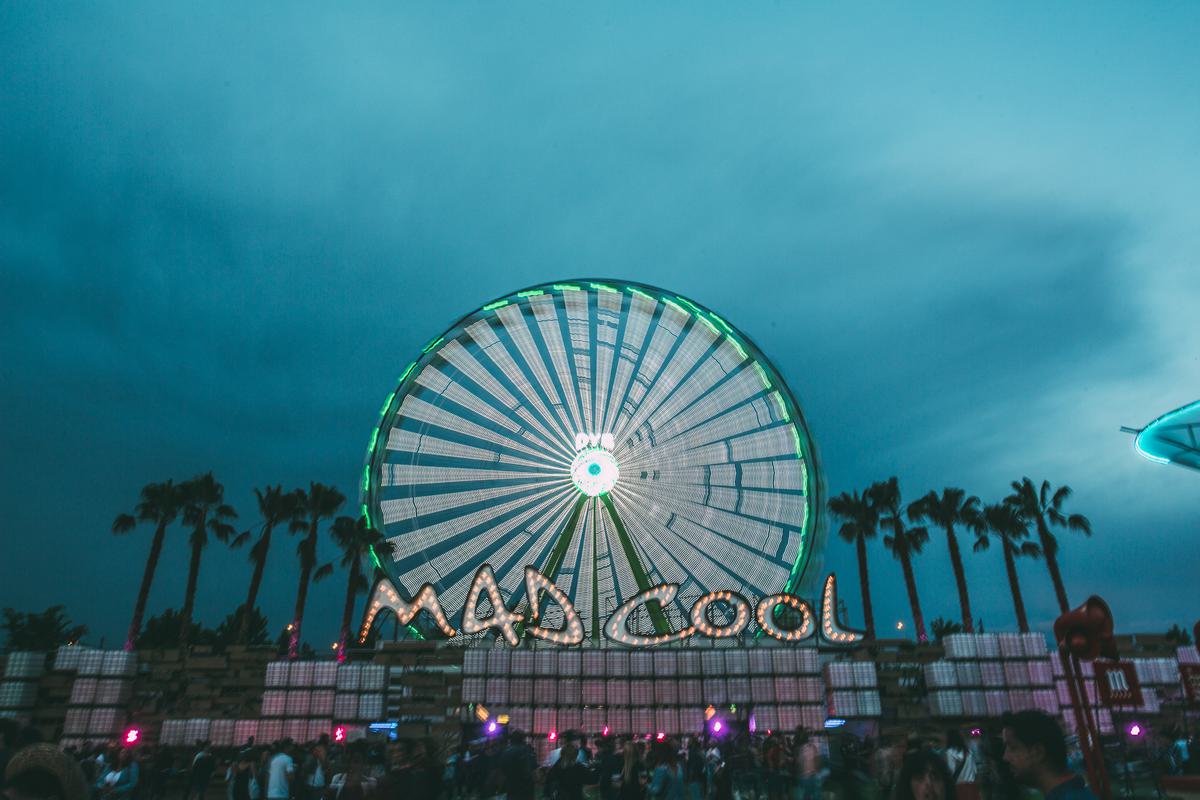 Madrid's Mad Cool show boundless ambition
12 July 2017, 12:08
In just two short years, Madrid's Mad Cool has firmly established itself as one of Europe's leading festivals - giving Barcelona rival Primavera a run for its money in the process.
Ballsy. That's the best way of describing Mad Cool. With all of the financial risks associated with setting up a festival from scratch, you can't knock its boundless ambition. After all, what other festival could get away with booking the likes of Neil Young and The Who in its first year, only to follow in 2017 with a bold, eclectic and mouth-watering line-up of global superstars (Foo Fighters, Green Day, Kings Of Leon), cult icons (Ryan Adams, Wilco, M.I.A), future stars (Anna Of The North) and electronic heavyweights (Trentemøller, Moderat, Floating Points).
Taking place across five stages and hosting a sizeable 45,000 across its three-day duration, Mad Cool is situated at Caja Mágica in the south of Madrid - a short 15 minute commute from the city's heart. The ideal destination for those seeking a city break with its daily 7pm kick-off time benefiting from both the cooling evening temperatures and the chance to explore Madrid in all of its beautiful day time glory.
How do I get to Mad Cool?
You can fly direct to Madrid–Barajas Airport from most cities in Europe, and a quick search on Skyscanner or any online travel agency will let you know the cheapest flight options. The airport has Metro stations in Terminals 2 and 4 with trains leaving every 5 minutes from 6.00am to 2.00am. Line 8 goes straight to the Nuevos Ministerios Metro station in the centre of Madrid, with a journey time of just 12 minutes.
The festival site itself - Caja Mágica - is just a short 15 minute hop from the city centre. For just €2, you can take Metro line 3 to station 'San Fermín - Orcasur' or alternatively you can book a taxi using the Cabify app, which will cost you around €15-20 and drop you off directly at the festival's entrance. Mad Cool also offer a shuttle bus service that runs regulary through the night into the city centre from just €6.
What kind of music fan is Mad Cool aimed at?
Everyone. One of the most appealing things about Mad Cool is the diversity of its audience. Due to the eclectic, far-reaching line-up - from pop to metal to dance and everything inbetween - you'll come across all kinds of music fans on your travels around the site. It's an all-ages festival too, and ridiculously friendly, so families can bring their little ones with zero stress or worry - though it might be wise to leave the festival site once the main stage headliners have performed as the site transforms itself into an all-night dance party that continues into the small hours.
Eating and drinking at Mad Cool
For those used to the astronomical prices of beverages at UK based festivals, one of the first things you'll notice about Mad Cool is how cheap everything is. €4 will buy you a large beer, whilst wine is a snip at €2. For a refreshing tipple, why not try a traditional Kalimotxo - a drink consisting of equal parts red wine and coke (it's a lot nicer than it sounds, trust us). With all that alcohol in your system, you'll need to soak it up with some grub and Mad Cool is afflux with fantastic vendors offering every delicacy under the sun. Don't expect to pay anymore than €7 for a slap-up meal.
The tourism thing
Nocturnal festivals not only benefit from avoiding the afternoon sun (which in Madrid can easily rocket to highs of 35℃), they also allow you to explore the city's cultural delights. A visit to the Thyssen-Bornemisza Museum offers a fascinating array of art from Pollock to Hockney, Monet to Van Gough and is located in the city's "Golden Triangle of Art", which also includes the Prado and the Reina Sofia national galleries. If the previous night's hangover is all a bit too much, why not chill out in the glorious surroundings of The Royal Botanical Garden; an eight hectare botanical garden located at Murillo Square. Those searching for a bargain can head to the El Rastro Market. Open on Sunday's and public holidays (9am - 3pm), the open air flea is a curious place filled with bartering locals selling an infinite array of trinkets, treasures and tat in equal measure.
Food and drink in Madrid
A visit to Madrid (or Spain, in general) wouldn't be complete without sampling some tapas and where better than Azotea, located inside the Círculo de Bellas Artes - a rooftop bar and restaurant that offers stunning 360 degree views of the city and mouth watering food. Sample its vast and ever-changing menu of sharing plates, then sleep it off with an hour or two relaxing on one of the many sun loungers. La Bola offers a more traditional take on Spanish cuisine; its signature 'cocido Madrileño' (a chickpea based stew prepared with meat and vegetables) would test even the hungriest of appetites; whilst a pit stop at the historic Taberna Ángel Sierra is the perfect spot to sip on some vermouth - or local beer - served straight from the tap. Meanwhile, Pez Tortilla is the perfect spot to grab an early evening drink and a nibble on one of the fifteen varieties of traditional Spanish croqueta and tortilla on offer.
Where to stay?
Madrid remains an incredibly cheap place to visit, and if on a budget, a quick search on AirBnb will result in rooms from as little as £15 per night whilst the average cost of private accomodation comes in at a very reasonable £45 per night. For those looking for a little more luxury, you could do worse than staying at the Hotel Silken Puerta América. It's a fascintating place where each floor has been created by an array of iconic architects and designers including Norman Foster, Jean Nouvel and Zaha Hadid. Ever fancied staying in a room that depicts that of the Hotline Bling video? Now's your chance.
Who played in 2017?
Headliners Foo Fighters, Green Day and Kings Of Leon may have brought in droves by the thousands, but it was the festival's undercard acts that really made Mad Cool stand out. Thursday saw George Ezra induce the weekend's first sing-along moment; Warpaint soundtracked the sunset with their undeniable Californain swagger; Belle and Sebastian added a shot of much needed indie pop glee whilst Dave Grohl and co. battled on in the distance. Meanwhile, a brilliant Kurt Vile nonchalantly whipped his way through highlights from his 2015 record b'lieve i'm going down to a rapturous reception.
Friday night was a wonderfully executed showcase of some of America's finest. Deap Valley's scuzzy rock n' roll was balanced out by a flawless set from Spoon, whilst an Alt-J baiting Ryan Adams played his first Spanish show since 2004 to what can only be described as a heroes welcome. The Los Angeles based singer-songwriter was in particulary jovial form, literally pogoing onto the stage and roaring his way through a whole bevvy of deep cuts and even inciting a clap-along during an eighties tinged take on 2001 classic When The Stars Go Blue: "I've been doing nothing but watching Kiss documentaries all night you guys - indulge me!"
The magnetic electro-pop duo Anna Of The North ushered Saturday in with boundless charm. Chicago veterans Wilco's 21 year old song canon was delivered with sprightly vigour and unflappable energy - putting headliners Kings Of Leon's limp dick rock to absolute shame. Finale, 'Spiders (Kidsmoke)' delivering perhaps the most perfect moment of the weekend. An eleven minute tour de force of cyclical krautrock - certainly one of the band's more challenging moments - culminated with a huge audience sing-a-long, leaving Wilco with ear-to-ear grins.
When is the next Mad Cool?
2018's Mad Cool takes place on 12 - 14 July.