Canada House's showcase at The Great Escape was an embarrassment of riches
17 May 2023, 11:45
As Race Across The World helpfully reminded us in recent weeks, Canada is absolutely massive. It's little surprise that the country has created global megastars like Justin Bieber and Celine Dion, influence rock greats like Avril Lavigne and a whole host of brilliant, visceral punk bands.

Taking over Brighton's Green Door Store for all three days of The Great Escape Festival, the Canada House showcase featured an equally broad range of musicians, creating everything from delicate folk to urgent drill and almost everything inbetween. Here's what went down.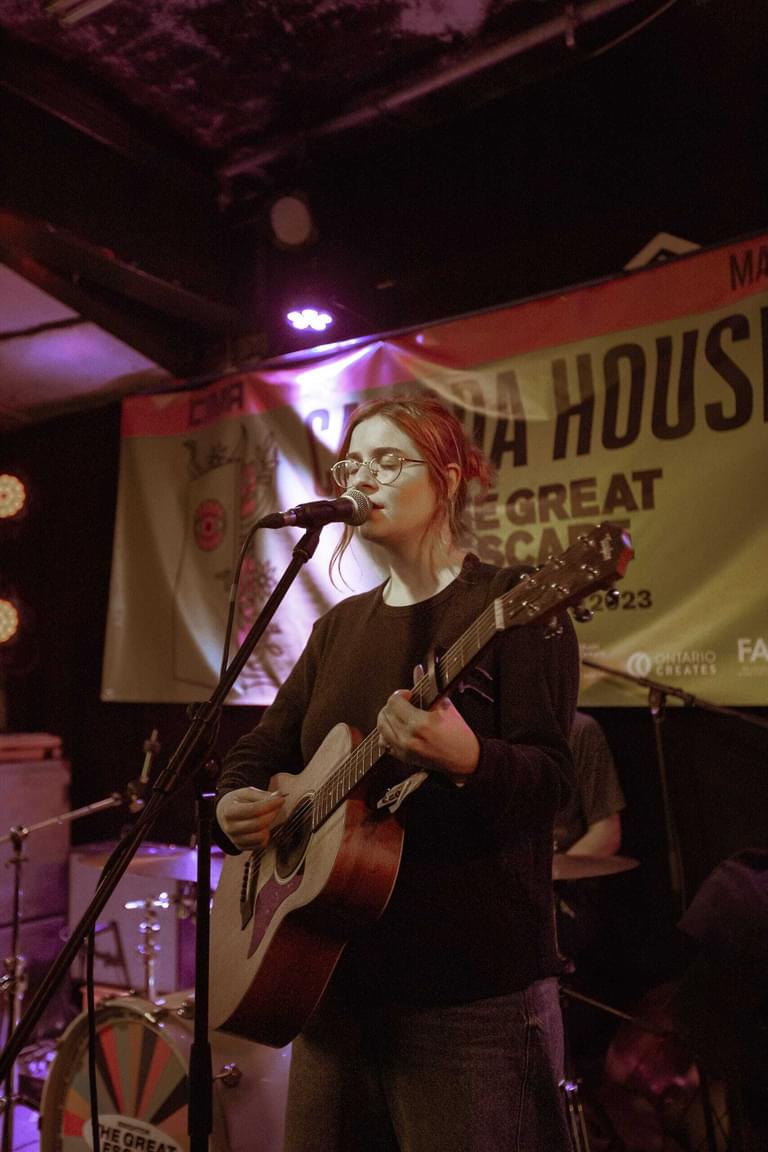 Haley Blais
"Let's rock out," grins Haley Blais before diving into the indie pop of "Let Yourself Girl". It's early Thursday afternoon but that doesn't seem to stop Blais and her band from throwing everything they've got at this set. Armed with an acoustic guitar and with every song cut with a country twang, it would be easy for Blais' music to get lost within the festival buzz but she weaves between delicate musings and big, cathartic storytelling with such confidence, it's impossible to ignore.

Vanille
"Be Your Own Muse" is a hammering anthem of self-empowerment, "Survivor's Guilt" is a moment of lump-in-your-throat introspection while the closing "Coolest Fucking Bitch In Town" is undeniably massive. By contrast, Vanille makes twinkling folk music that delivers pure escapism. Backed by a multi-instrumentalist, Vanille is self-assured and refuses to shout, letting her dreamy songs wield their magic over the bewitched audience.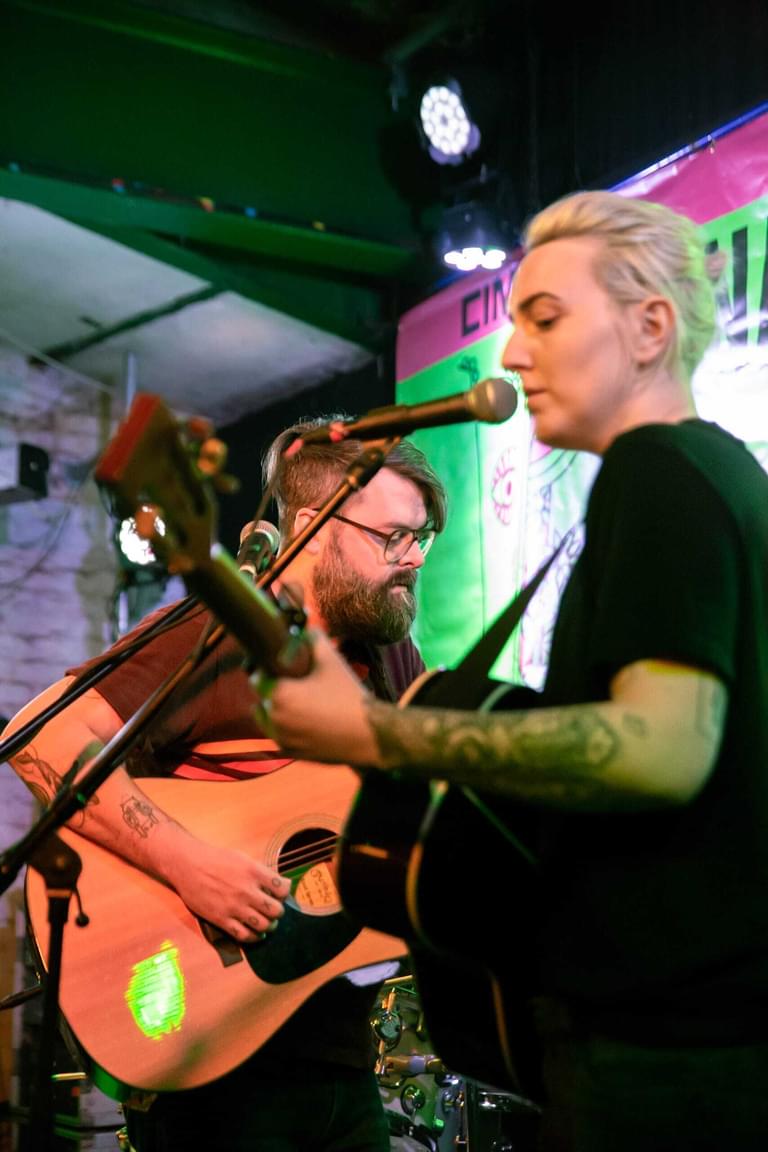 Pillow Fite
Taking to the stage Friday morning, Nova Scotian alt-folk duo Pillow Fite deliver a set that's upbeat and encouraging. The pair started writing together via text message over lockdown but today, Pillow Fite are a fully-formed force that thrive in the spotlight. Their songs of road trips, queer love and mental health are beautiful, but robust.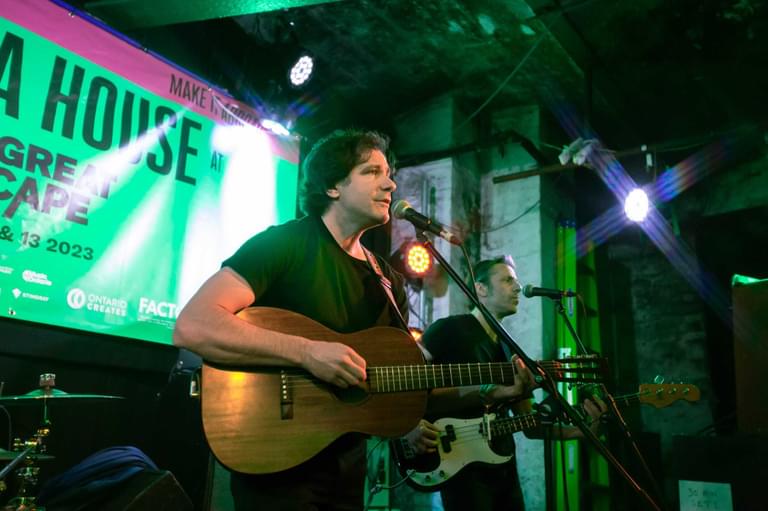 Slow Leaves
Slow Leaves continues that energy, with his surprisingly joyful set of melancholic indie. The lush "Sink Full Of Dishes" is about delusional dreams, existence but also wanting a dishwasher ("stream it on Spotify if you want to contribute a few pennies," he grins) while "Nothing Ever Changes" sees him deliberately trying to look on the bright side of life. "I was born with a broken heart," says Grant Davidson introducing the song. "My wife says I have sad eyes and my mum says the first thing I did when I was born was cry," he adds with a smirk. Post-festival, he took to Instagram to call the show exactly what he was looking for in music, "the feeling that we're all understood, even briefly." It's powerful stuff for 1pm.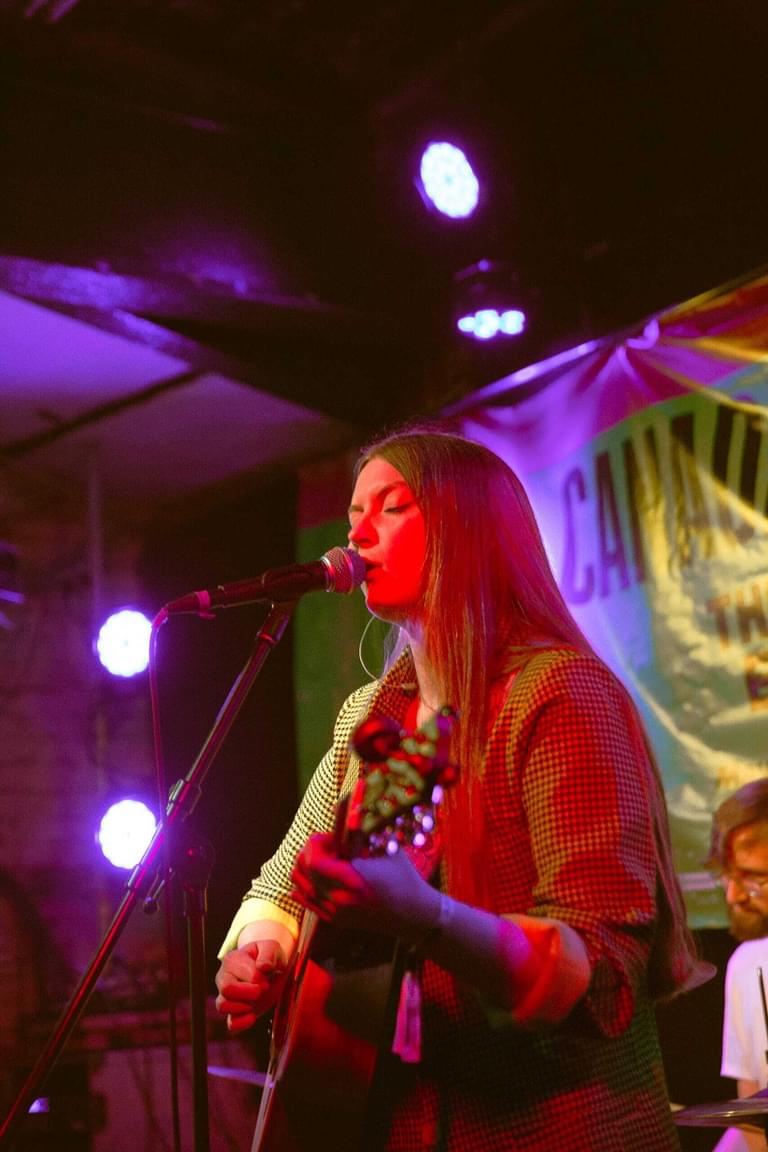 Rebecca Lappa
The last day of The Great Escape started with Rebecca Lappa's urgent, indie pop. "I'm super excited to be here in Brighton," she beamed, taking to the stage before adding in an delighted "woo!". That energy continued throughout her set, with the confident "Blue Lips" and the determined "Your One" packing punch after punch. New single "Brick By Brick" is an absolute belter and the sort of fiery song that's driven by self-belief.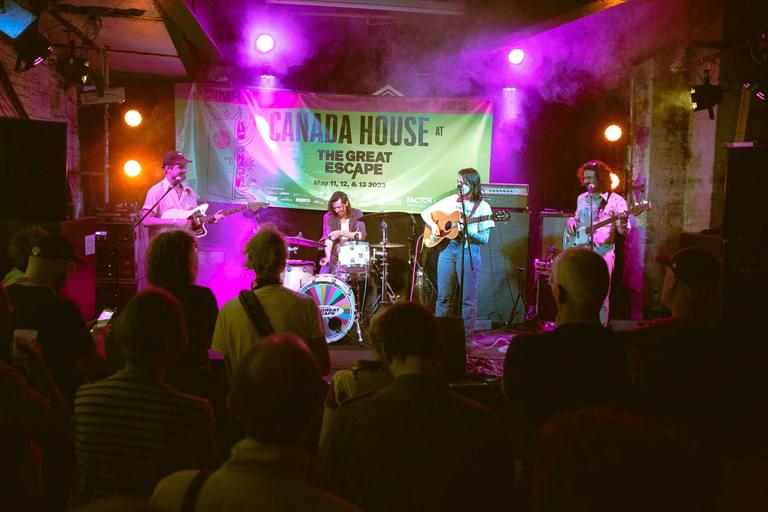 Ellen Froese
"I spilled a bottle of water down my crotch so I'm hoping none of you will look," says Ellen Froese, early on in her set. "Here's a song about feeling a little insecure," she adds before the folk-pop stomp of "Like You're Looking At Me". It's hard to pay attention to anything apart from the rumbling beauty she and her four-piece band conjure. 'For Each Flower Growing' is dreamy but resolute while "Things I Have Left To Do" is a break-up song with flickers of hope.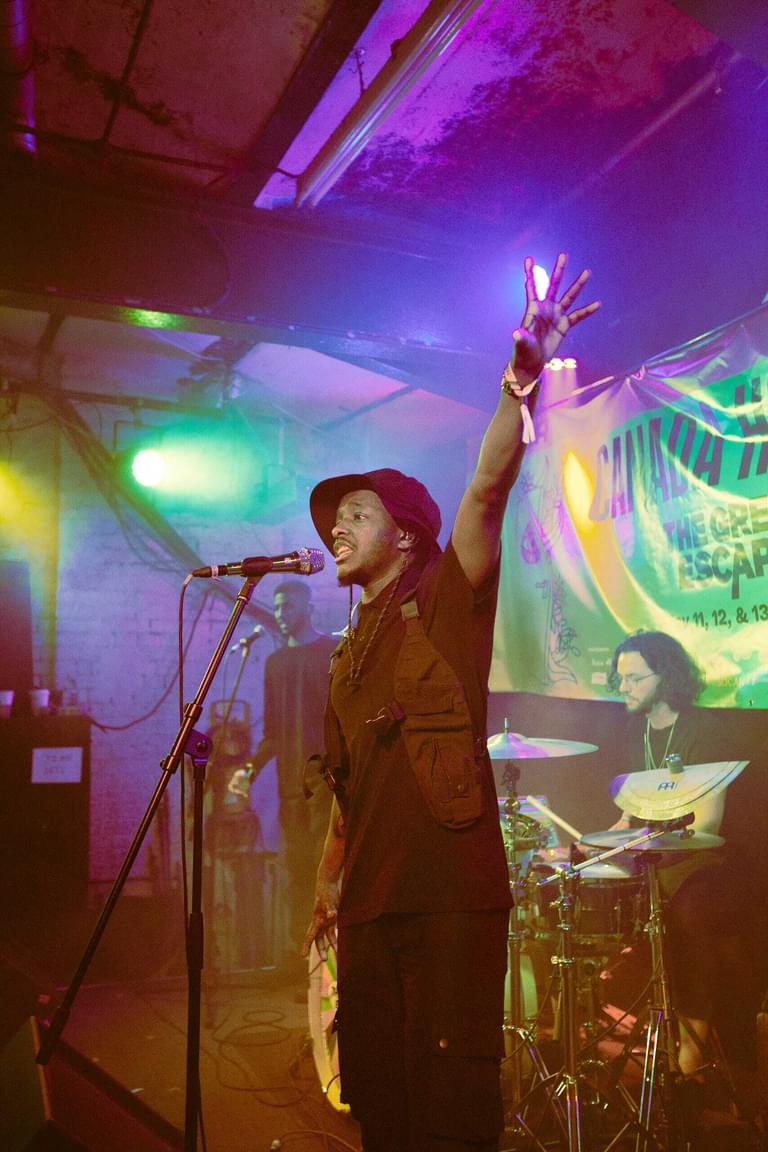 Mouraine
Fresh from releasing debut album In Search Of Gold, Mouraine is in a celebratory mood, turning the sometimes-reserved showcase into an all-out party. The gleeful hip-hop bounce of "Sick Of Your Love" demands a reaction while the swaggering "Gold" is wonderfully infectious. The 30-minute set is over all-too-soon.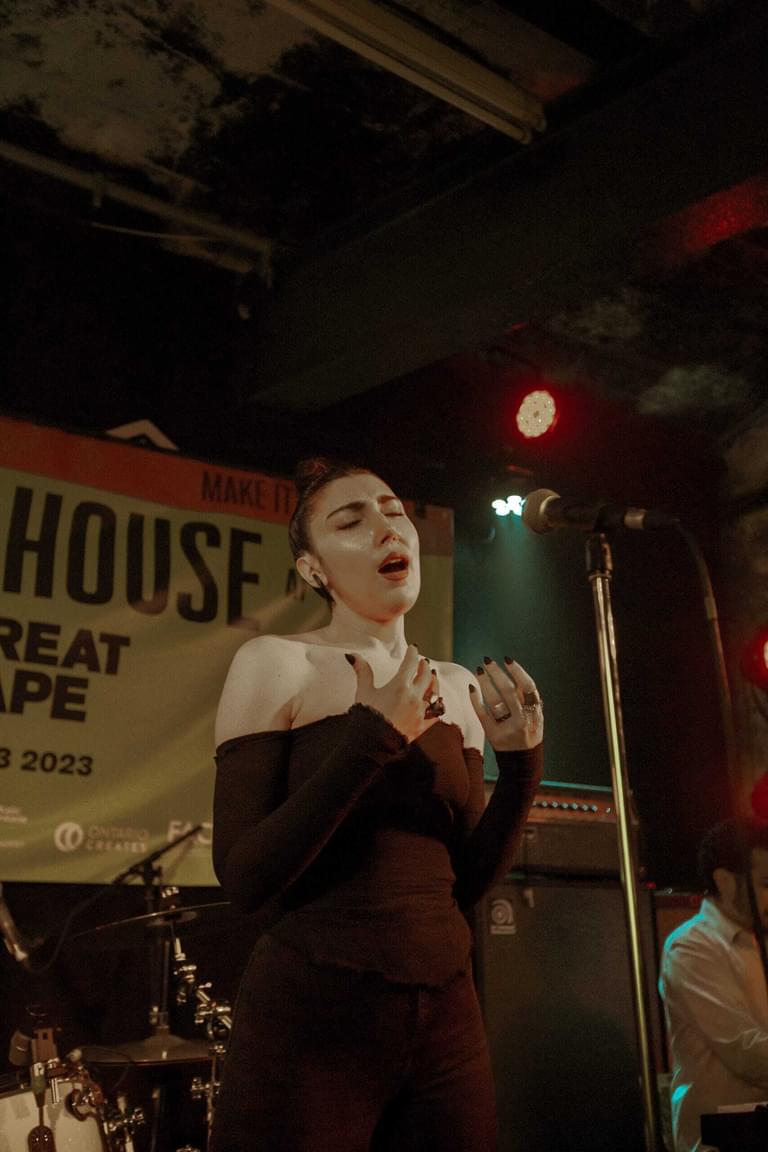 STORRY
It's STORRY who delivers the set of the weekend though. The very first act to play the Canada House showcase describes her sound as "the musical theatrics of Queen, power of Adele and the grit of Cardi B," but she's very much a star in her own right. Introducing songs from her 2020 album Chapter III: The Come Up, Storry explains that the concept album is about a woman trying to leave the sex industry and make her way into the music industry "only to find both are equally misogynistic and problematic."

"That woman is me," she continues before the soaring might of "Bow Down", a song that's gorgeous, political and vibrant. There are also a handful of songs from her upcoming prequel album Chapter II, that's designed to raise awareness about sex trafficking and tell a "non-linear journey of healing." The soulful pop of "Run" is absolutely phenomenal before STORRY tries to "lighten things up a bit" with a theatrical number about a shitty ex. Closing song "A Lost Find" is so raw, several members of the audience end up in floods of tears and days later, we can't shake the feeling we witnessed something truly special.
Get the Best Fit take on the week in music direct to your inbox every Friday