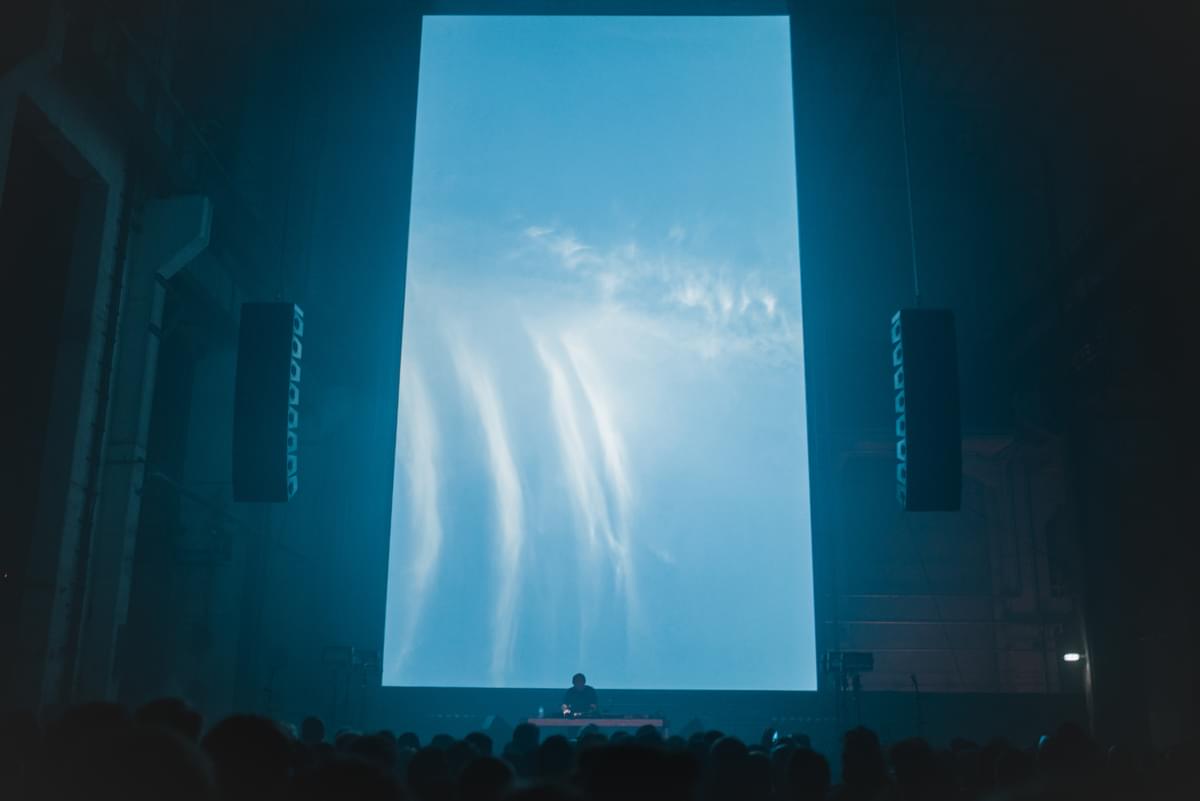 Electric Feels
03 September 2016, 12:00
The seminal Berlin Atonal faces some interesting decisions in terms of growth and direction. Vincent Morris heads over to find out if it's ready to be at the forefront of experimental music.
Berlin Atonal first began back in 1982 by Ufo/Tresor founder Dimitri Hegemann. During the '80s it rapidly became the locus for progressive, forward-thinking ideas within the creative sound and visual realms in Berlin.
At the height of the Cold War, Atonal entered the scene at a time of great of uncertainty, on the cusp of a new frontier. The festival became crucial in the consolidation of the scene in the then GDR's West Berlin, although underground communication and activity with the East side was already brewing. With the coming down of the Wall in 1989, Hegeman discontinued the festival in order to concentrate on his new project: Tresor – the club that would be the definitive starting point of Berlin's now globally renowned techno scene.
It's interesting then that things have (kind of) come full circle. Berlin Atonal was revived in 2013, like a phoenix from the ashes. The original Atonal festival took place at the historical SO36 on Berlin's popular Oranienstraße, with a capacity of just 250; however, Atonal's ambitions (now headed by Harry Glass, Laurens von Oswald and Paulo Reachi) had recalibrated since, and the festival relocated to their most recent site on Köpenicker Straße, a huge 22,000m2abandoned power plant. The weekly club-nights take place in Globus and Tresor – dark, immersive spaces that later included the opening of another small club Ohm, in the same building; but for Atonal Festival the cavernous room named Kraftwerk is also opened, along with some other subsidiary spaces (including a pretty dope control room that's tucked away to the side. Lining the walls are panels upon panels of buttons and switches that would have originally been used to operate the factory – with all the modular gear set up inside it both felt and sounded more like a space ship).
It's hard to effectively describe Kraftwerk as a space. You can say that it's really massive, and it has tall concrete pillars and the lights are cool, but you really have to step inside yourself and experience it. The structure is simply jaw dropping; while inside you become consumed by its vastness, its ambience, and its industrial majesty. Being inside such spaces is somehow humbling and draws you inward – it's a similar feeling to entering a cathedral, with the acoustics exposing distant voices, footsteps, and the weight of your own presence. Somehow the mind is calmer, more still, and you can escape from any troubling externalities that might have been with you beforehand. Although after spending countless hours inside the smoke, the sound, the dark, you kind of lose your mind (in a good way, I think).
It was a long week: 5 days of intense listening sessions followed by 5 nights of equally intense club sessions. I rocked up for the opening gig on Wednesday, a performance of Steve Reich's Piano Phase, presented for Buchla synthesizer by Max Loderbauer. Reich's original is a definitive study in phasing and counterpoint, and at its core explores the timbral, harmonic and rhythmic capabilities of two lines of melody. Electronic reinterpretations of minimalist/avant garde music can, and often do, fall short, but this was really quite brilliant. The Buchla allowed for greater timbral variety than the piano, and its mechanical properties as a synthesizer meant that new and unpredictable sonic interplays constantly emerged. Phasing between lines opened up numerous possibilities and it was amazing to listen to this organic piece of minimalism unfold seamlessly and unpredictable into new structures.
The evening continued with one of the performances I was looking forward to most: Fathom, the second outing of a collaboration between Moritz von Oswald and Rashad Becker (of Dubplates & Mastering repute). von Oswald sat at a grand piano, repeatedly striking notes while Becker would process the sounds through electronic convulsions of delays and various warping techniques. Sadly Fathom was a little disappointing. Conceptually and technically this could have been a great concert, but major issues with feedback swamped out the intricacies of the processing and textures, and was a source of distraction for a lot of the set, undermining the tension and atmosphere that was attempted through the music.
As can be expected, Wednesday was a little quiet, but there was a nice atmosphere about the place. Having said this, the Latency Records showcase (Paris' premium experimental electronic label) pulled in a full crowd at Ohm, with successful sets from Nuel, Ena, and closed by label heads Sidney and Suleiman. Over in Tresor Skee Mask and Endlec closed things up, so no small start to the festival by any account.
Thursday's evening performances were some of the best from the whole week. Yves De May, who is (in my opinion) often grossly overlooked, opened upstairs in Kraftwerk. His sound palette tends to be metallic and industrial, but in his set there was somehow a subtle warmth to his coldness. The music wasn't senselessly experimental; it had a sophisticated cohesion that sat beneath the mind-boggling sound design. His performance possessed an expressiveness that I think is extremely difficult to achieve in experimental, but De May's command of sound design and arrangement elevates his craft to a higher level. Slow broken beats lunged out toward the back of the hall while gnarly electronic figures and harsh acidic percussion hit venomously into the air, the hats were almost abrasive to the skin. For the last fifteen minutes he burst into slow chugging 4-4, and his restraint with the kick up until this point provided even greater effect for this progression. Simple but suitable lighting reflected the music well, with long blades of white light stretching outward, almost as icy as the music itself.
Roly Porter teamed up with MFO to present their live A/V show Third Law. The performance turned heads and opened mouths, and became one of the most talked about experiences of the whole week. They opened with sparse yet crushingly apocalyptic motifs that were accompanied by expansive monochrome landscapes up on the big screen. These depictions of nature felt starkly post-human as brittle metallic splutterings rapidly collided around. The textures were intense and frenetic, eventually reaching a point of climax and collapse. Once entropy had been reached things receded back into more serene soundscapes. Each successive build became more intense, resulting in pummelling bass frequencies. Horns and icy pads pierced through with angelic harmonies that hinted at something godly, as flares erupted onto the panoramic visuals, representing fissures in the fabric of space and time. The piece was cinematic and dramatic, almost to the point of over indulgence, but always remained engaging and convincing. Toward the end, the visuals on screen were replaced by some instructions: "For the next part please close your eyes – until the blinding light fades. Don't be afraid. You will see with your eyes closed". What ensued was a trippy piece of sorcery that involved the audience closing their eyes while being hit by an earth-shaking wall of sound and super intense strobe lights that oscillated at different frequencies. After the show it became apparent that people saw different shapes, colours and patterns during this part, but what everyone agreed on was that it was really intense. I could almost feel my body being absorbed by the sound, it was an incredibly visceral experience.
Stage Null has a cavernous feel to it, but still feels quite intimate. Located beneath Kraftwerk, Null paid homage to Atonal's punk roots, drawing up a sweet lineup that included Raime, Prostitutes, Marshstepper, and a live set from Ron Morelli. It was refreshing to see some instrumental music, and Null was the perfect setting for some late-night anarchy.
Raime's performance was hypnotising for its dark, droney pulsations. It was great to hear material off their new album, Tooth, which drives on zoned-out guitar notes, sinister synth tones and dank, at times menacing, drum patterns. People were vibing out as smoke wafted across the room, bathed in a red light that gave the impression we were in some sort of subterraneous satanic chamber. Tooth is markedly more minimal than their previous releases, but this worked really well in a live setting and their set was captivating from start to finish. Prostitutes and Marshstepper also turned out top tier performances, laying down industrial punk and break-beat. The performances were rough, with lots of attitude, and got everyone moving.
Null saw some other impressive scenes over the week including the Jealous God showcase on Friday. It reached its peak with a live collab between Silent Servant and Phase Fatale, followed by an electrifying solo set from the latter. Alongside wicked sets from December, Champagne Mirrors, DVA Damas, and others, they provided a fitting conclusion to what has been one of the most fruitful but sadly short-lived labels within the experimental techno realm. To be honest, Phase Fatale stole the show, a powerful and uncompromising assault that involved demonic techno with a proper warehouse vibe; including him screaming down the mic and the synth hook from Da Hool's 'Meet Her At The Parade' towards the end, whereby things took more of a trance turn.
I made it down for a somewhat historical "double performance" with Lory D and Donato Dozzy at Null on the Saturday. Lory D had an impressive opening run, who was on point at least for the first hour or so. Donned with a white towel round his neck and a black cap, there's something inherently badass about Lory. You get the feeling he's just jamming around, but what comes out from the speakers is absolutely slamming.
It was interesting to compare him with Dozzy, who's set was of a distinctively different flavour that carried the crowd even deeper into the abyss. I don't know if his set was 'more banging' than Lory's, but what set Dozzy apart was a pointed austerity that made it that much more compelling. It was a serious, heads-down affair. I still gape at the fact that he was indeed doing a live set and not mixing records. He had consummate grasp of the hardware, able to elicit a spectrum of sounds and moods, and it became immediately clear why people regard him as a master. The set itself was spellbinding, however the sound wasn't quite right and meant that the mids were swamped out for most of the set. Standing by the monitor at the back was a totally different experience compared with standing nearer to the stacks.
Closing the Null stage on Sunday was long-lost Dutch four-piece: Chi Factory. Having re-emerged after an old cassette tape of theirs from the 80s was serendipitously reissued earlier this year (via Astral Industries), the band brought their unique take on ambient-drone-new age to Atonal. While the programme featured other bands, Chi Factory provided something wholly different and refreshing. Coloured by rich, mysterious, organic soundscapes, the set featured live guitar, wooden flute, clarinet, a fender Rhodes, drums and field recordings. The performance was enrapturing to the point of transcendence, transporting the audience to far away worlds of fantasy and psychedelia. Front-man Hanyo van Oosterom would at times utter indecipherable murmurings, "it's a good night…. to stay awake" later became his mantra. At one point upon discovering his stool was squeaking, he pulled the mic toward it and used it as an instrument in itself – one of the many brilliant moments of musicianship from the band. Sadly however, parts of the performance, especially at the beginning, were ruined due to workers pulling metal gates across the concrete floor and generally making a racket.
Noteworthy was the lack of talking amongst the audience, as everyone sat silently and attentively – a real testament to the music. Out of the corner of my eye I could also see Dimitri Hegemann at the back nodding along, where he stayed for pretty much the whole thing. The band were unceremoniously cut off when the stage manager walked to the front and gave them a signal; a shame, as it felt as if Chi Factory were only just getting started. van Oosterom then provided an improvised outro – "We gotta stop. And we just got started. The baby is sleeping. Shh. Don't wake him up" (repeated). Nonetheless it was a beautiful, healing performance that really stood out from all of the other acts.
Other memorable appearances included a pretty weighty A/V from Orphx & JK Flesh, a really atmospheric set from MM/KM (Mix Mup & Kassem Mosse) – who set a really nice tone for Sunday, and a pleasantly surprising A/V from Croatian Amor – one of the best discoveries of the week for me. Other highly accomplished performances came from Felix K & Ena, and the inimitable Death In Vegas.
On the DJ side of things, special mention has to go to Andrea Parker and later Simo Cell, who both turned out exceptional sets down in Ohm. The club was perfect for the vibe and the crowd was particularly receptive and supportive. Parker's set was deep and heavy, featuring a lot of rhythmic noise, drone, and grungy textures. At times intense, others bleak, her set was perfectly crafted and the mixing flawless. Young French artist Simo Cell was of a similar calibre, demonstrating a maturity and authority that belies his age. The set was replete with killer selections of mostly classic electro, Detroit leaning techno and UK Bass, with DJ Bone's 'The Funk' and Pearson Sound's shimmering 'Blanked' going down a treat. I wanted to go check out other stuff but ended up staying for the whole set as it was that good. Originally a name I'd just been acquainted with, Simo Cell is now firmly under the radar.
The list above illustrates how much quality there was at the festival – too many to mention everyone, and although some of the programming felt a little stale and boring at times (which could have perhaps been remedied by providing larger contrasts in the Kraftwerk programming and being a bit more adventurous with the bookings), the week overall flowed well.
The final day of Kraftwerk performances closed the festival wonderfully. Porter Ricks and Pyrolator both presented unique and aesthetically pleasing sets, but what really caught my attention was US based duo Second Woman. They played material from their eponymously titled debut album (out on Spectrum Spools), starting out simply with a kick that repeatedly sped up and slowed down, and building subsequent layers on top. The type of music is hard to pinpoint, it was a delectable melange of glitch, footwork, experimental, IDM, and toward the end even jungle. The album's focus and consistency results from a number of fixed parameters, utilising a clear arrangement of four or so elements at any given time and manipulated mainly via timing and rhythm. The music was perpetually in flux throughout, yet there always remained a clear groove or rhythmic template in place. Some textures were glitchy and sporadic while others were tighter and more cerebral. These chaotic, yet somehow ordered organisms of sound gave off an effervescent, restless energy that really ignited the textures and polyrhythms. Alongside quite an amazing auditory journey were similarly stripped down visuals, in which monochromatic flashes were synced up to the music – simple, but effective and not too distracting.
The evening approached its culmination with Alessandro Cortini closing Kraftwerk with a brand new project: AVANTI. 100% brand new material premiered for the first time, AVANTI was one of the standout performances from this year. Cortini's combination of emotive, melancholic ambient with nostalgic videotapes of a child playing in the snow and hazy handy cam footage created something powerfully poignant. Taken from a family archive, the child featured in the film was actually footage of Cortini himself and the other characters that appear members of his family. The whole hall stood in silence as everyone was engulfed in a wash of sound and emotion. The set reached a cathartic conclusion that left a warm feeling inside, but also an empathy with the undefined sense of loss and letting go that seemed to permeate the music and visuals.
After a cleansing evening up in Kraftwerk I headed down to Ohm for the closing parties. Special guests turned out to be Objekt, Function and Richard Fearless (front man of Death In Vegas). As can be expected Objekt laid down an unpredictable and adventurous set, full of detours that covered Detroit techno, electro (i.e. Model 500), wonked out dubstep, reggaeton type beats, and if I'm not mistaken even some Arabic trip hop. What makes his sets so engaging and exciting is that you don't know what's coming next. 'General Ludd – Run, Don't Play Dead' picked up the pace, while ending on a funk palette cleanser at the end prepped the room for Function. He seemed to struggle for the first forty minutes or so, lapsing on selections and general vibe, but eventually pulled it together after he'd settled. By the time he'd put on Villalobos' remix of 'Blood On My Hands' things were back on track. It was great to hear some Kraftwerk in the mix, and there was a great moment on the floor with Phuture's classic 'Rise From Your grave'.
Richard Fearless delivered a brilliant techno set that was overall a lot deeper and smoother than the others, full of nuance and pleasing progressions – something that's quite tricky to pull of at that time of morning. He played some absolute favourites – Acronym's 'Cygni 16' and that Workshop records anthem 'Villager' by The Horn – and had managed to consolidate a dancefloor that was all a bit wavy by this point – though that's not to say that the crowd weren't great, quite the opposite.
Fearless looked like he had a few hours still left in him, but I crawled back to bed at around 9:30am Monday morning, pretty broken, but largely satisfied with Berlin Atonal 2016.
Berlin Atonal 2016 was a week of inconsistencies. The programming wasn't quite there in terms of curating the set list, and there were lengthy delays in the set times pretty much every day but the festival made no effort to announce changes or let the audience know what was happening. One thing that continued to bother me throughout was the lacklustre visuals to many of the sets. Reluctantly, the majority of the visual performances were largely underwhelming, but hopefully this is an aspect that will be looked at more closely in preparations for 2017. People were also angered at the general inefficiency of the ticketing entrance, where queues of hundreds had to wait while they missed the opening performance on Wednesday. Atonal may have been playing it safe by booking favourites and regulars, and while I thoroughly enjoyed most things, few of the performances were very challenging or offered any deep conceptual substance (or if they did, this wasn't made explicit enough). For a normal festival this might not be an issue, but for one that is so rooted in punk and experimentalism, this could be seen as a shortcoming.
I suppose these issues illustrate the sheer size of this event, and for it to run successfully requires an overwhelming number factors to come together in harmony. Atonal was far from perfect, but it was also far from failure. There were plenty of amazing performances, and some of the installations, particularly in the Projektionsraum, were excellent – although it would be great to have larger installation spaces where people have more space to chill to zoned-out ambient. Now in its fourth consecutive year, Atonal is facing some interesting decisions in terms of growth and direction, but I have no doubt the festival will recalibrate to bring something amazing for the five-year milestone next year. We're currently living in a truly great time for experimental and avant garde electronic music and there are many possibilities still to be explored; no doubt Atonal will be at the forefront of these adventures.
Get the Best Fit take on the week in music direct to your inbox every Friday