Apparently it's the "hottest weekend in Norway since the 50s" (although I have a strong suspicion that this might just be a rumour circulating around the festival – you know how people can get overexcited at these things…) and as a result, 2013's edition of Slottsfjell Festival is, climatically, set to be a stunner.
And it's not just the weather that's going to be capturing our avid attention this weekend, but an eclectic line-up featuring the likes of Susanne Sundfør, Hot Chip, Chad Valley, Daughter and Jonas Alaska are also in store. The stunning Slottsfjell site, in the heart of Norway's oldest town of Tønsberg is an exceptional location, full of inclines, Viking ruins peeping out from underneath piles of grass and magnificent vistas over fjords and fields. It's bathed in blazing, boiling sunshine, and will remain so throughout the duration of the three day event.
It's in this blistering heat that we kick off festivities by heading to the festival's second stage, Baglerscenen to witness an exceptionally well received performance from London's Daughter. Making their way through tracks from their recently released debut album If You Leave, the band seem humbled by the rousing reception that the steadily toasting audience provide. As they unveil the opening chords of latest single 'Youth', the crowd's excitement reaches its peak, fans singing along with each word, their dance moves anticipating each rise and fall in melody.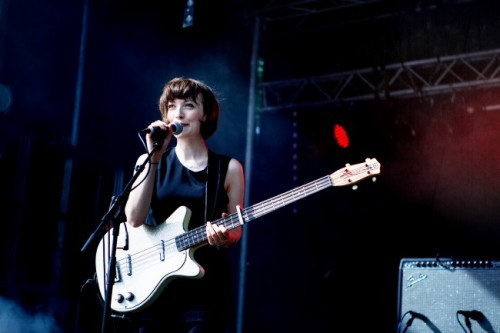 Photograph by Christian Roth Christensen
The Daughter set rounds up and after exploring the site a little (and uncovering the newly added P3 Urørtscenen stage), we make our way to the main stage to get ready for a performance from England's favourite electronic hook maestros, Hot Chip. The crowd is oddly sparse in front of the main stage as the sun begins to lower over the site, but it doesn't deter the group in any way who make their way through hits from their back catalogue in rousing, raving fashion. Tracks such as 'Flutes', 'Ready For The Floor' and recent single 'Night and Day' stir the sun-dazed crowd into a frenzy, well and truly warming them up (in every sense) for the rest of the evening's music.
Next, we shuffle to the left hand side of the main stage to watch Denmark's MØ unleash her unique fusion of tripping beats, melodic electronic hooks and soul-laden vocals upon a vying crowd and as latest single 'Wasted Youth' fires up, we're reminded of why this particular performer is currently one of the most coveted to be found on the live scene.
Friday
As the sun rises over the site for the second day, we make the slow and steady ascent to the hill top stage to catch the first show of the day, from Oslo's Morten Myklebust. An exceptionally gifted musician, Myklebust's lyrics enchant and intrigue, as do his masterfully crafted melodies. Many a post-first-festival-day sore head is soothed throughout this set, a serene opening to Slottsfjell's second day.
An impressively sized crowd awaits the arrival of the festival's next performers, Oslo's Kid Astray. Sticking to the winning band formula (as designed by fellow Norwegians Young Dreams and Team Me) of "more members = better music", the six-piece charge though a set of lively, pop tinged, guitar led indie anthems. The thrilled faces of the band on stage are mirrored by the enthusiastic reaction of the crowd, with track 'The Mess' proving to be a particular hit among festival goers.
Next up, it's Best Fit favourite Dan Croll who's in extremely high spirits (we hear it's his birthday, maybe he's just had some cake) as he takes to the stage and launches straight into his introductory single 'From Nowhere'. Charming chat and outstanding harmonies fill the stage during a truly engaging show, with the track 'Compliment Your Soul' only being trumped in the 'best song of the set' stakes by closing number 'Home', a tender and thoughtful ode which ends in a rousing, rippling culmination of guitars, chants and driving drums.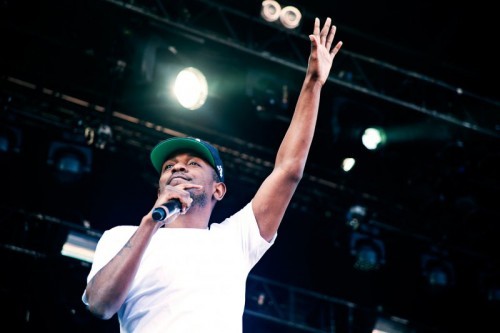 Photograph by Jonas Bråthen
There's no point in beating around the bush here. I bloody love Kendrick Lamar. And this is absolutely one of the sets I've been most excited about, so arriving early in order to ensure a good spot, I get my best rapping voice warmed up and my most authentic gangsta hand movements ready. It's embarrassing for everyone around me. But no-one's paying any attention anyway, as Kendrick Lamar – the major hip hop act of an otherwise fairly guitar led festival – holds every drip of the whole crowd's attention throughout the entire set. Tearing through tracks such as 'Swimming Pools (Drank)', 'Fuckin' Problems' (drank) and 'Backseat Freestyle' (drank) the whole crowd, regardless of their general musical persuasion are taken by Lamar's faultless vocals, Hollywood-esque song introductions and evident pleasure to be on stage in front of this packed out crowd. We hoped it would be good, and it definitely is.
And now for something completely different. Having been described by a friend of The Line of Best Fit as "the Norwegian Justin Timberlake" following his recent performance at London's Ja Ja Ja club night, it's with genuine, excited anticipation that the crowd awaits the brilliant Truls and his flawless falsetto. Watching Truls is a joyful experience. He hits the notes that others only dream of, he staggers about the stage like a man having the time of his life and when he cracks out his white Flying V, musical magnificence is achieved. The set is exciting, the tunes are huge and Truls himself is spectacular. As he exits the stage, the same conversation topic drifts throughout the entire crowd, that there's no-one else quite like this guy.
Lead photograph by Christian Roth Christensen