To read Part One, which sees an Odd Future-Steve Albini moment in a taxi with a certain South London grime act, click here.
The next morning my film marathon antics are upstaged by my press compatriots, all with a different story to tell about how their nights unravelled. Key highlights include a certain writer from a certain webzine being accosted by a fat, racist prostitute and taken to Burger King to meet her pimp. Another entails one particular Scottish writer getting back to his en-suite blind-drunk and drawing a few crude and/or offensive images on the god awful photographic print that hung above his bed. I consider top-trumping them all by conjuring up a fake love affair with Susanne Sundfør, in which I seduce her by showing her a selection of my latest tweets and providing a play-by-play account of why each is really funny, but eventually decide against it. It wouldn't have convinced anybody anyhow. I'm far too needy for fake love affairs.
Our afternoon sees us taxied back and forth like some yuppie blaggards, as we go from festival to the Norwegian Museum of Rock Music – or Rockheim, as the punned name has it – and from here to an advertising party in a plush, white, open-plan modern office in the city centre. We are greeted with beer and nibbles on entry and the orphaned side of me shows through, as I punctuate each sentence of a conversation with a huge gulp or bite.
Saturday
Several free beers later, we finally arrive on-site to catch Trondheim trio Pelbo open the main stage for the festival's second day, operating more as elevator music for the most punctual of their neighbours with an enigmatic helping of percussion and electronics. Sadly today the sun doesn't grace us, and the band may as well be Elbow for all most care right now as they delve in their bags for umbrellas and waterproofs. Alcohol seems to have lowered my self-restraint and I decide another drink is needed.
Taking refuge under a light covering of trees, mainly to keep my beer from being watered down by the rain, Sweden's The Tallest Man On Earth serenades me and those sheltered nearby with a set of Dylan-esque acoustic numbers. If the weather had been different then Kristian Matsson's wispy voice could have fallen on deaf ears, drowned out by a sea of idle conversation, but with the rain heavily pouring there's little else to do but sit and listen, and we all feel the better for it.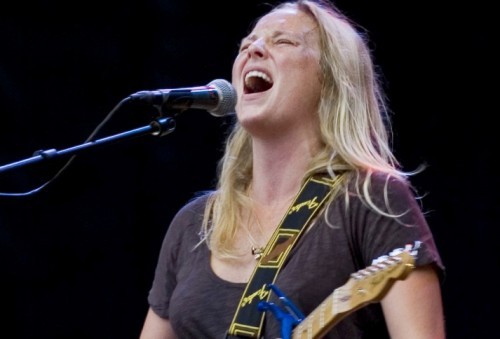 Lissie

We turn our heads a little to the right to cast our eyes upon folk-pop singer Lissie, who can be seen a little in the distance on the main stage. The American beauty woos the audience with repeated declaration of her love for the country, which does much to warm the shivering crowd to her. But it's all pleasantries and a little lacking in substance as the singer comes across like a female Ray LaMontagne, it's a shame she's been too forcefully and strategically marketed as the polish masks and marrs the possible depth underneath.
Jamie Woon, whom a colleague remarks makes James Blake look dangerous in comparison, suffers from the same sort of fate. Surrounded by endless numbers of dedicated fans who have taken to their feet to see the swoony London smoothie, it's hard to see how music that enlists such a passionate response from its fans and that takes a lot of inspiration from soul can somehow come off as a touch contrived and even heartless. Sorry, Woonie, but this just sounds like Q Magazine's take on dubstep.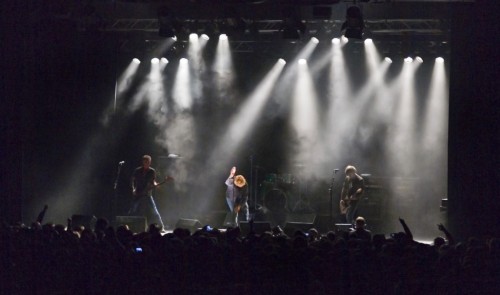 Håkan Hellström
Neighbouring Nordic hero, Sweden's Håkan Hellström raises my otherwise bleakly cynical spirit with his brand of jolting Scandi-pop, but a chance encounter with Autolazer (no prizes to whom the name – and indeed sound – is a crass imitation of), and his attempts are all in vain. They're an electro trio, although only one of them (a man stood behind some decks wearing a hockey mask) seems to be doing anything musical as the other two (presumably friends, although I got here late so they could well have been audience members that took things too far) dance in front of him, trying to drive the crowd into a frenzy. And a frenzy they do create, with everybody dancing away, making me feel like a right Scrooge. But then just at the close of the set, the masked performer runs to front to join the other two, leaving the music to somehow play behind him, rendering the whole live set pointless. The rug has been pulled from under us and nobody seems to even care as the crowd dances away on a bare and vacuous floor.
But thank the lord (or should that be thank the Lordi?) for The Roots, come to raise spirits after a lacklustre few hours, which could have dampened what had been a pretty bloody good first day. The larger-than-life US group and Jimmy Fallon's backing band swagger on stage, providing blast after blast of cool and intelligent hip-hop/soul hybrid. As the festival comes to a close and I join the swarming masses on the walk home, I can't help but notice the localised and insular nature of Pstereo, unlike Oslo's Oya, making it akin to Britain's Green Man. Walking past the local cathedral and the wartime draw-bridge, I'm buoyed by the physical beauty that surrounds.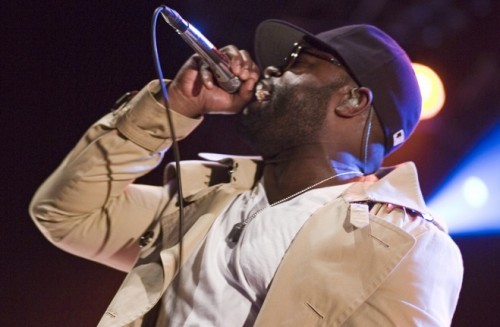 The Roots
I get back to the hotel room and the setting of last night's existential crisis, where everything comes in individual single packaging and where everything is so tiny. Hotel rooms are sometimes as if you've walked through the looking glass and into a world where social norms and etiquette are twisted or disregarded altogether. Who needs one pillow when you can have about a million? Who needs a small version of a bar in their room? Everyone! And who needs manners when you're actually encouraged to throw your towel on the floor and wait for the maid to clean up at your Do Not Disturb-sign whim? Nobody! I think I could get used to living in a hotel after all, I guess. Although as I settle down to a thing or two from the mini-bar (this could just be poetic license, really – don't send me the bill), I get a twinge of homesickness and thank my phone's lack of network coverage saving me from tweeting or texting something melodramatic like "This is just me in another place".
Up at 5 in the morning, I expect to cross paths with DFA still partying from two nights before at the reception, but sadly do not. I also get excited at the prospect of, as I am told by the festival representative who meets me at this unflattering hour, sharing a taxi to the airport with the girl from Glasser. This, to my fanboy-ish dismay, falls through also. And so I'm back in the taxi with my Nordic adventure well and over, keeping my eye on the red-eyed driver who keeps nodding off and drifting the wheel to the right, frighteningly close to a sign that says Rosenberg (who I know from my geographic/footballing knowledge have a football team). On the plane I try in vain to block out the noise of three babies simultaneously crying as we take off. I give up trying to read a Sunday paper within the radius of an economy flight cabin as it seems I still cannot manage to read broadsheets without causing a crumpled mess. I'm obviously not quite a true man yet, three days and still no facial hair either. I open my laptop, load Football Manager and wonder who I should manage.
Photos by Jannica Honey.