In the aftermath of SXSW, Canadian Music Week provides a mixture of the old guard (with a line-up including Slash and a keynote from Free/ Bad Company/ Queen frontman Paul Rogers, as well as reformations from the likes of I Mother Earth and Treble Charger) and some of the country's newest talents as it takes over the resolutely unseasonal city of Toronto for a week of shows and award ceremonies.
Wednesday: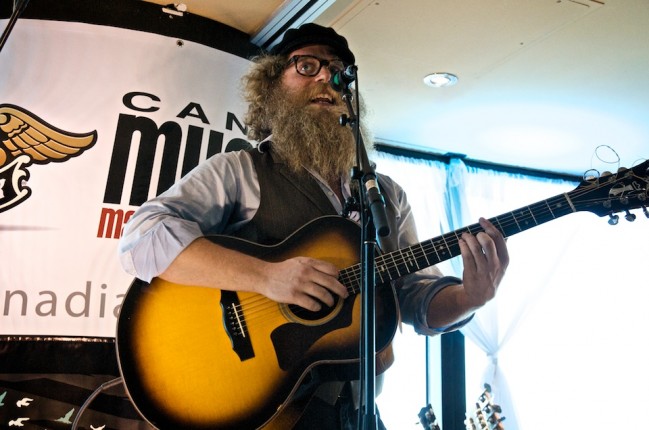 The balance of old and new is in full effect at CMW's opening event at the CN tower. Confused tourist mingle with confused music fans at the bottom of the tower before taking the glass elevator up the 30+ floors to the CN Tower restaurant where Nova Scotians Ben Caplan and The Joel Plaskett Emergency were waiting. You can insert your own "highest band in the world" jokes here – you wouldn't be the only one. Joking aside, the tower has got to go down as one of the most spectacular venues to play, and both relative newcomer Caplan and the much travelled Plaskett clearly raise their games for the show. Despite the early start, the prodigiously bearded Caplan manages to engage the crowd in some rousing sing-alongs, performing with a relentless energy that captivates the audience. Its an energy that seems to carry him around the city all week, as one of the festivals most active artists – Caplan seemingly appears with his guitar around every corner of Toronto, catering his numerous sets to the specific environment, be it the rowdiness of the bar or the more restrained environs of a radio live room as part of the conference element of the festival.
Plaskett, on the other hand, is a seasoned and well-beloved performer. While on UK shores he has tended to play with a more stripped down restraint, here with his band the Emergency at his side he positively tears through a set composed primarily of his latest album, while throwing in some memorable moments from past records for good measure. Plaskett has a knack for writing crunchy, feel good power-pop, a perfect fit as the sun pours in through the windows, and across the city.
Thursday: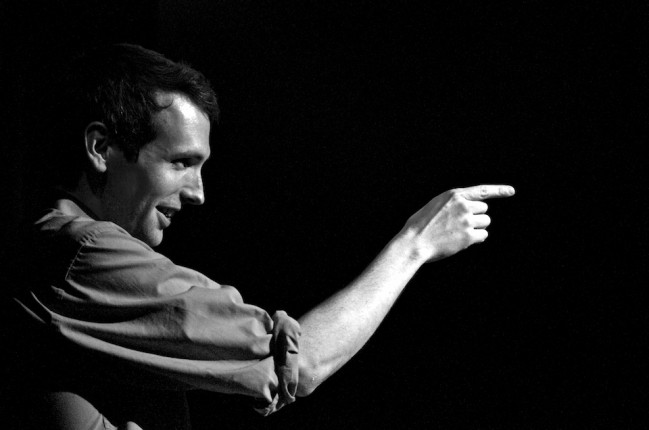 Like Joel Plaskett, John K Samson also stands as a much loved flag bearer for literate, thoughtful rock music with a particularly Canadian context. Where Plaskett's songwriting is often laced with references to his Nova Scotian home, Samson's homage to his home is even more overt – The Weakerthans frontman's solo album, Province deals with stories and tales inspired by and about his Manitoban home, taking in tales of cruising up and down Portage and Main in Winnipeg, researching in the Manitoba archives and petitioning for membership of the Hockey Hall Of Fame for "The Riverton Rifle" Reggie Leach. While one could fear that such an academic and geographically specific approach to songwriting may exclude many, any such fears are delayed the moment Samson steps onstage to a packed Great Hall. With "The Provincial Band" consisting of Shotgun Jimmie (who opens the evening), Doug Friesen of The Bidini Band and Doug MacGregor of The Constantines, Samson gleefully delivers a set that draws heavily from the Provincial record, the grins of the the delighted faces in the crowd matching those onstage. Samson's way with a melody and pop-hook is as evident as ever, the set perfectly balanced with dynamic highs and lows, while some of the most affecting moments were those of silence: the crowd hushed, beer bottles aloft as he recites "Elegy For Gump Worsley", and again for Weakerthans favourite "Virtute The Cat Explains Her Departure", for which Samson takes to the front of the stage and sings unplugged and unmic-ed before the whole crowd joins for the chorus.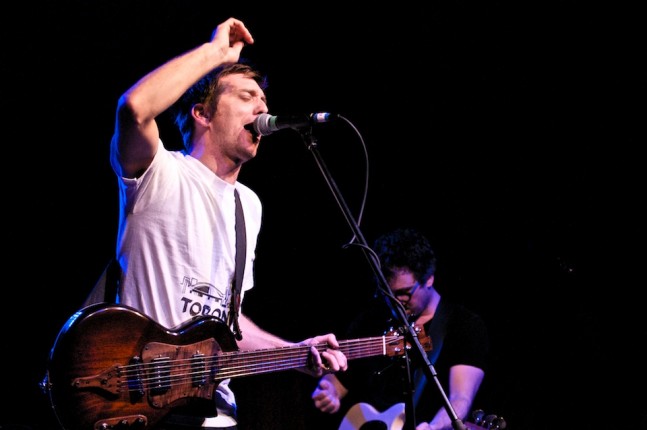 Friday:
Having caught a couple of more established acts (all be it performing new works), Friday starts early with a showcase presented by Kelp Records and You've Changed at Saving Gigi's coffee shop, a place that seems to act as a cultural hub for the Bloor-Ossington area of the city. As we arrived, Ian Kehoe's Marine Dreams were taking the floor with their finely constructed lo-fi. Despite playing with a stand in drummer (who, to his credit, underplayed his parts and therefore fitted in perfectly), Kehoe's fuzzy-pop gems are delivered perfectly, allowing the subtlety of his writing to shine. Adam and The Amethysts follow, marking the one year anniversary of meeting their label in the same venue. Now performing as a two piece, with guitar and cello or piano, the songs take on a more understated tone. The Weather Station brings the afternoon to a close with a solo performance, her delicately fingerpicked melancholic melodies delighting the assembled crowd.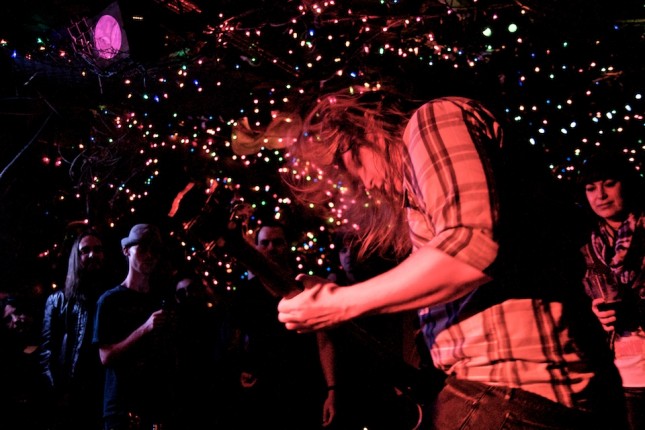 If Saving Gigi was a haven for caffeine fuelled folk melancholy the unfortunately named Bovine Sex Club is not. Yet to the Bovine it is, to witness a performance that couldn't be further from the afternoon's understated nature if it tried: Toronto's own Biblical brought forth old-school stoner rock riffs; heavy, loud and melodic, with plenty of moments of rock posturing to boot, their frontman careening into the crowd with his bass, standing before the gathered throng in wide legged pose. Whether driven by pummeling bass, soulful organ or a guitar workout the music shifts and evolves throughout, providing the perfect aural palette cleanser. A short walk up Spadina takes us to the upstairs of Rancho Relaxo in time for a set by Montreal power trio CTZNSHP. Although the band has only a small crowd at the start of their set, it's not long before the fuzzy, charging songs have people gathering around the stage. For a band with just one self-released EP to their name so far, the 40 minute set is impressive, with atmospheric and fuzzy guitars building on a taut rhythm section, frontman Jesse letting out the occasional larynx shredding yelp. Having already landed support slots for the likes of Yuck and Here We Go Magic, and with an album in the works, it will be interesting to see how their sound develops over time. Following their set there is just time to get to El Mocambo, where DZ Deathrays are playing what seems to be their 100th show of the festival. Unfortunately for them, a post 2am timeslot + Multiple showcases doesn't equal a huge or active crowd.
Saturday:
Having missed their set at the Arts and Crafts showcase the night previous, we head to Sonic Boom Records for an In-store from Zeus. With mirrored walls, aisle upon aisle of new and used vinyl, cds and retro hifi-equipment, a visit to Sonic Boom's new location feels a little like stepping in to the set of Empire Records. Except with Damien Abrahams as Jack Black. And indeed, sure enough, over in the corner is said gentleman, enthusing over his latest purchases. If he had announced that it was Rex Manning day, I probably would have believed him. Despite the resolutely rainy afternoon Zeus showcase tracks from their sunny sophomore record Busting Visions, as well as a few old favourites. The band have clearly honed their songwriting, with each track having an easy familiarity. With rotating frontmen and songwriters, there is plenty of variety, and no shortage of classic rock hooks- the standout track being album opener 'Are you going to waste my time?', which seems destined to be played repeatedly over the course of many long hot summers to come.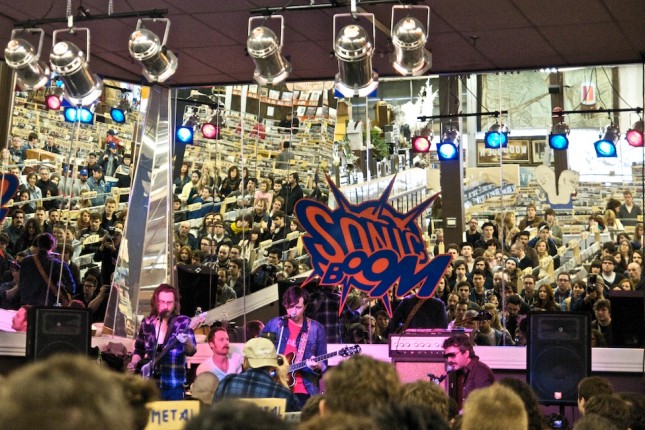 With band reunions an increasingly common occurrence these days, it is little surprise that there are a number of reunions at CMW. The Inbreds reunion show that closed CMW on Saturday night however feels different. 14 years after the band originally folded, there is no tour, and no record to promote (other than some original 7"s that seem to have emerged from under a bed and onto the unmanned merch table). However, there is a real sense of community for both the band and the audience, some of whom were evidently seeing each other again for the first time in about …14 years. Even singer Mike O'Neil seems bemused by the enthusiasm shown for the band, asking "Why are you all paying so much attention?". But paying attention they are, and the Bass and Drum duo waste little time in mining the melodic, crooning alt-rock that makes up their back catalog. In one of the week's unlikeliest moments, the encore saw drummer Dave Ulrich and O'Neil trade instruments, with varying levels of success. Luckily, Ulrich's decision to come on for the encore dressed as 70's Elvis replete with golden cape more than made up for any technical shortfalls. It seemed a suitably light-hearted way to end a festival that managed to bring out the best of both the old guard and newcomers to the Canadian music scene.