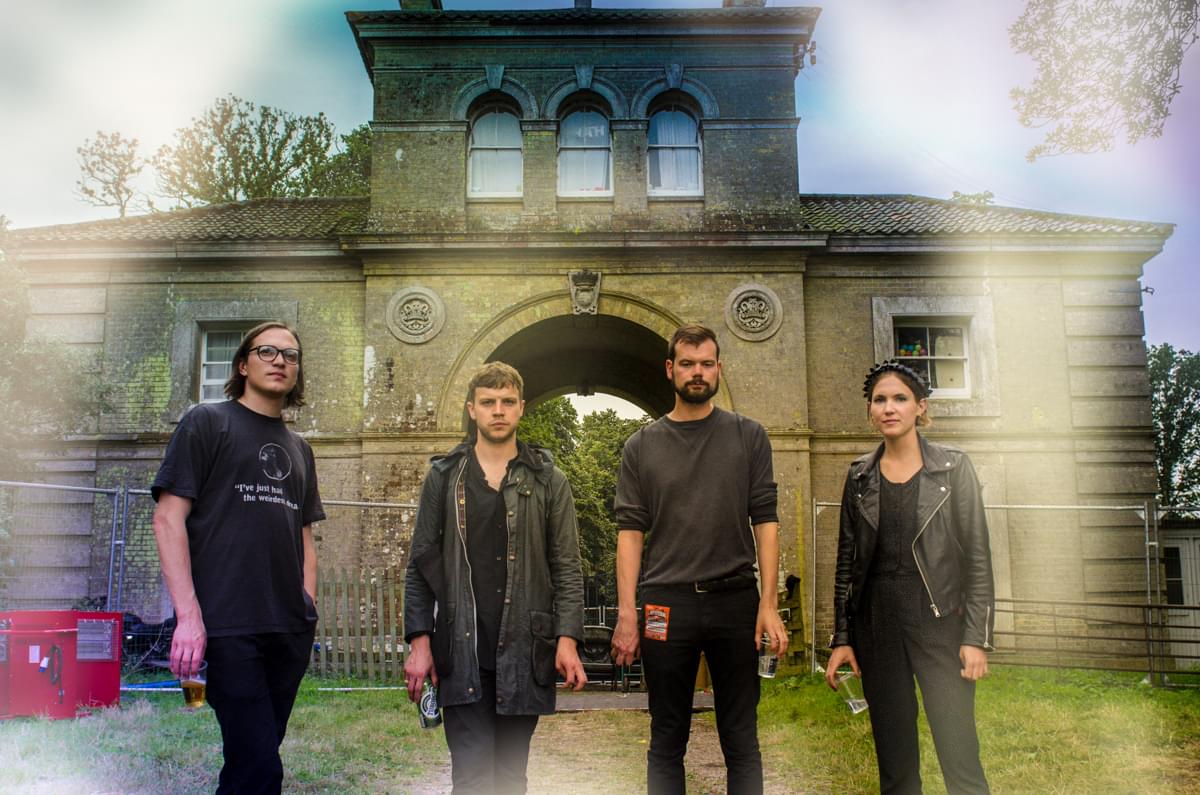 Woman's Hour x Krankbrother: "We found the remix quite straightforward to put together"
12 January 2015, 12:10
It's hard to deny that Woman's Hour had a phenomenal year in 2014, with the release of their lauded debut album Conversations, a spray of glorious singles and some high-calibre festival slots. They're set to round off that phase with a final show at The Lexington this Friday at our own residency, the Five Day Forecast.
Krankbrother - a modern house twosome comprising brothers Danny and Kieran Clancy - also had an amazing year with a debut EP release for DFTD in the form of Electric Lucifer, and some big plaudits from major players in the field. They've been bubbling under the radar for a while now, almost ready to explode, but with a hectic 2015 planned, they could be blowing up sooner rather than later.
Heck, it could happen this month. The duo have tackled Woman's Hour's "Conversations", morphing it into a dancefloor-poised beast full of groovy basslines and propulsive beats. It's got a liquid feel, and although it's no out-and-out banger with drops galore, there's a definite party vibe, and it's an easy tune to bust a move to.
As it's a huge state of flux for both acts, and Woman's Hour are set to rock our Five Day Forecast, we sat the two bands down to chat about the remix, electronic music as a whole, and memories of the past 365 days.
Krankbrother > Woman's Hour
What equipment did you use to write "Conversations" on? Which synths did you use, and what program was the track recorded with?
The track was initially fleshed out on a guitar before adding other instruments. We used a variety of synthesisers on this track, including a Roland Juno 60, Korg Delta, Arturia Mini Brute, Dave Smith Tetra, Korg Ms10 and Roland Sh101. Definitely some Wurlitzer piano too. The track was recorded using Pro Tools.
What was the best festival you played in 2014?
That's a very tough question, but I guess it would have to be Green Man. They had very nice portaloos and gave us free cocktails...
How in tune are you with the dance music scene? Did you grow up going to clubs or listening to house music, and has it influenced the aesthetic of your album?
We listen to a lot of electronic music and enjoy going to club nights. I listen to quite a lot of house/disco music, usually mixes from Beats In Space. I think dance music has been strongly influenced by instruments, like the Roland TR808, 909 and TB303, and I think in this respect, in using similar instruments, we share a similarity with dance music. Two synths we used in particular have a definite sound when played together and these sounds are pretty constant throughout the record.
What are your top 5 favourite albums of 2014?
Future Islands - Singles
The War On Drugs - Lost In the Dream
Wild Beasts - Present Tense
Grouper - Ruins
HTRK - Psychic 9 - 5 Club
Being a band that uses a lot of electronic gear, you kind of sit across the electronic and indie scenes. How do you feel those two scenes sit together, and what's the future looking like for indie over the next five years?
I think these two styles of music have always impacted upon one another, sometimes harmoniously, sometimes not. With regards to us, falling into both categories was purely coincidental on our way to making the debut record that we wanted to make. These styles will continue to ebb and flow as they always have done, in my opinion. The main change will be the technology; everyone seems to have a laptop and an interface now, so recording acoustic sounds and combining them with electronics has never been easier. Plus, manufacturers like Korg and Dave Smith continue to push the boundaries with traditional style synthesisers and all these tiny independent modular synth companies are creating all kinds of weird and wonderful things. Who knows what the future will hold.
Do you like our remix? What do you feel we added, or lost from the original track?
Yes, we love it! It's nice to hear parts of the track singled out, like the guitar and synth lines. It's got a slightly ghostly feel to it at times, the vocals feel particularly ethereal. Like any good dance track should, it makes you move your feet.
Woman's Hour > Krankbrother
How did you find the process of remixing "Conversations"? Have you had much experience of remixing?
Actually, we found the remix quite straightforward to put together because the stems were so good! There were some lovely synth parts and vocal stems, and it was fun to work with them as it was a little different to what we usually do. The original track is beautiful, and really we just wanted to make something that was more dancefloor friendly, so it's almost an edit that stays pretty true to the original.
Have you ever incorporated live music into your DJ sets or Krankbrother parties? If not, is this something you're interested in trying out?
We have quite a lot of 'live' electronic acts play at Krankbrother. Someone like Mr. G who played for us on NYE in London is creating the sound live through an MPC and a mixer. He exclusively plays his own productions. He loads in loops, samples and so on, and creates the whole show live on his own whim! We've also had acts like Henrik Schwarz, Kassem Mosse... all of whom produce all of their own music, and perform it live rather than DJing.
Your parties are site-specific and happen in often relatively unknown or non-music spaces. What are the advantages and limitations of working in this way?
I guess the advantage is that over the years we've got to party in some pretty weird and wonderful places. On streets, beaches, yachts, rooftops, warehouses, railways arches, factories and more. It's definitely been the defining feature of what we've done over the past six years. The disadvantages are that you have to licence these places for a party yourself, and sometimes the licence can fall through at the last minute, leaving you with a sell out show and no venue. There are always challenges as well in putting large numbers of people into spaces that aren't specifically designed for it. In the early days we once did a party for 1000 people where there was only one toilet.
Not pretty.
I read recently that you signed an artist to your label, and that alongside hosting parties and DJing, you also run several restaurants. Do you see yourselves as entrepreneurs, and how would you describe what you do?
Opening a restaurant was a lifelong dream - and it's amazing to have done it. We have found that it's a similar skill set required in club nights and restaurants. You are essentially creating an environment and an experience and trying to entertain people. When I think of entrepreneurs I think of dotcom guys like Mark Zuckerberg or someone... what we do is pretty old school in a way - people have been organising shows and running restaurants for centuries!
You recently DJ'd in Australia on NYE, what track did you play for the countdown?
Krankbrother - "Circular Thing". It comes out next month. You've got to indulge and play one of your own tracks after the countdown!
What's one of your all time favourite remixes?
It's hard to pick one but I love the remix album that Jamie XX did for Gil Scott Heron's "We're New Here". It's a pretty incredible album when you listen to it, which I do a lot! I mean you can't beat Gil Scott Heron's grisly vocals, but it was fascinating to hear them in a more electronic context. Apart from that... pretty much anything that Four Tet remixes turns out amazing.
Woman's Hour are headlining the Best Fit Five Day Forecast, our week-long residency of The Lexington, this Friday (16 January). That show has totally sold out, but there are others that are still available, including tonight's Freddie Dickson show. Tickets for the whole residency are available here.
The "Conversations" remix is out now via Secretly Canadian, but you can stream it below.
Get the Best Fit take on the week in music direct to your inbox every Friday