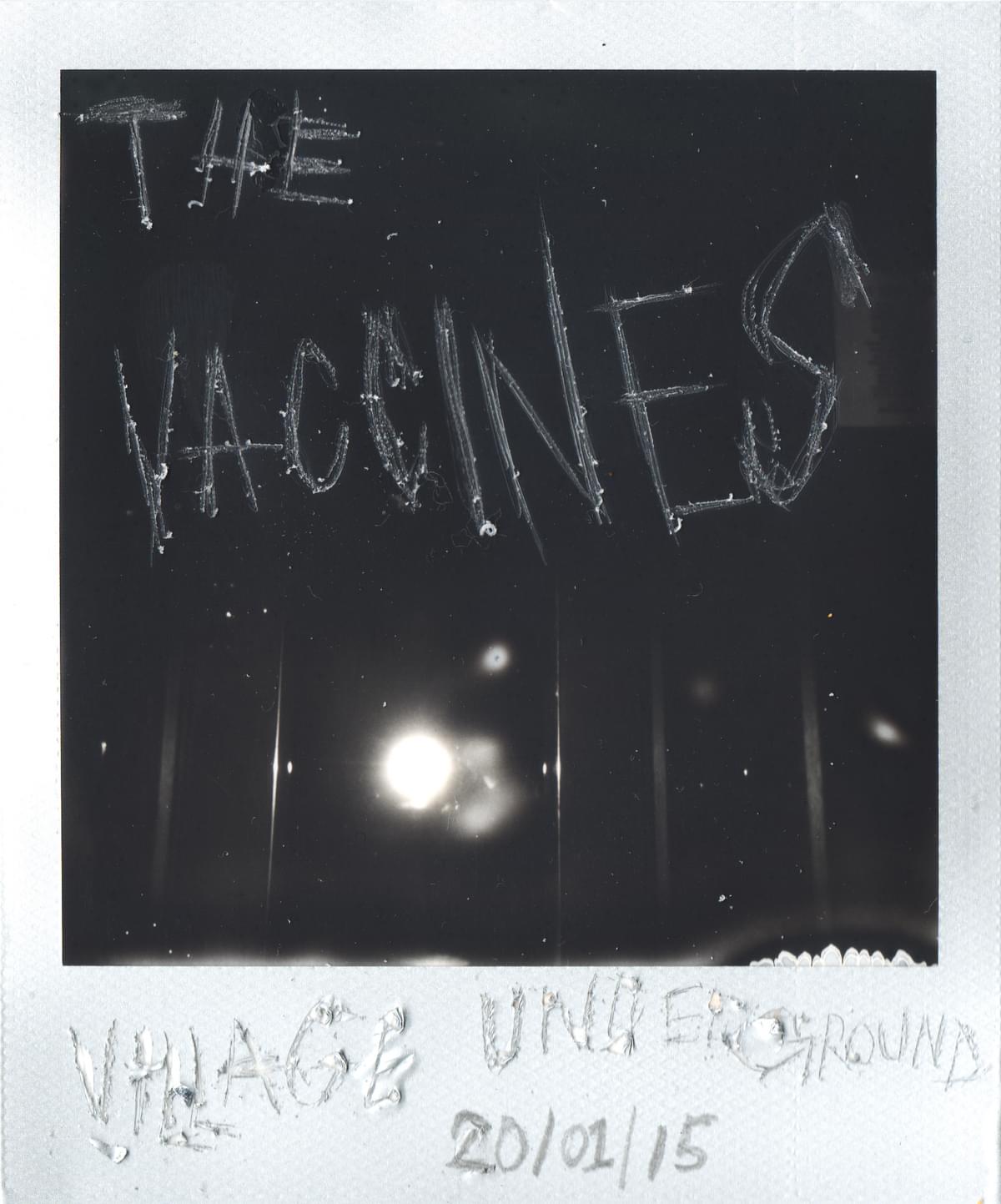 Polaroids with The Vaccines
30 January 2015, 10:00
The Vaccines return this year as a force renewed. English Graffiti, their third album, is shaped heavily by working with legendary producer Dave Fridmann (Flaming Lips/MGMT/Weezer) and Cole MGN (Beck) along with a self-aware attitudal shift that will surprise many.
What we've heard of the record so far confirms that it's not just a case of the band growing up but a very real, creative second-act development.The band's live return to the city where they began saw them play the 800-capacity Village Underground last week with their friends Hinds in support.
London-based artist Karan Kandhari - who directed the band's "Melody Calling" video - went along to take some candid Polaroids of the four-piece as they prepared for the show; we also spoke to Freddie Cowan, Justin Hayward-Young, Pete Robertson and Árni Árnason about their thoughts on the night and English Graffiti.
"Towards the end of 2013 we were pretty burnt out...every time you go on stage, you mind is going like a fucking race car...so we were focusing on thing like the monitor guy and why the snare was too fucking loud and whywe couldn't hear the fucking bass!!!! I remember half-way through last year I did a Lou Reed benefit in New York in a 90-capacity venue and it felt electric...I couldn't believe I'd stood in front of 50,000 people and felt numb to it before. You start turning off." - Justin Hayward-Young
"I feel everybody is more relaxed about the relationships in the band now than at the end of 2013 but at that point we'd seen nothing but each other every day for four years. I feel like the gang mentality is solidified now, it's very strong." - Árni Árnason
"We went in with Dave [Fridmann] before any of us had committed to doing a record with him and one thing become apparent - he wasn't going to change what we did at the core, he was just gonna change how it sounded coming out the other end. He's the mad scientist who actually just wants you to leave the room." - Justin Hayward-Young
"When we first started doing the record, the songs we were doing with Dave were really just...how the fuck are we going to do this live?!!" - Freddie Cowan
"Aside from the songs...we're keen that the approach we took in the studio translates and comes into effect [live]. Our goal when we started the band was not to overthink anything - just first thought: go with it." - Justin Hayward-Young
"It's just really exciting to be playing again and I guess the more records we make, the bigger the repertoire becomes and the more enjoyable it is. I really feel like there's no dip in the set. It's really nice after having such a long time in the studio...[having] time to refine the live sound...and we've never sounded better. You forget, living in America - like Justin and I do - that people care." - Freddie Cowan
"The new stuff does sound different...it's a big step forwards for us [but] Justin's writing style being so identifiable...it just works.. I don't think we've ever presented ourselves more confidently. Being so fresh with that recording and mixing process, we know these songs so well. We know exactly how we want them to sound. Being able to achieve that is so rewarding." - Pete Robertson.
"We're really looking forward in the next few months to actually tearing to set apart and putting it back together again. We'd like to play a lot more of it [the new record], at least half of it. The most enjoyable parts of the set are the new stuff - it sounds like T-Rex on steroids. It's great to be behind that." - Freddie Cowan
"So much has changed with each of us over the last 18 months that it does feel different when we're on stage but the link we developed working our arses off over four years and constant touring...whilst we are doing different things and approaching things differently, we know each other's thinking." - Pete Robertson
Justin: "We've never played here before. I've never been here before..."
Arni: "We saw White Lies here...you were there."
Justin: "Was I? Just playing a show in itself regardless of where or to whom or after how long is pretty fun and exciting and a bit nerve-wracking." - Justin Hayward-Young
The Vaccines play Nottingham Rock City (27 March), Hartlepool Borough Hall (28 March), Glasgow Old Fruit Market (29 March), Scunthorpe Baths Hall (31 March), Manchester Albert Hall (1 April), Portsmouth Pyramid (3 April), Bath Pavilion (4 April), Folkestone The Leas Cliff Hall (5 April) and London Brixton Electric (8 April). They're also part of War Child's Passport Back to the Bars event - a week of one-off shows in intimate venues – at the 150-capacity Dublin Castle in Camden on 16 February. Ride, Duran Duran, Bastille, Elbow and You Me At Six also play during the week.
Colour and B&W Impossible Project 600 type film supplied by Impossible and shot on Polaroid Supercolor 635 by Karan Kandhari
Get the Best Fit take on the week in music direct to your inbox every Friday