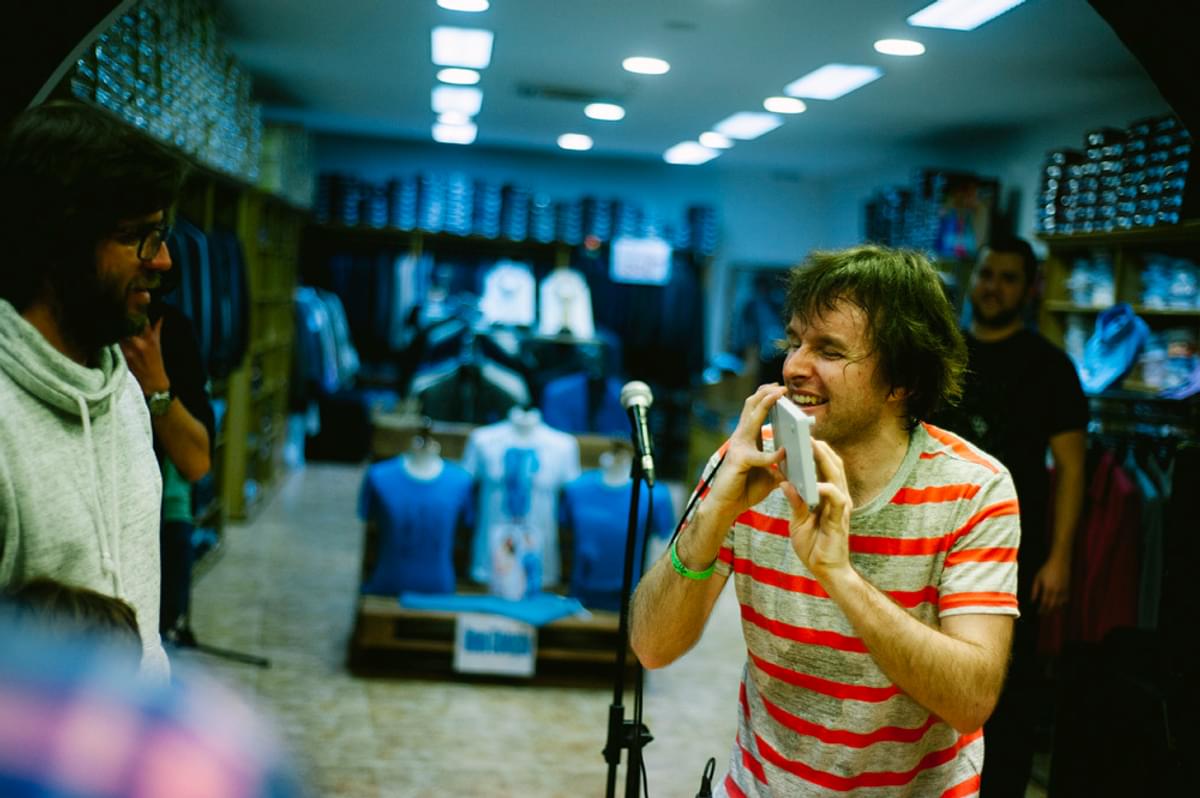 A Tremor in the Azores: Musical Curiosities On A Distant Island
13 April 2015, 08:30
The Azores-based Tremor celebrates its second year and looks set to be at the forefront of experimental, transformative music festivals.
"I am baptized a poet," wrote the Azorean poet Antero de Quental, "and remain seated amid imperfect forms, a mark, cheerless and pale, of the eternal law."
Quental - born in 1842 in Ponta Delgada, the administrative capital of the autonomous Portuguese region of the Azores - spent most of his time on the mainland but took his own life in the public square of his birth town before reaching his mid-forties. I visit the very same square, Campo São Francisco, on my first night in Ponta Delgada. Driven by curiosity as much as the same morbid fascination that once led me to the Prins Hendrikkade in Amsterdam where Chet Baker fell to his death, I instantly take to the charming, expansive centrepoint to the town. A cobbled street separates cafes and artisan stalls from the whitewashed Igreja de São Sebastião and basalt stone is everywhere, a cheap and available building material hewn directly from the earth beneath us.
Quental's self-imposed exile and eventual return resonates, albeit more positively, in another prodigal son of the island and the first Azorean I meet here. Antonio Pedro Lopes is also the reason I'm on the island of São Miguel. A year ago he launched Tremor, a one-day music festival with an ambitious ethos: rethinking how a city can be a meeting point for people.
"It's not all about the music. It's about the town," Antonio tells me over coffee. "The music is a pretext for people to come and inhabit the centre, which becomes a ghost-town on weekdays. The summer is okay but the rest of the year cruises come, stay for five hours while the cruise is getting fuel and then they leave."
"You have hundreds of people in town walking around, it's a massive take-over - it's so empty most of the time …."

PONTA DELGADA BY COQUIJAC
Tremor is an experimental proposition in more ways than one. The first year saw Portuguese artists from both the Azores and the mainland dominating the line-up but this time homegrown rock and psych rubs shoulders with the abstract and experimental from overseas. It's a gutsy move and one that comes with substantial risk. Ponta Delgada is a sleepy postcard picturesque town and, like Tremor, seems underwritten by healthy curiousity as much as uncertainty.
For the first time ever this weekend the Azorean airspace deregulates, breaking a long-held monopoly. New flights will will bring visitors on an unprecedented level and locals sway between two extremes: a belief that this could really push the economy into a good place and a fear that the city just isn't ready yet. Everywhere I go there are signs of the global recession. Abandoned hotels and half-finished casinos sit quietly, gathering moss and graffiti among the pretty streets. "The crisis really messed up a lot of businesses," Antonio explains. "There are hostels being build, shops being constructed. In the hotels and restaurants there is a a lot of joy in times coming, that it will be good for them."
"It is very exciting for the Azores," a shop worker adds when I ask her what she's expecting, "but, you see, I just don't know what will happen if there are more people here. I don't know how the city will make itself ready." She shrugs: "We are a quiet place."

ANTONIO PEDRO LOPES BY VERA MARMELO
The same skeptisim is shared by the festival's creator. Antonio grew up in the Azores but now lives between Rio and Lisbon. He returned here with a dream to create a legacy and Tremor's second edition adds confrontational swagger from Baltimore's TT The Artist, DIY indie rock from Florida-born/Berlin-based Emperor X and Chicago sound experimentalists Bitchin Bajas. On paper, there's very little that connects such bands but the concept behind Tremor is the lynchpin.
The local scene is subued to say the least. I'm told Nelly Furtado's family are from here and guitar hero/hair model Nuno Bettencourt was born on the islands. Outside of the taxi radio on my way from the airport, my first hours on the island are beset by the distant hum of karaoke bars; a note perfect cover of Robbie William's "Angels" serenades me unhappily to sleep around 2am.
There isn't really a local scene at all, relates Antonio - but things have changed in the last couple of years: "There are two full hands of examples of people doing music, different music - and young people doing it. It's maybe not a scene but the beginning of something here, you know? It's good for them...these people, these artists are really out of the logistics of the music market of Portugal. It's all centred around the main centres, Lisbon and Porto. This gives them…some attention. It has media, they see their names, critics writing about them in the country's main newspaper or the TV channels."
Of the nine islands that make up the Azores, São Miguel is the biggest and its capital holds around's third of of the entire population. There are no truly indigenous people here, with Portuguese explorers first coming to the volcanic archipelago back in the 15th century. As a stopping off point for trade ships the area's gentic and cultural make-up has sucked in the best from all cultures and peoples. It's a landscape is a full contrasts: the rusty. white washed Ponta Delgada surround by some of the most lush, green nature and bluest water I've ever seen. Sitting on top of the convergance between three tectonic plates, it's a fertile area, fed by nutrients from the volcanic rock.
The eco system has helped give a degree of self-sustainability to the region - in both tourism and produce. They export milk. They grown their own tea and make their own jams and honeys. There's a regional beer (Especial) and soft drinks made from pineapple and passion fruit. Cattle has existed here since the first settlements too and the local beef is the equal of the endless varieties of seafood I eat over the week.

FRUIT MARKET IN PONTA DELGADA BY PUTNEYMARK
And food is everywhere in the Azores. Almost within minutes of landing in Ponta Delgada, we're presented with a bowl of soup - a tasty vegetable broth wolfed down in minutes by a table of jetlagged travellers. We tuck into bacalao (salt cod) arranged like a gratin and topped with cheese. It's beautifully doughy and fragrant. "It's the way we show love here," a local tells me. "Food is so important and it's how we show we like you."
"Everywhere I've ever been in Portugal, I just seem to walk into a place and they put food in front of me," my dinner companion Chad Matheny- aka Emperor X - adds. "I don't ever remember money chaning hands either." The Florida-born musician has flown over from his Berlin home to play two sets at the festival - one in the foyer of compact clothes store Londrina and the other late at night on a hotel balcony as part of Tremor's off-venue "parallel" programme. We're whisked away on a coach trip for each of the three nights leading up to the main event, a hundred or so people headed for a mystery show in an unkown location. It's beautifully playful and in keeping with Tremor's challenging ideals. These shows continue to reclaim spaces not normally used for music; one even takes place in a pineapple greenhouse.
"The parallel programme means we're already running over three days," explains Antonio, "so it's a lie to say that we're a one day festival, really. Because the biggest venue takes 2000 people and the smallest 30, we had to make some synchronicity with the capacity of each place and give choices to people even if it creates a certain frustration. 28 concerts in 24 hours, with each concert being 50 minutes….you can't see every concert."

BY VERA MARMELO
Food also finds its way into the parallel programme, with special menus created showcasing the best of the island's cuisine, often without any prompting. "People want to eat at some point!" says Antonio. "It makes no sense that we should start our own food business but to connect with the people who are already there, to see how they react and if they would be open to this idea…and we see the place exploding, with restaurants creating their own menus."
The conversation moves on to the festival's logistics. Antonio talks with real pride about the strides made since Tremor's launch year despite his admission that they were very innocent, very naive." This time they've built more bridges with government and adminstrative departments. "We also got involved with embassies, we learnt they're more than happy to participate in these kind of events. We want to open up and create a bridge between continents, taking advantage of where we are, between Europe and America."
Tremor's main event kicks off around midday on Saturday. The big shows run in the early hours of the morning, when the likes of Black Bombain dominate the cavernous church interior at the Academia dos Artes (also the festival's base of operations) followed by Za! at the Solar da Graça. Before that, it's a long and rewarding day of rich, very different music that is met by a healthy curiousity for the unusual from local audiences.
More than once it feels like we're on really excellent bar crawl with good friends rather than in the middle of a festival. The trappings of similar events are thankfully thin on the ground: there's no aggression, queues are manageable and security is as laid back as they come. Even the few walkouts for more out-there artists (such as Colombia-born Lucretia Dalt) are toothless and immature affairs: no hecklers, just some childish fart noises from the crowd who find it all a little too much at times. It's charming rather than than offensive and any small signs of dissent I see throught the day come across as an expected side effect. I see the same puzzled islanders a few hours later drunk and pogoing to local boys Broad Beans in the basement of While this is a festival all too well aware of the battle for acceptance, validity and a place in the island's calendar, it doesn't compromise the talent for it.
Drag City-signed Bitchin Bajas draw an audience who remain immersed and hypnotised by the US trio. Their sound finds a warm, nurturing space in the Auditorio Louis Camoes, a compact version of London's Barbican, clad with matrixes of Scandinavian-styled wood pannelling.

BLACK BOMBAIN BY VERA MARMELO
As the evening kicks in, I end up in the first floor pub-like room of Travessa dos Artistas to watch Bandido e o Coração Pirata play virtuoso grinding doom versions of "You Are My Sunshine" and "House of the Rising Sun", sounding like Beefhart founded Goth on acid. At the other end of the spectrum is the transcendant collaboration between Carlos Medeiros and Pedro Lucas at the Igreja do Colégio. Their Mar Aberto record - released by Portuguese label Lovers & Lollypops, co-organizers of the event, along with Yuzin - is one of the highlights of an afternoon hanging out in Lisbon's best record stores (the other is a belated introduction to the great Carlos Paredes). The Medeiros/Lucas show is only matched by Black Bombain's powerful and assured set a few hours after midnight.
Throughout my time here I'm told more than once that the Azores is a place that has always suffered from a lack of cultural projects and artistic vision. Yet Tremor's central concept challenges that. It's also is in evidence throughout the festival - simply study the sway from incredulity to bemusement and genuine rapture in the crowd during any of these shows and you see a revolution in nascent form. It's a cultural dilution for sure but one that couldn't be more welcome.
It is a rare thing then: the right place, the right time and a visionary idea that takes risks. The result is both magical, unexpected and with the potential to transform and grow. One hopes the event doesn't stray from its original intent; right now it has the makings of the best small festival I've ever been to.
The Line of Best Fit attend Tremor by invitation of the festival. Flights were provided by SATA. Accommodation was provided by Hotel Alcides.
Get the Best Fit take on the week in music direct to your inbox every Friday