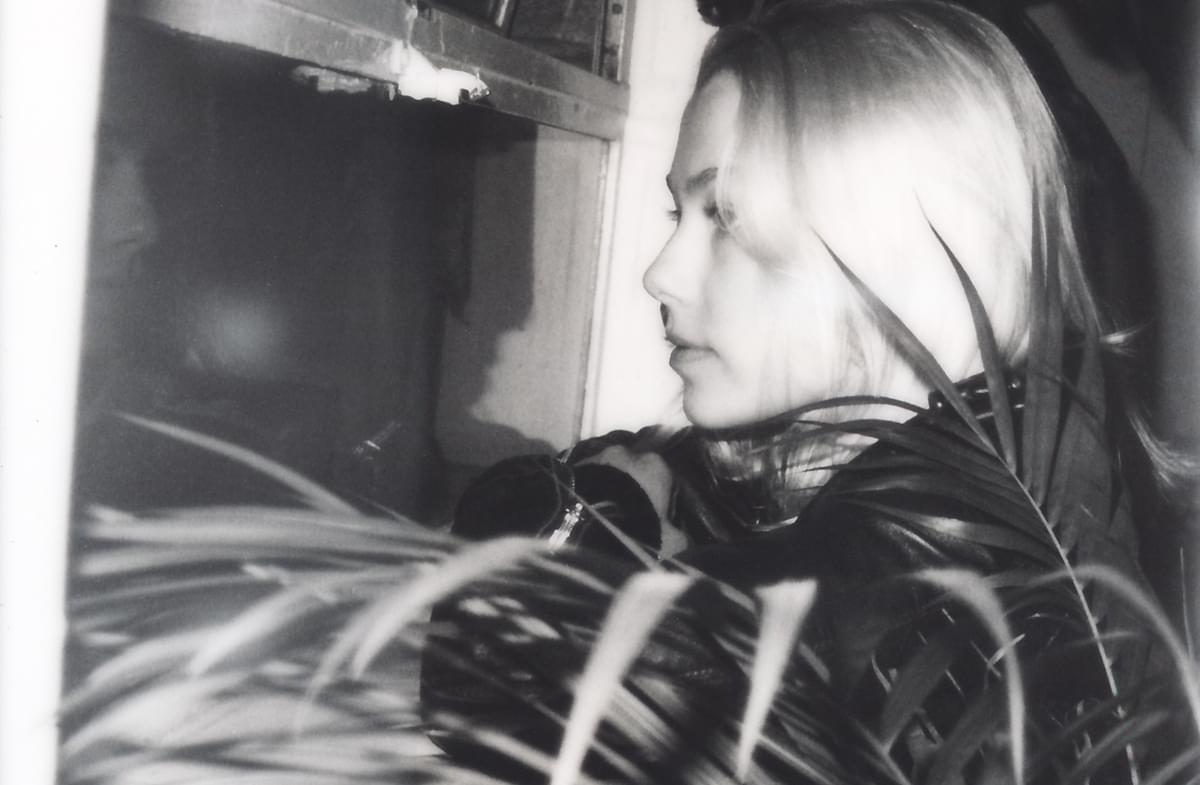 The remarkable sadness of Phoebe Bridgers
17 December 2017, 21:09
Strangers in the Alps by Phoebe Bridgers is our record of the year and one of the strongest debut albums this decade. Tom Johnson gets under the skin of why Bridgers and her own brand of melancholy is so appealing in 2017.
"A bit too happy for you, eh?" is a statement that's followed me around a lot over the years; often the follow-up to me dismissing a piece of glitzy pop music being played.
I happen to love a lot of glitzy pop music but it's also true to say that I have an apparent unreserved well for sad music. Using music as a crutch during particularly difficult times - from teenage discomforts through adult relationship breakdowns - has steered my own tastes towards songs and records that feel as crushed by the world as I tend to in those moments and their surrounding fallout. Swimming against the tide somewhat, I've never understood the idea that music informed by misery is "depressing" - a term I've heard with fist-gnawing frequency - and I have, as such, grabbed at it like a life-aid, staying afloat on the knowledge that other people have been here before, kicking frantically, spitting out salty water in an attempt to make their way on dry land. Which is about the least depressing thing I can imagine.
In this ocean of music, Phoebe Bridger's Stranger In The Alps holds a remarkable sadness of its own, tracing various strands of death and quiet destruction to create a personal roadmap of sorrow; from 2016's deluge of celebrity deaths, funerals of friends, and serial killers, to less tangible things such as feeling out of time and place, aimlessly navigating this thing we called life, alone and stoned.
It all started with "Smoke Signals", the album's astonishing lead track, released at the tail-end of 2016 and setting a precedent for all that's followed. Written, of course, in a cabin in the woods, in Idaho earlier that year, it was the starter of her next chapter, following the release of 2015's Killer EP, which was produced and released via Ryan Adams and his Paxam label. Even with that starting-point - and Killer is indeed a bruised gem of an introduction - "Smoke Signals" was something else altogether; one of those lightning-bolt moments of inspiration that gently, imperceptibly changes things. Rolling forward through five-and-a-half minutes of jilted balladry, it drifts between poetic lyrical flourishes and direct kickings out at the world. Various musical and literary references are scattered throughout; nostalgic glimpses of a life we have no other context of; the deaths of Bowie and Lemmy; Thoreau's Walden and his reflection of simple living.
Nostalgic leanings aside, as a folk-pop song in its own right "Smoke Signals" is instantly arresting; that short, repeated run of bass notes, plucked straight from the heart of Twin Peaks, and the weathered, smouldering voice that feels carved from the bleakest of days.
Before the album had been announced, with just "Smoke Signals" to share, Bridgers rise was given a bigger platform again as she joined Bright Eyes' Conor Oberst on tour and in support of his Ruminations LP. The nature of the shows meant that the majority of the venues were grand concert halls, with attentive audiences to-boot, and it felt like the perfect stage for Bridgers development; her opening support slot not just a captivating aside to Obert's headline slot but a dazzling display of what felt like a new page in the age-old country music genre; stripped-back and unadorned, Bridgers left a marked impression on all who were there, a new voice from the golden age of radio, and a palpable star in the making.
If both the Ryan Adams and Conor Oberst connections were edging Bridgers down a certain alt-country route, then following single, Motion Sickness - unveiled alongside the news that the Strangers In The Alps LP would be released by the brilliant Dead Oceans label (Mitski, Destroyer, Kevin Morby) - re-shaped that vision again, adding an extra-bite and pertinency to her forthcoming work; no longer an antiquated country voice but a bold and substantial songwriter fit for the ages; relevant and ready.
And biting too. Underpinned by a swaying but comparatively bright instrumental backing, she sings "There are no words in the English language I could sing to drown you out," pulling no punches despite the tenderness of the delivery. In some regards this was our first glimpse in to Bridgers' true personality, slowly revealing itself as more of the record was revealed.
***
There's a common trait in every aspect of society, but especially the wider music world, where women are expected to live up to stereotypes formed by the patriarchy. Bridgers might sing like a country star of old but there's nothing sugar-coated here, no diamond-studded politeness, given before its earned. Some months after the Conor Oberst tour, Bridgers plays a UK headline tour of her own. Venues downgraded from halls to sweaty basements, crowds downsized from curious Bright Eyes fans to interested BBC 6 Music listeners, she wears a black (metal?) hoody throughout her Glasgow show, occasionally breaking from these heart-wrenching songs to admonish people who've wrong her along the way. "This song was produced by a man who wouldn't work with me until he'd seen a photograph of my face. I guess he liked what he saw…the fucking asshole," she says, half way through the set, with little care how it's received. A wolf in wolf's clothing, not afraid to tell it how it is.
That plaintive sense of distaste and distrust runs throughout Strangers In The Alps, the debut album she finally released in September. Though it's delivered with a sense of balance which allows her poetic flourishes to sit side-by-side with this sobering realness, it is, in essence, a record about death as much as life. And it's no act, either. "I do think about dying a lot," she told Best Fit in an interview earlier this year: "I feel like a lot of my friends, especially artists, are consumed with this idea of the inevitability of death."
It's the gaps between the words, the things left unsaid, little clusters of quietude that conjure supreme intrigue; her own fascination with the dark side of humanity passed on through song.
While songs about death are relatively common, they're often pitched as metaphors for relationships or other extraneous activities, but Bridgers' candid vision allows something different altogether. Although a lot of the songs on Alps are strictly about dying, they're handled with so much care that we're still able to feel connected to them as listeners, as interested passengers journeying through her work. "It's not even death anxiety," she said, in that same aforementioned interview, "it's this obsession of how somebody could kill another person. 'Chelsea' is about Sid and Nancy…'Killer' is kind of about Dahmer and serial killers in general. That's mostly what it is."
Which leads us to that recurring question about all our favourite art: Why does it matter so much? Why have we fallen so in love with a record about personal scorns and serial killers? The answer, of course, is as ambiguous as ever, but in the case of Stranger In The Alps, it has a lot to do with nuance, intrigue, and the way in which it's delivered. Bridgers has the kind of voice that could make a list of ingredients sound wonderfully compelling, but that's not what I mean. It's the gaps between the words, the things left unsaid, little clusters of quietude that conjure supreme intrigue; her own fascination with the dark side of humanity passed on through song.
This absorbing nature manifests itself in varying words, intonations, and the stomach-churning melodic shifts, but mostly its in the intangible. Shortly before pulling this piece together, Bridgers' Tiny Desk performance is unveiled and, as a performance, it's emblematic of her ability to shrink the world until it exists only as a little pocket breath between herself and you. Performing in that small space, swamped by shelves of records and artefacts, so many things to distract, to draw the attention away from her rendering, everything else ceases to be; the clutter and crowd simply falling away out of focus, in to nothingness, leaving only her mannerisms, those eyes you can't look away from; eyes that tell as much of the story as the voice, drifting off in to the ether, to somewhere else entirely and taking us along with them.
That's what I mean by delivery, and it's what makes Phoebe Bridgers such a fascinating, ethereal, enchanting artist. It's not that the subject matter is irrelevant, it's that we want to know why it's relevant, whatever it happens to be.
Stranger In The Alps closes with a cover of Mark Kozelek's "You Missed My Heart", another of Bridgers' obsessions that made its way in to her debut record. A slow, meandering, somehow poignant tale of murder in the name of love, and the domino-effect it can have, Bridgers version stays relatively true to the original version, while, if at all possible, lacing it with even more sorrowfulness, the shape of the story shifted by the loss of Kozelek's far flatter delivery in place of something decidedly more soothing. As the track tails away, as Strangers In The Alps draws to a close, I'm reminded of another Kozelek song, "Lost Verses", a deeply melancholic tale of the space left by death, the protagonist revisiting the places he knew best "to put on my father's wool coat, to smell my mother's fragrances and perfumes" to fill in the gaps he never meant to leave empty.
It's hard not to view Bridgers' work through that same prism. In their purest form these are songs about people and places, but their impact, the impression they leave behind, is what makes them truly special; following closely in your shadow, prickling at your skin, the memory of something forgotten and fading that you can't let go of.
Tom Johnson is the founder of GoldflakePaint. Follow him on Twitter at @GoldFlakePaint
Get the Best Fit take on the week in music direct to your inbox every Friday