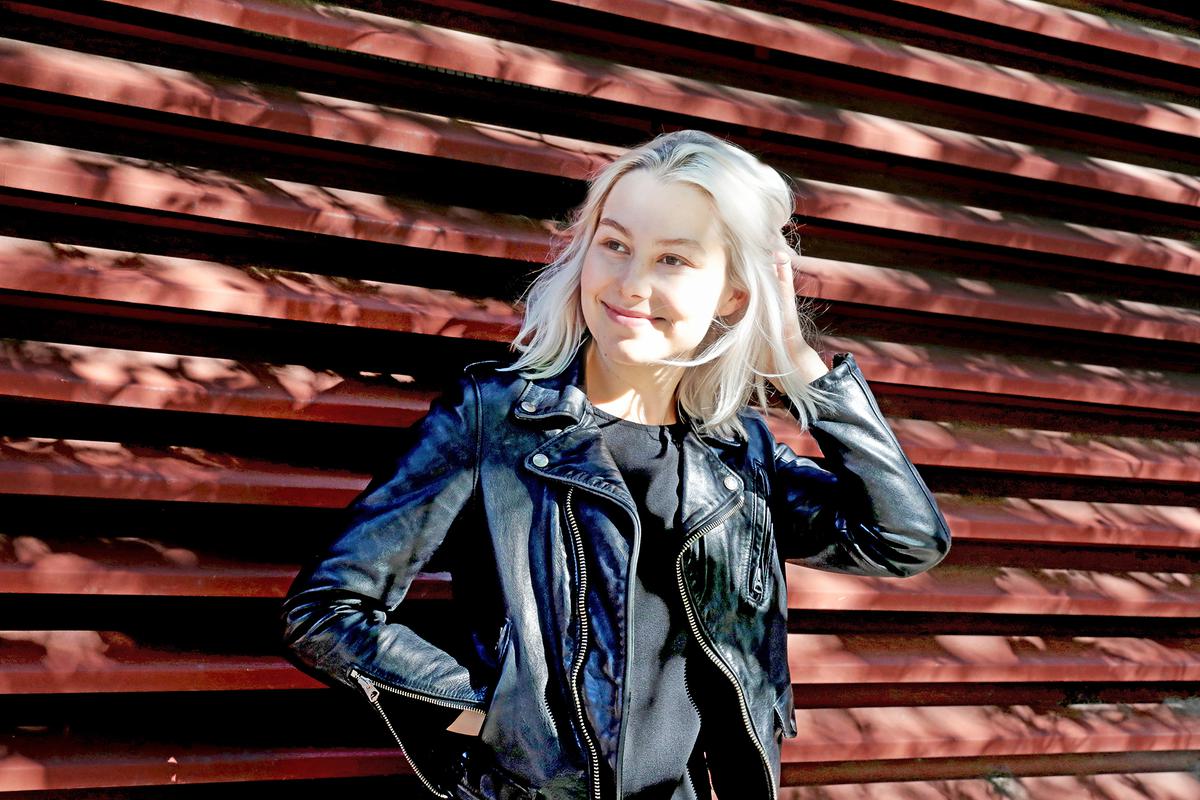 On the Rise

Phoebe Bridgers
22 September 2017, 09:45
How Phoebe Bridgers' obsession with death and an existential reckoning inspired one of this year's most stunningly impactful breakthrough albums.
There's a timelessness to Phoebe Bridgers' Stranger In The Alps. It's 22-year-old narrator wrestles with the ambiguity of the present, piecing together fragments of nostalgia in an attempt to make the everyday seem somewhat coherent. These fragments flitter past with filters of desperation, longing and regret, with Bridgers' instilling a vivid retelling of universal realities with a thoughtful, emotive skill.
On opener "Smoke Signals", Bridgers likens the past to a corridor, describing herself as a 'concrete wall,' forever belonging to the time of her former self while still being aware of the 'unwritten' future. This eternal struggle is mimicked with the repeated mention of death throughout the LP; an existential reckoning that is perhaps at its most devastating on "Funeral". Bridgers describes singing at a funeral for 'a kid a year older than her' and speaks of 'doing nothing' at 4am; it's a claustrophobic, overwhelming account that renders her unable to breathe and us, breathless in its wake.
"I feel like a lot of my friends, especially artists, are consumed with this idea of the inevitability of death,"
Although death is a topic that finds thematic resonance throughout Stranger In The Alps, Bridgers says she doesn't think about death itself very often. "I do think about dying a lot," she tells me over the phone. Bridgers is speaking from her tiny studio apartment in Los Angeles, which she describes as containing only a bed and a kitchen table. "I feel like a lot of my friends, especially artists, are consumed with this idea of the inevitability of death," she continues.
"This sounds so dumb to anyone who's any age but I'm turning 23 this week and I literally feel like I'm 19 years old. It's going so fast and I was realising, three years doesn't seem that long – in three years I'll be 26! Which is a completely different genre of age than 23, especially with the fucked up youth culture obsession especially in Hollywood which is basically where I live. I do think about time. With the record what I was visiting – it's not even death anxiety – it's this obsession of how somebody could kill another person. "Chelsea" is about Sid and Nancy and obviously "Killer" is kinda about Dahmer and serial killers in general. That's mostly what it is."
Bridgers jokes that she never "got a full serial killer education," with her fascination stemming from falling down a YouTube rabbit hole. "I couldn't look away. I was like, there must be something wrong with me because this isn't natural!" she says. "Then I realised, there's a reason that this [serial killer] industry is monetised. They're making money off people like me who will stay up all night and watch eight episodes of Keepers."
The act of killing on Stranger In The Alps reaches its most affecting moment on the album's final track – a cover of Mark Kozelek and Jimmy LaValle's "You Missed My Heart". A riveting account of a murderer who kills and eventually dies all in the name of love, Bridgers says that a few people have thought that she wrote the song herself. "It ties in with a lot of my weird obsessions," she explains. "I was so riveted by it. I have this thing where I have to listen to songs over and over if I like them alot and I have to listen to that song over and over but then I was like, I have to play this. It's an extra level, I have to get inside it. That song totally resonated with me, I couldn't stop listening to it."
"The one time my brain is really allowed to work is when I'm walking somewhere. I do a lot of my writing like that."
Although the album's title evokes a sense of nature, Stranger In The Alps instead offers up the grittiness of the city. Many of its tracks describe Bridgers walking through streets, providing an insular account that can only be awakened through seemingly aimless wanderings. "I feel like my only comfort is walking around," she says. "The one time my brain is really allowed to work is when I'm walking somewhere. I do a lot of my writing like that." And while the city is very much in Bridgers' blood after growing up and residing in Los Angeles, she does go on to say that she's "obsessed" with nature.
"The [album] title was really striking to me. I've never been to the Alps but I'm obsessed with winter, nature, forests. It's really ironic that I live in urban sprawl but it makes me appreciate it a lot more I think," she says, mentioning a recent trip to California's Yosemite National Park as particularly memorable. "I would absolutely live there if I could, live right in the middle of the canyon."
While the solo-living canyon dream is a long way off, Bridgers is learning to live with herself in a way she hasn't before. She tells me she's always been in relationships since the age of 15, having broken up with her last partner earlier this year. "I have been enjoying my own company for the first time in my life. I live by myself, I do everything by myself, walk by myself," she says. "I miss the companionship, I miss travelling and planning things with other people, having someone around you that has context for everything in your life. But for the first time I'm learning to solve my own problems and be on my own and I'm trying really hard to enjoy my own company and it's been nice."
Trying new things is something that was paramount in the creation of Stranger In The Alps. Produced by Tony Berg and Ethan Gruska, Bridgers recorded all the vocals on the album while in complete darkness. "It's so atmospheric, so we were experimenting a lot and some of the vocals were recorded separately," she continues. "Matthew the producer would just turn off all the lights. I would sing and see the glow of his face in the computer but nothing else. It was really cool and sometimes I'd just close my eyes. It was hard to not drift away from the microphone. I'll totally do that for the rest of my life. It really makes a difference, when you can see everyone looking at you, it's a different experience than singing for yourself."
Through this particular process, Bridgers feels like she's finally 'found' her voice but also maintains that it's something that's 'always progressing'. "I hear stuff I did two years ago and I'm like, what was I doing? I definitely freak out about that," she says. "I just don't want to change my mind. That's kind of what I was saying when I was saying I was finding my voice with this record, I don't think I'll be embarrassed of it in two years. This is the beginning of me making stuff that I can really stand behind."
With such an impactful, stunning record, it would be easy to say that Bridgers is a songwriter wise before her years. What makes Stranger In The Alps so riveting though, is its unapologetic exploration of adolescent thought that, universally speaking, none of us really ever grow out of. We're forever searching for an answer, a break to catch our breath, and while Phoebe Bridgers may not have the explanation, Stranger In The Alps provides a rare opportunity to try and find that solution within ourselves.