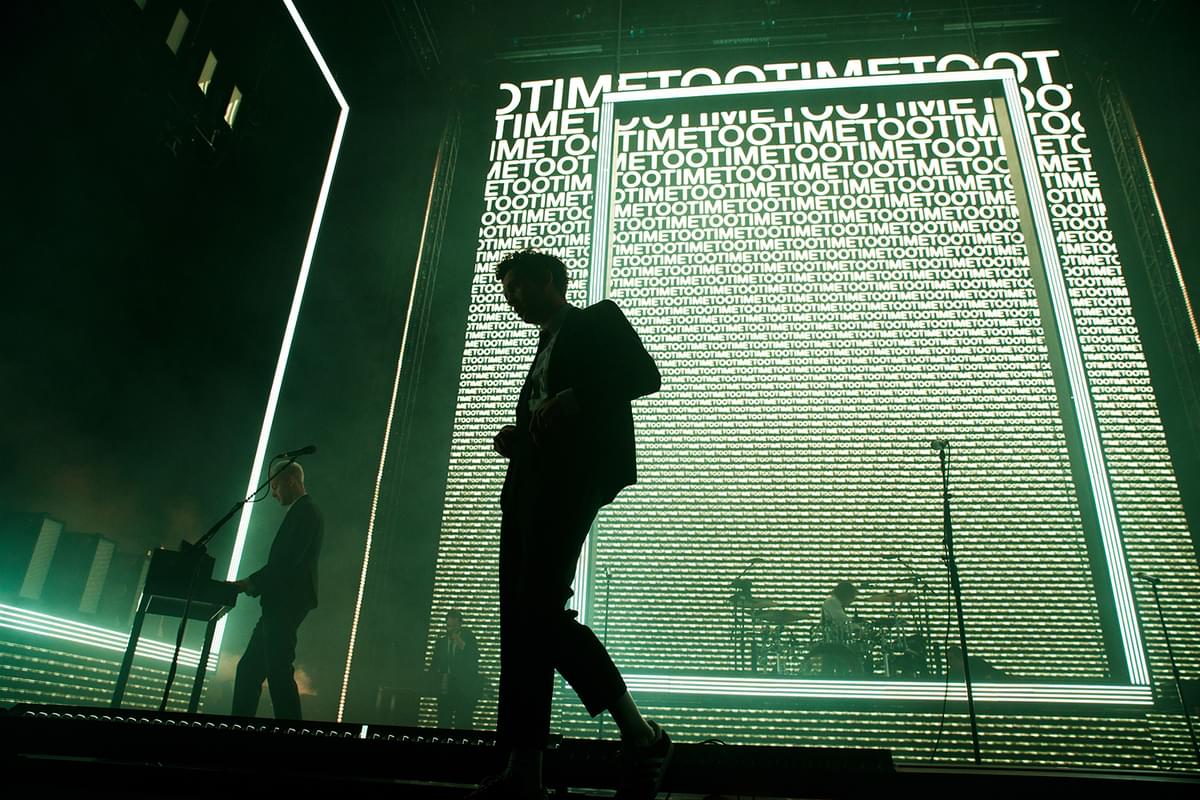 The 1975 hit the big leagues at the O2 Arena last night
19 January 2019, 12:40
When Matty of The 1975 suggested that their new offering, A Brief Inquiry Into Online Relationships, needed to be akin to OK Computer or The Queen Is Dead, you could almost feel the universe's eyes rolling in harmony.
A ludicrous ambition in practice, but one which they've sort of pulled off. In truth, only time will tell. With his no-filter approach to interviews, the frontman's loose tongue could easily build false anticipation and the disappointment that stalks it, but so far they haven't suffered that.
Love them or loathe them, nobody can accuse The 1975 of playing it safe. Their constant moving of the goal posts and growing ambition is what makes the band a force to be reckoned with. It's the life-force which keeps them going and it's dragged kicking and screaming into their live show at London's O2 arena to dazzling effect.
The set begins with the urgent and jittering drum pattern of "Give Yourself A Try" which locks and loads under the track's squealing guitar riff. The mood is cathartic as this opus on overcoming anxieties and depression reels. It's particularly potent as the lyrics reference the suicide of Jane, "the kid with the box tattooed on her arm" which many audience members are inked with as well tonight. Proceedings loosen up shortly after with the fun throwaway of "TOOTIMETOOTIMETOOTIME" which finds Matty joined by two dancers who he weaves in-and-out of sync with.
Towering pillars which illuminate in crystal-clear colour loom behind the band as a series of cubic shapes drop in and out of vision around the iconic box which has graced their album covers. After chopping through the contagious funk of "She's American" and "Love Me", the backdrop comes into full force, bringing the Hollywood studio feel of the "Sincerity Is Scary" video to life. Matty hops on a travelator which whirls at the stage's edge giving the sensation of a camera-panning down a New York City street.
The slick stage production also pulls off some visual marvels and illusions as well. At one point Matty is elevated to greet a tower of sizzling static which he reaches out, touches and enters to perform "The Ballad of Me and My Brain". Later, in the brooding groove of "Somebody Else", the same spot pantomimes the infinite mirror effect, shooting a million Matty's into the the ether. It's a show that never bores aurally or visually.
After offering a spot in the set to collaborator No Rome - who also supported tonight - the group look back at their debut album. '2013! I was not a happy boy back then', Healy remarks. 'I'm alright now though'. Fan favourite, "You", is greeted rapturously by the crowd who can recount both oldies with fierce passion and roar the new songs line-by-line in perfect sequence. This unity morphs into full vigour on "Love It If We Made It", a true monster of a song which plays as a manic sequence of figures that have haunted our news feeds over the past 18 months is cast across the stage. "The Sound" is pure celebration, holding the entire crowd hostage to its ecstatic bounce, and closer "Sex" hits the red on the dial of the pressure gauge.
For a man who, judging from recent press, has an opinion on just about everything, to utter the words 'I don't have a lot to say' gives you an idea of how euphoric the atmosphere is tonight. It feels like a pinnacle period for The 1975 at present, but it's hard to see where these shows sit in the narrative of this album cycle as, in true 1975 fashion, they've given themselves another deeply ambitious task - they've promised another album will arrive before their headline slot at Reading + Leeds festival. If it were any other band, you might disregard their ability to do such a thing but looking at what's gone before, The 1975 can only be setting themselves up for greater things.
Get the Best Fit take on the week in music direct to your inbox every Friday