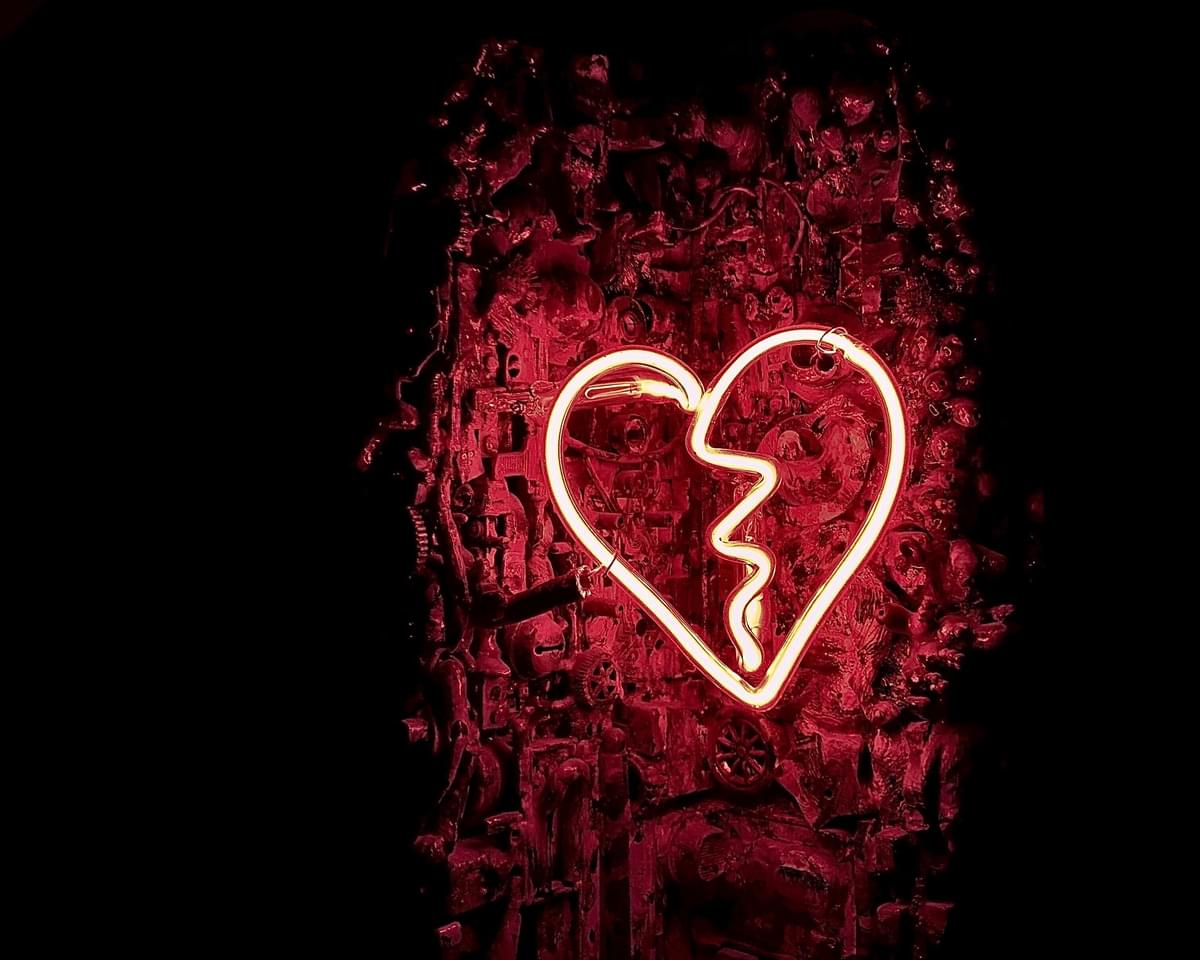 15 Songs That Say It's Over
14 February 2023, 12:15
In the run up to Valentine's Day we're here to help you give a big middle finger to the four lettered word that is love.
Ahh Valentine's Day, you've been with us in gift shops and adverts since Christmas up and left, whether we want you around or not.
So to counter-act your ubiquitous sweetness and hallmark sentiments we've gathered some songs for the broken hearted: some to wallow in, some to revel in but all a big middle finger to the four lettered word that is love.

"Baby Stones" by Robert Forster
From the 1990 album Danger In The Past Robert Forster's 'Baby Stones' is still one of the best self-assured break up songs, the lyrics standing up for their narrator just as they should: "I'm not going to sit here and let another man take my place / So go and see him, what will be will be / Every man for the rest of your life will be less than me"
Daughter certainly know how to write a stark, twisted love song. Taken from their 2013 debut If You Leave, "Still" is cutting. The cyclic rhythms, soaring atmospherics and whispered vocals transporting us to the moment you realise a relationship has all but slipped away but still you remain together.

"If You Go Away" by Scott Walker
An adaptation of the 1959 Jacques Brel song 'Ne me quitte pas', 'If You Go Away' is an old pop standard but we think Scott Walker captures its sentiment best.
"Careless Whisper" by George Michael
Boasting one of the most iconic saxophone solos in pop music (here's the other) "Careless Whisper" boasts a unique place in the anti-love song canon: through sometimes (cloying) melodrama, it ultimately demands sympathy for the guilty party.
Perhaps the former Wham! man's greatest achievement, the 1984 track is the Casablanca of eighties pop: the central metaphor of the track is overwrought but it somehow works, bringing a perspective that trumps more cerebral attempts to capture the end of a relationship. 'Guilty feet have got no rhythm' remains one of the greatest lines ever written and yet Michel never really had the praise he deserves as a songwriter. The abundance of impressive moments that dot Wham!'s records come to a head on "Careless Whisper", which also initiated Michael's solo career (the band would finally break up two years later, after selling a mammoth 25 million records).

"I'm Leaving You Because I Don't Love You" by Jens Lekman
Ahh, Jens, our favourite broken hearted Swede. If The Night Falls Over Kortedala featured song title didn't tell you what you needed to know about this song, his distinct crooning voice and the tinkering piano keys will.
"Good Luck" by Basement Jaxx feat. Lisa Kekaula
I don't know about you but I would not want to get on the wrong side of Lisa Kekaula, especially when she's teaming up with Basement Jaxx for the ultimate I-will-be-better-off-without you kiss-off: "Good luck, good luck / Good luck in your new bed." Yeah, she don't give a damn no more and neither should you.
"Friend of Mine" by Notorious BIG
The romantic philosophy of Biggie distilled into one neat track, 'Friend of Mine' recounts how the late rapper lives by the principles of 'don't love no ho' and 'I get my nut and I be out the fucking door'.
The reason for such an extreme play? Biggie got his heart broken after the girls he falls for keeps sleeping with his friends ("You know that ain't right/With a friend of mine"). The track's as cathartic, blunt and obtuse as most of Biggie's stuff but the rhymes and wordplay remain as impressive as ever.
Because nothing says "f-ck you" quite like Hamilton Leithauser at his most bitter.

"We Are Never Ever Getting Back Together" by Taylor Swift
Quite possibly the best feel-good break up song of the century, (sorry Kelly) the Max Martin penned Taylor Swift number makes up for what it lacks in emotional complexity with pop bombast.
"Go Your Own Way" by Fleetwood Mac
The ultimate break-up song for many, Fleetwood Mac's "Go Your Own Way" was written by Lindsey Buckingham during the Rumours sessions as he and Stevie Nicks' relationship came to an end. Famously rocky and drug filled, the pairs feuding and lying threatened to tear the band apart but somehow, like the most unprofessional professionals they managed to miraculously channel their pain into their work. Wrought with anger and disbelief the song encapsulates the sentiment of their parting perfectly: the heavy guitars, Buckingham's sighing regret and Nicks stubborn headed refusals.
"Tiny Vessels" by Death Cab For Cutie
"This is the moment, that you know / That you told her that you loved her, but you don't." Death Cab For Cutie's "Tiny Vessels" cuts through the often twee resonance of Transatlanticism with its brutally honest tale of a love now lost, for no other reason than the heartbreaking reality that sometimes, love just fades.

"Wild World" by Cat Stevens
Written about the end of his relationship with Patti D'arbanville, Cat Steven's 'Wild World' smacks of bitterness in amongst its patronising well wishing, so much so that you know when he says "If you wanna leave, take good care" he really means, "pah, you'll never make it without me." It's the songs ability to convey those selfish and jealous protective mechanisms that kick in when we see someone moving on without us that give it its strength, especially when mixed with those sweet "la la la's" at the beginning, Steven's faultless vocals and that beautiful Spanish guitar.
"I'm Waking Up To Us" by Belle and Sebastian
The New York Times called it the "greatest kiss off song in indie music" and well 'I'm Waking Up to Us' is certainly one of the most brutal sign-off notes to the end of an affair – in this case, purportedly from Bella and Sebastian frontman Stuart Murdoch to former muse, lover and B&S cellist Isobel Campbell. "I think you never liked me anyway," sings Murdoch. "You like yourself and you like men to kiss your arse."
It's a biting send of to a former love. Campbell finally left the band during the middle of a US tour in 2002, shortly after the song's release. Under the weight of a gruelling touring schedule at the end of the 90s, the state of Campbell and Murdoch's relationship had rendered the group "completely dysfunctional", according to guitarist Stevie Jackson.Another track, 2001′s 'Take Your Carriage Clock and Shove It' from the Jonathan David EP has also been linked to Campbell, with the line "You only came back to us when we'd turned it around/When we'd rescued your arse from the fire/Your contribution to all that we did was to say it was dire". Murdoch remains his usual silent self on the matter.
"I Am Trying to Break Your Heart" by Wilco
If anyone deals in jaded emotions better than Jeff Tweedy we've yet to hear them, and if there is a better example of it than the famous Yankee Hotel Foxtrot opener then we've yet to hear that too. The understated rage, the guilt and confusion that runs through his head is so perfectly expressed in abstract lyrics and his gravely, regret filled voice.

"Don't Think Twice, It's Alright" by Bob Dylan
His parting gift to girlfriend Suze Rotolo, a 21-year-old Bob Dylan penned what is quite possibly one of the most tender break up songs in existence. Beautiful chord progressions give way to gentle, passive agressive vocals that see the young Dylan mask his pain with flippant irony while he constantly contradicts himself – torn between wanting to stay and not caring anyway. Who would have thought a song based on the old standard 'Who's Gonna Buy Your Chickens When I'm Gone?' could be so perfectly forlorn.
Get the Best Fit take on the week in music direct to your inbox every Friday