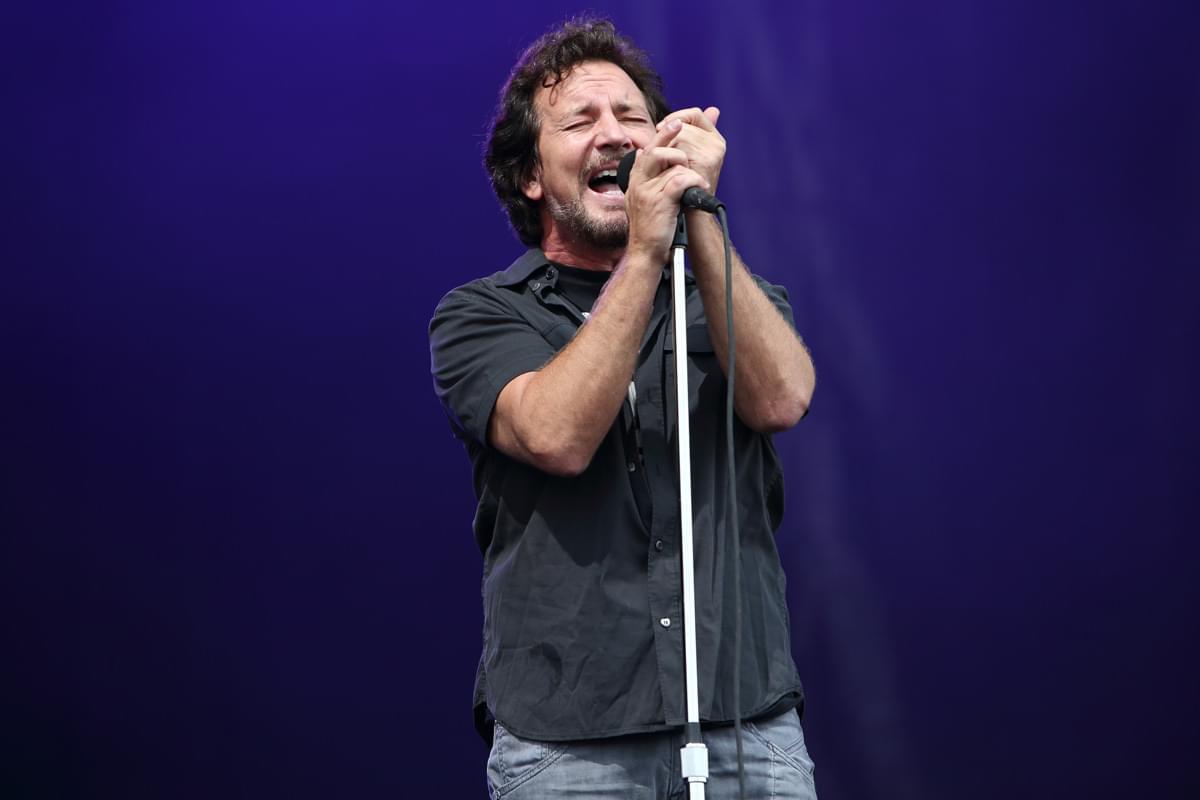 Pearl Jamming in the Colombian capital
30 November 2015, 11:22
Pearl Jam, despite being around as long as those big basalt heads on Easter Island, have never played in Colombia before.
Given that when their debut, Ten, came out in 1991 all-out war was being waged between Escobar's Medellin cartel and the government they can't garner too much blame. Since then, Colombia's conflict has continued with a low-intensity rumble that can be too easily zoned out by anyone not close to it. The same can be said for Pearl Jam.
Since the barnstorming early days, they've blurred into the background a bit, and it's easy to consign them to the long list of 90s bands now twiddling with their hair and Gibson SGs in obscurity. It's misleading though because Pearl Jam routinely sell out silly-sized megadomes across the rock we call home.
Tonight (25th November), on International Day for the Elimination of Violence against Women, they arrive on stage in Bogota's absurdly big Parque Simon Bolivar after months of anticipation from the region's most devout fans. Before they announced the show, grunge nuts across the Andean Cone had petitioned the Seattle stalwarts to come with a flurry of those YouTube videos that flicker between earnest and needy. Lucky for them their voices were heard.
Marking the occasion, the band wear orange t-shirts emblazoned with "Colombia says no to violence against women". One thing Pearl Jam do well is forthright political statements, and it's hard to be too cynical about them. (And I revel in being cynical about everything.) They do lots of decent charity stuff, and as such command their ludicrously loyal fanbase to good effect. When Muse played here last month, anti-war platitudes came across as cheap and manipulative but tonight it's galvanizing.
Pearl Jam shows are never a breezy affair, and they're onstage for over two and a half hours, which is some commendable chops in itself. That the energy and general lovey-dovey vibe never lets up is mighty impressive too.
"Do the Evolution" is a standout, all snarl and overdriven, "Corduroy" is a delight too, and obviously everyone goes batshit for "Alive". My favorite has always been "Rearviewmirror", and tonight it's a right cracker; angsty and rollicking. Their cover of Neil Young's "Rockin in the Free World" is a chugging stomp along even if no-one here knows it.
They're a touch prone to self-indulgent guitar solos, but for the majority of fans that's part of the appeal. I'm all for a little noodling here and there, but I once saw Prince play a medley of "I Would Die 4U", "Purple Rain", "When Doves Cry", and shitloads more in the time it took Pearl Jam to rattle out the solo at the end of "Alive". Sometimes more is more.
Singer Eddie Vedder, these days shorn of his greasy, grungy locks attempts a little bit of between-song banter in a level of Spanish that local media generously describe as "precarious". It's sorta like when Beckham went to Real Madrid except less cockney. The crowd love that he tries though.
He's on good form, and all-power-to-him, his voice is still that gravelly baritone that defined a genre and spawned Nickelback. Cheers for the former, fuck you very much for the latter.
They close, as they are wont to do, with "Yellow Ledbetter". Vedder makes up the words as he goes along which is both neat and a bit lazy. It means that singing along is a bit of a non-starter, but it's a swaying ditty that winds things down nicely.
The band huddle together, offer out a few more platitudes about peace and love then shuffle off, leaving tens of thousands of Colombians loved up and feeling it was worth the wait. All told, it's hard to disagree.
Get the Best Fit take on the week in music direct to your inbox every Friday