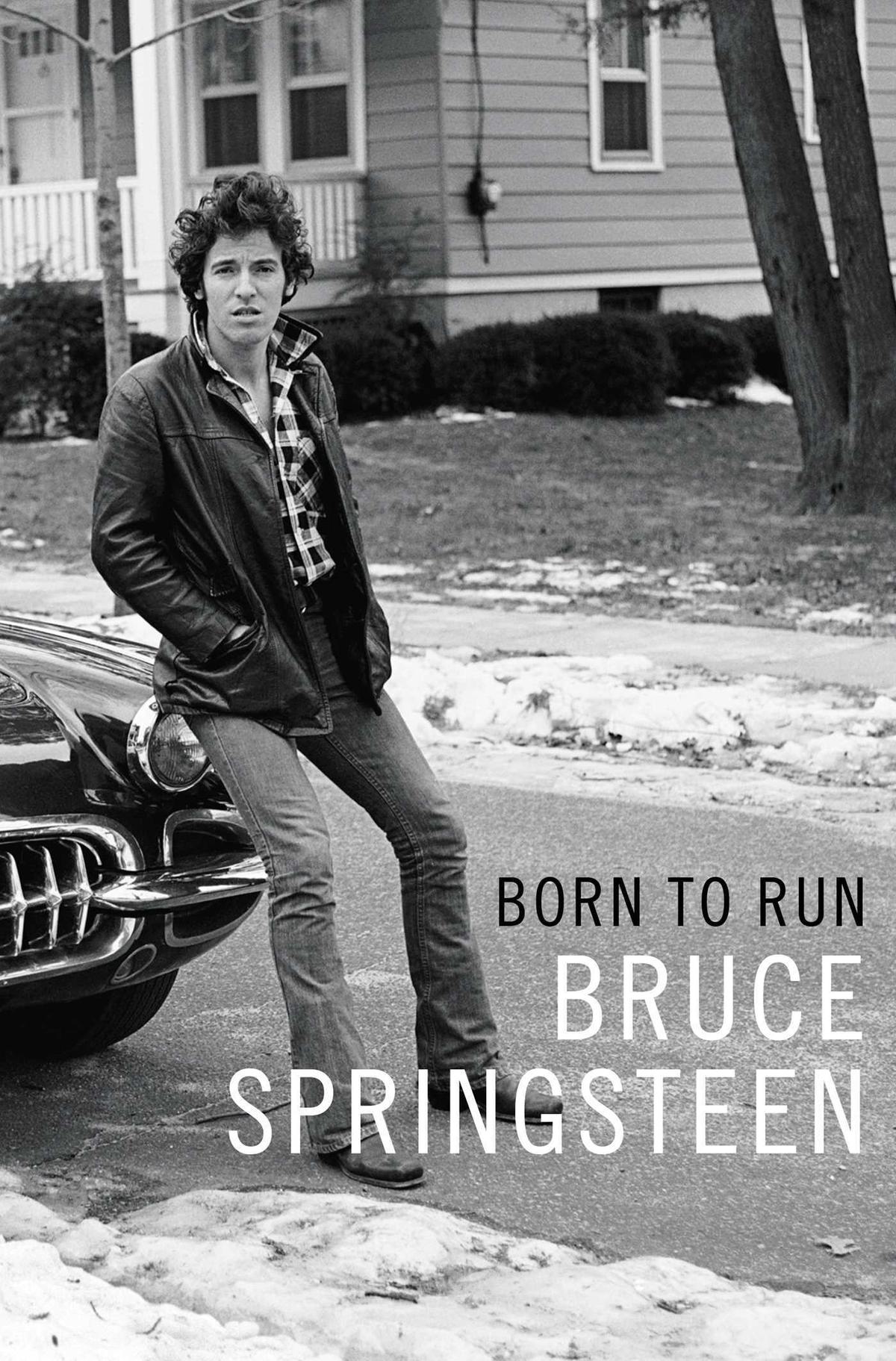 Born To Run: Reflections on Bruce Springsteen's Life Story
11 October 2016, 14:55
He might be one of the most celebrated figures in late 20th century popular music, but in terms of his personal life Bruce Springsteen has always kept his cards pretty close to his chest.
Born To Run, Springsteen's keenly-anticipated memoir named in honour of the New Jersey-born star's celebrated breakthrough 1975 album, has finally been unveiled, a few days after its author's 67th birthday. In addition, an accompanying companion album featuring a career-spanning section of tracks entitled Chapter and Verse has been released in conjunction with it. With almost half a century in the industry behind him, The Boss clearly has a wealth of fascinating experiences to share, even if long-standing fans may feel they already have a remarkably high level of insight into his work, if not his private world and innermost beliefs and passions.
So what fresh revelations are we expecting here from Bruce? Certainly, no one was really anticipating much in the way of salacious gossip within the 500 pages of Born To Run. In his study of Springsteen fandom It Ain't No Sin to Be Glad You're Alive, journalist Eric Alterman notes that virtually the entirety of Bruce's adult existence has already been played out before a global audience, for some years at the expense of the singer's own personal life. Married to bandmate Patti Scialfa since 1991, Springsteen has "committed himself to an emotional life focused entirely on music" according to Alterman. Although Bruce has spoken candidly in recent years about a long-standing communication impasse between him and his late father, the "lonely, brooding" Doug Springsteen (and this book expands profusely upon their troubled relationship), he has also openly admitted there was little of note during his school days which suggested he was destined for a life of superstardom. "I didn't even make it to class clown" he once confessed of his unremarkable stint at Freehold High.
So what was Bruce's upbringing and adolescence really like? Born To Run, named for his breakthrough 1975 record which Rolling Stone claimed "captured America in all its glory and contradictions" depicts a gritty - but hardly impoverished - lower-middle class New Jersey Catholic childhood (those "dark halls of communion" would provide plenty of inspiration in his later songwriting). Casual violence and racial tension were both commonplace. Nobody would ever leave their home in his first neighbourhood in the small central New Jersey town of Freehold wearing a jacket and tie "unless it was Sunday or he was in trouble", and at just seven years old, Springsteen writes that he was already "alienating, alienated and socially homeless." Neither glam showboater nor prog-rock muso, Bruce would continue to see himself as something of an anomaly on the early 70s US rock scene too. The ominous spectre of the Vietnam War haunts the author as adolescent and young adult, with Springsteen managing to evade the draft via a "mental deferment" deeming him "physically unfit" to serve, although his first drummer Bart Haynes did lose his life in the conflict.
Biographer Dave Marsh has observed that even well into his adult years Bruce has never appeared particularly eager to share his feelings, being "by nature reserved and reluctant to reveal much of himself with any ease." Peculiar as it may sound when discussing a multi-million album selling, world-famous rock icon, this reticence can be read as extending into his music. Discounting early Greetings from Asbury Park cuts such as "For You" and a handful of formative trial runs such as "In Freehold" and "Randolph Street", the Springsteen canon has mostly eschewed the explicitly autobiographical in favour of broader character-driven brushstrokes. "The River" might feature a fictionalized account of his sister Ginny's teenage pregnancy, but it wasn't until 1982's hard-boiled Nebraska, a record dominated by a particularly gritty form of fictional first-person narration, that Bruce once more truly embraced that same unadorned sense of self. Specifically, it's moments like "Mansion on the Hill" and the eerie Freudian dream reflections of "My Father's House" (the latter features on this book's career-spanning adjunct LP, Chapter and Verse) that emphasize this transition. The significant events occurring in his own life and in the world at large at the turn of the eighties which galvanized such a bold move are broadly characterised here by Bruce as "a wide variety of personal and work motivations" in the run-up to the enormous mainstream success of Born In the USA in 1984. These factors comprise the influence of country music, specifically Hank Williams and Woody Guthrie, in addition to Bruce's expanded horizons thanks to the E Street Band's extensive pan-European tour to promote The River. His personal reading habits were also increasing, with key texts including Vietnam vet Ron Kovic's chronicle Born on the Fourth of July and the work of liberal historians Howard Zinn and Henry Steele Commager.
And what of Bruce's formative musical endeavours? Born To Run's companion album Chapter and Verse – essentially an updated Greatest Hits with the odd curveball like 2005's "Long Time Comin'" thrown in for good measure- also includes a couple of previously unreleased early Springsteen numbers. Barely two minutes long, "Baby I" by Bruce's first high school band The Castiles is notable for being the earliest known Springsteen original composition ever committed to record. A bunch of raw if enthusiastic purveyors of lively mid 1960s garage rock, The Castiles were a hard-gigging outfit, nurtured by a benevolent local neighbourhood couple who allowed Bruce and his pals to rehearse in their home. They group are fun, if inevitably rather unrefined; Springsteen referring to them in the memoir as a gang of "teenage noisemakers" who performed "a mixture of pop hits, R&B, guitar instrumentals and even Glen Miller covers." It's not until the point where he had progressed to fronting The Bruce Springsteen Band in 1972 and (appropriately) The Band-influenced "Ballad of Jesse James" that we can truly see greatness taking shape.
Another Springsteen biographer, Marc Dolan, has emphasized that the stage has always been where his subject has truly felt most at home, and that "the live set...was Springsteen's public autobiography." However, Bruce has long understood the power of the star performer's traditional written word too. He recalls being engrossed in Anthony Scaduto's groundbreaking biog Dylan at the time of his 1972 Columbia Records audition with impresario John Hammond, the very man who discovered and signed Bob ("the father of my country", according to Bruce) to his label back at the start of the sixties. And whilst Bruce may have vociferously resisted those onerous "New Dylan" comparisons at the beginning of his career, he will surely be hoping for a reaction to Born to Run akin to that garnered by the first (and so far, only) instalment of Dylan's own memoirs, 2004's rapturously-received Chronicles: Volume One. As a fellow elder statesman and Rock and Roll Hall of Famer – Dylan was inducted in 1988, Springsteen in 1999 –Bruce is still writing and performing well into pensionable age, as well as continuing to invigorate musicians young enough to be his grandkids. His breathless recollection of Elvis Presley's Ed Sullivan Show debut in 1956 demonstrates that he doesn't take this elevated position lightly, and the list of musical heroes Bruce mentions by name in Born To Run is far-reaching, including those artists already mentioned alongside Roy Orbison, Frank Sinatra, Muddy Waters, Howlin' Wolf, Chuck Berry, Fats Domino, Jerry Lee Lewis, Janis Joplin, Pete Townshend, Eric Clapton, Jimi Hendrix, Jeff Beck, Donovan, Van Morrison and Tim Buckley.
For all the iconography surrounding the use of a real-life New Jersey address as his group's name - in Bruce's eyes, a sense of belonging has always been fundamental - it's colourful individuals who may or may not have a grounding in reality like The Magic Rat, Big Bones Billie, Crazy Janey and Jack the Rabbit that dominate Springsteen lyrics. Even "Tenth Avenue Freeze-Out", the E Street Band's supposedly "autobiographical" anthem on the Born To Run LP, is steeped in a teasing, picaresque ambiguity. The ESB's legendary late saxophonist Clarence Clemons published a "semi-fictional autobiography" in 2009 entitled Big Man, which also delighted in playing fast and loose with the truth. Still, taking the past with a pinch of salt has long since remained one of the E Street gang's staples. It'll come as little surprise that there are plenty more of these evocatively-named characters within the pages of Born To Run, particularly around the time Bruce graduates to semi-itinerant Jersey shore "circumstantial bohemian" and then experiences a variety of eye-opening West Coast countercultural freak-outs, with hair-raising police stand-offs at shows in this period a recurring event. Sure, a fair few of these tales can probably be taken with a pinch or two of salt. But for a band so immersed in their own dramatic origin myth, they are hardly unexpected. As the famous line runs in the classic 1942 western The Man Who Shot Liberty Valance directed by John Ford – one of the major exponents of twentieth century gothic Americana together with other Springsteen cultural touchstones like fellow director John Huston as well as authors John Steinbeck and Flannery O'Connor - "When the legend becomes fact, print the legend." Or, as Bruce puts it in slightly less highfalutin terms within his liner notes to 2003 compilation The Essential Bruce Springsteen, "one man's coffee is another man's tea."
The final section of Born To Run covers the dissolution of the E Street Band - diplomatically referred to as a "reconsidering" - shortly after the birth of Springsteen's eldest son Evan in 1990. The stories of domestic life are amongst the book's most charming, including an amusing tale of Evan bringing Bruce along to attend a performance by Florida punk rockers Against Me! in New Jersey - Springsteen Jnr is left bemused as his own heroes become starstruck at the sight of his dad - and a comical report of his first attempt to learn to ride a horse on his newly-acquired family ranch ("never get on a horse named "Lightning", "Thunder", "Hurricane" or "Sudden Death"). There's a keenly self-aware description of not only Bruce's post E-Street malaise as "my mid-nineties drift" but also a confrontation with that starkest of rock star conundrums - "where does a rich man belong?" – as well as revelatory moment at a latter-day Bob Dylan concert where Bruce realised he needs to reform the E Street crew before it's too late ("We'd all gotten...OLD!") This last portion goes on to chronicle Bruce's response to 9/11 (The Rising) and the Stock Market Crash of 2008 (Wrecking Ball), his struggles with depression as well as an invigorating alliance with youthful producer Brendan O'Brien. There are debuts for new E Street members Jake Clemons and Tom Morello, the pre-war folk-inspired Seeger Sessions band, the Halftime show at Super Bowl XLIII and moving accounts of the final performances of long-standing E Street Band members Danny Federici and Clarence Clemons, who passed away in 2008 and 2011 respectively.
An exuberant, far-reaching and often very witty romp written in high-spirited prose that rarely dawdles (only a lengthy section on Bruce's pre-megafame legal wrangles with original manager Mike Appel really slows the pace), Born To Run is a compelling read.