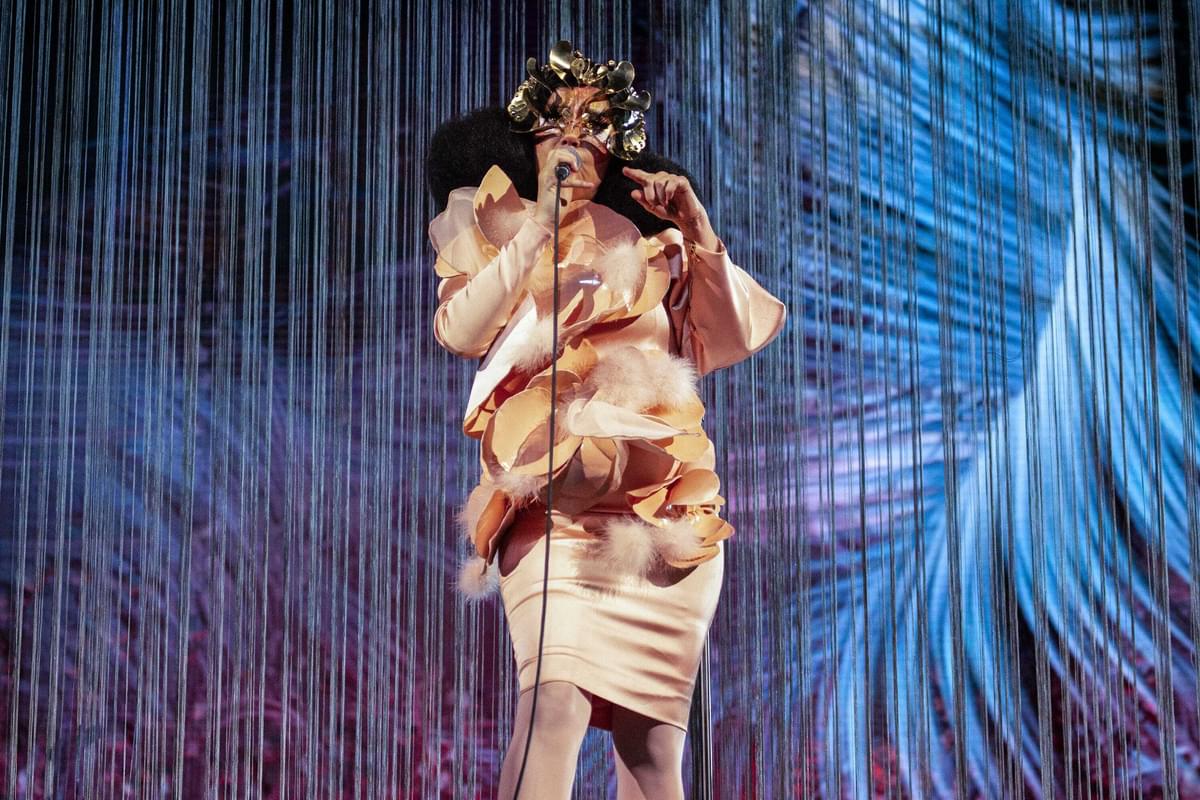 Collaboration, climate and Björk's Cornucopia
20 November 2019, 11:19
At the close of Bjork's Cornucopia show, Greta Thunberg appears in a specially recorded visual hammering home - eloquently as usual - that something must be done to avoid climate catastrophe.
It's a message foreshadowed moments earlier in the damning lines of "Tabula Rasa" when our host makes a plea not to repeat "the fucks ups of the fathers." For all the delicacy, flourishes and sonic explorations that go on throughout Cornucopia, its final denouement is as stark and damning as they come. And it's that contrast that gives the performance its emotional gut punch.
Deploying the intricacies of balance and drama - the nuances of "the hardcore and the gentle," - with a masterful hand, Björk's latest performance is a two-hour spectacle unlike any other in recent music history. An exercise in collaboration, chiefly with Argentinian director Lucrecia Martel (alongside a huge onstage body count) it also feels like a natural conclusion to her artistry. Respectful nods to the past and future echo the central battle between nature and mankind, impulse and preservation; and while it falls in line with where she's been heading sonically and aesthetically since 2014's Vulnicura, there are still surprises and delights.
She brings along Iceland's Hamrahlid Choir - of which she was once a member - to open the show, and the Viibra flute septet are also back from the Utopia tour. Austrian percussionist Manu Delago feels as vital to these shows as Arca is to the last decade of Bjork's recorded work, and Martel's lush cinematic handprints are a perfect fit for her visionary sound.
Cornucopia expands substantially on elements of the Utopia shows, creating something that feels more like an elaborate opera than Tuesday night at the O2. Under Martel's direction, the economic stage setup become a conduit for movement and pose, aligned impressively to the show visuals: Fibre optic strands of alien foliage at the bottom of a distant ocean bounce balls of energy back and forth. Demons swim with angels while a cacophony of eerie but benign animal calls ring out across the cavernous venue.
Björk augments the set - largely drawn from Utopia - with reconstructed cherry picks from a handful of her past records (nothing from Homogenic or Biophilia sadly). "Venus As A Boy" is stripped back to a slow-paced flute and vocal while "Isobel" is coupled with "Blissing Me"as a jarring half-way point in the show, augmented with lush flourishes, whip crack percussion and otherworldy, oceanic visuals.
The Hamrahlid choir return for the second act - adding weight, drama and urgency to "Body Memory" and "Hidden Place." She's at her most commanding in the set for "Sue Me", leaning out to the audience and tearing into a fist-beating vocal as the Viibra septet's sound turns industrial. The lyrics might be about her ex- Matthew Barney sueing for custody of their daughter ("It's so unfair / The things of the father / They've just fucked it all up") but here she turns those words against the world's leaders, trading climate for selfish comfort.
Threat and disharmony dominate the rest of the show before Thunberg shows up and then we get a charming encore of "Future Forever", a thank you to London "my second home", and a beautifully rendered "Notget" to close things off.
Subscribe for news and competitions