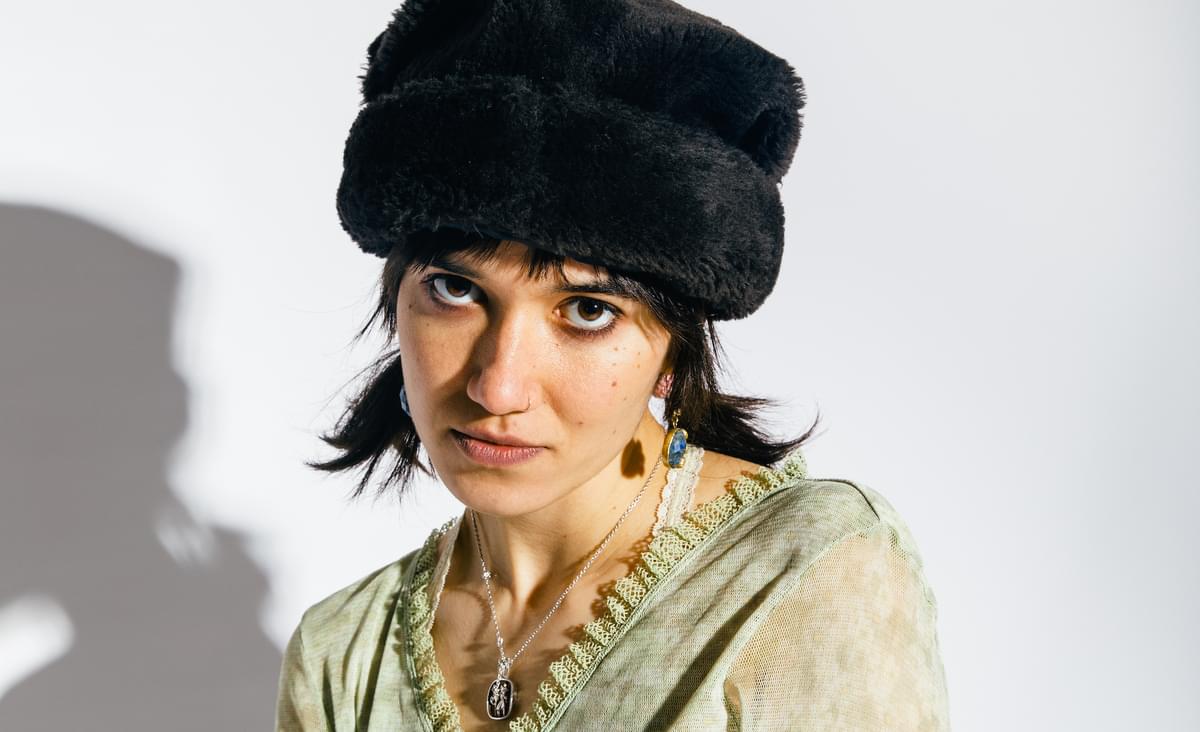 Trout's slacker-rock single "Gutter" is a testament to the powers of self-production
Newly signed to Chess Club Records, Trout proves that trusting your instincts pays off.
The past perpetually breathes on in the confines of our minds, but certain scenes ring out especially strong. For 23-year-old Cesca, an indie-rocker who goes by the pseudonym Trout, the most influential of these recollections are shaped by songs. Some of their earliest memories are of sibling rivalries framed by the sounds of Gypsy King albums and Suzanne Vega tapes playing in the background. These moments play out boldly in her mind even still and are exactly what eventually enticed the singer to dive deeper into the world of songwriting.
Having grown up in a town sandwiched between rolling hills and the open sea, Trout's nature-filled memory also inspired the creation of her artist name. Every space that Trout has inhabited since has added new dimensions to her sound. From Wales to Iran, the list is a long one, and the result is a multilayered sound that entices almost any lover of rock or alternative music.
Trout's very first song was released into the world in July 2022 while she studied music at The Liverpool Institute for Performing Art. The track is called "Bugs" - an ode to the productivity of the tiniest creatures on the earth. While we sit and dawdle, bugs are hard at work on the ledges of our windows and in the cracks of the street.
While living in Liverpool, Trout discovered some important things about herself. For one, she realized that the hyper-visual effect of music on her mind was not quite normal, but a result of synesthesia. They also found that music production was not at all boring like she had imagined, but deeply interesting. Now able to truly fine-tune her music with the help of her condition, and enjoy herself in the process, Trout quickly began work on her second release. That latest track is called "Gutter" and follows along on the heels of her recent signing to Chess Club Records (where she joins the likes of Alfie Templeman and Coach Party).
The new single is a grunge-infused track featuring an interplay of guitars swimming in low registers. The soundscape thickens throughout as Trout's raspy voice layers itself into a silky web of sound while she sings of defying the questions of a flippant friend. As she said of the track, ""Gutter" is about an experience I had with someone close to me, where they couldn't relate to dealing with depression. They believed it wasn't a real thing or something people choose to feel, which is equally hilarious as it is tragic. It's written fairly tongue-in-cheek to reflect that." Alluring harmonies and strong vocal effects build the foundation of "Gutter" alongside tones of defiance prominent in Trout's lyrics and sound, and it's clear from it all that it's a song worth feeling passionate about.
With key changes and unique instrumentation abound Trout's discography reflects that of bands like Soccer Mommy or Big Thief. Other prominent influences include the post-punk edge of bands like Sorry and the vocal layering of Warpaint. Still, Trout manages to bring forth a totally new and sure-of-herself sound by meshing together a slew of genres in her own music. Modern alternative meets 90's grunge where electronic and bedroom-pop sounds also rear their head. In short, Trout is shaping up to become any indie-lover's heaven.
Currently based out of Liverpool, Trout is already making waves in the world of music despite a relatively recent introduction to the industry. She made her debut at The Great Escape in Brighton earlier this month as a promising emerging act and already has some more shows coming up on the horizon. With a strong signature sound, we can't wait to see what's coming from Trout next.
Get the Best Fit take on the week in music direct to your inbox every Friday