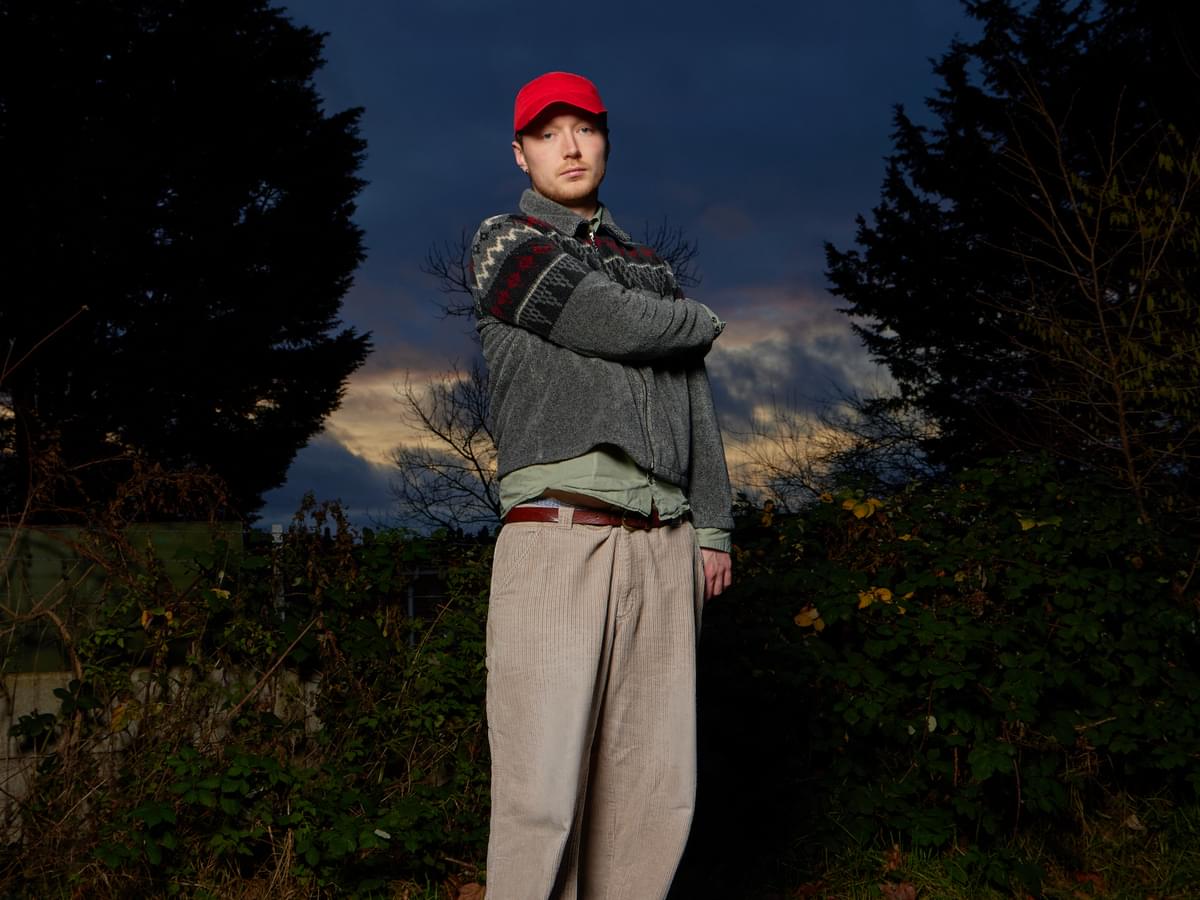 Me, Charles pleads with his balding head on distorted lullaby "White Pearl"
Under the caricatured pseudonym Me, Charles, London-based Charles Stooke invites us into his captivatingly topsy-turvy world where zaniness is celebrated, vulnerability is shaded in multicolour, and everything comes with a wink.
Relatably candid whilst also wholly outlandish, Charles Stooke strikes an impressive balance in his music under the alias Me, Charles, a sardonically caricatured manifestation of his innermost thoughts. Taking aim at topics ranging from external scrutiny and internal insecurity, addiction recovery, and the metronome between narcissism and self-love, Me, Charles is an artistic project footed by the pursuit of the raw and, at times, uncomfortably honest. However, these topics are not presented as weighty taboos, rather kept afloat by Stooke's tongue-in-cheek and animated penmanship.
Describing Me, Charles as "a bit of an idiot," Stooke explains how the artistic passion project follows the protagonist on his goal to becoming ridiculously famous. "Narcissism is a big theme in my work. Me, Charles as a character desperately wants to be famous, and a part of me does too, but it's playing with that part of me and poking fun at it."
With a fantastically bizarre catalogue of songs to the South East Londoner's name already, Stooke's latest release "White Pearl" only adds to the chaos. Quite literally a song-turned-metaphor about his relationship with his own balding head, the track sets the tone for his upcoming EP Fine Isn't Good, where he contends that "fine" no longer cuts it as an emotional response. Instead, we are all encouraged to dig deeper and find power in confronting our mental health and most left-field anxieties.

Opening up about his struggles with body image, Stooke's "White Pearl" strikes at the heart of his music; what is at first explained as an unusual song to his own bald head becomes a beautifully ludicrous and liberational sentiment of compelling honesty. "The song is a plea to my balding head, the white pearl, to basically go away. I'm pretty vain, so I don't like the fact that I'm balding, but I think the only thing that could make that fact worse is if I didn't have a sense of humour about it. One day the white pearl will come for me, for all of us."
Furthermore, the cover art of Fine Isn't Good portrays Stooke sitting naked in an intriguingly baroque garden setting, emphasising how Me, Charles has become a powerful reclamation of the insecurities that would otherwise plague him. Stooke shares, "I'm really lucky and grateful to be able to reappropriate these usually painful areas of my life in such a constructive way." Having released his debut album in 2020 after losing his mother, and recovering from the substance abuse the grief led him to, he explains that this EP is more in line with what he envisages as his sonic identity. "On my first record I slightly shoehorned myself into a musical identity that I don't think represents me, so this EP feels to me like a declaration of intent."
Much like everything else in Stooke's art-world, "White Pearl" is difficult to pin down and fully capture in words, as all adjectives seem to pail into beige nondescriptness in contrast to the vividly textural and sensory experience of the music. Over a beat that feverishly flexes and swells between moments of soft lullaby-esque keys into intense clattering noise, the track is almost apparitional in quality, whisking listeners into a surrealist realm.
The accompanying visual for the track (directed by Mateo Villanueva Brandt and Stooke himself) is similarly zany. From one unassuming wide shot of Me, Charles dancing along to "White Pearl" in an expensively-decorated living room, everything about the character and environment then seems to invert and defy natural logics. The room melts away, Stooke is replaced by an uncanny digitally formed and distorted version of himself, and time begins to warp in psychedelic fashion.
Most artists reveal pieces of their personality and inflections of their musical intent incrementally across numerous songs, albums, and whole discographies. In just one track, Me, Charles has proven his overspilling creativity, captivating nuance, and artistic genius, with each glitch, bell, and whistle opening the window even wider into his gloriously topsy-turvy yet hard-hitting world of colour, vulnerability, and awe.

Get the Best Fit take on the week in music direct to your inbox every Friday