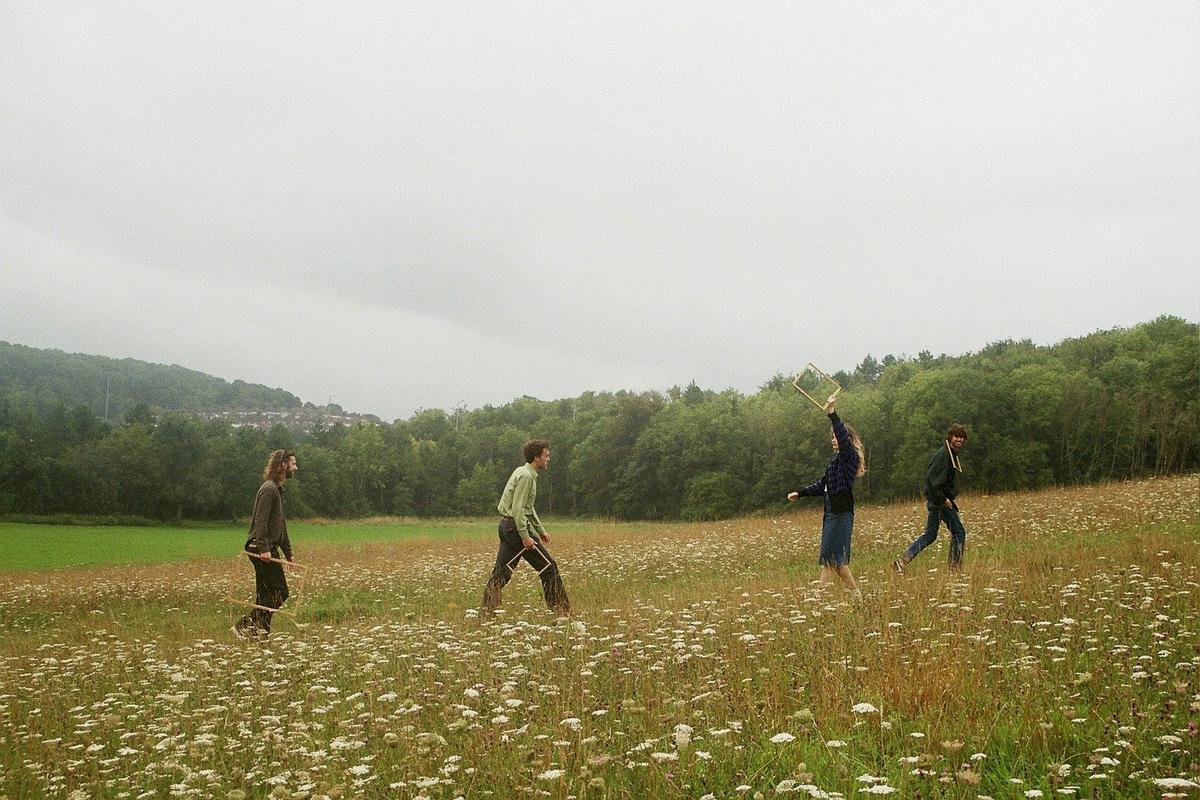 ladylike ruminate on the future through an intense folk rock give-and-take on "Southbound"
Brighton quad ladylike use unconventional song structure and their own blend of folk and psychedelia for an enticing and gripping debut single.
A canon event of your 20s is watching your friends move on and move away to embark on the next stages of their lives. It's natural, but it's uncomfortable; the future has never been more unclear. Brighton's ladylike use their debut single, "Southbound", to work through feelings around this concept, wielding circling guitar riffs and poignant ups and downs to evoke discomfort and lack of resolution.
Forming in 2022, ladylike honed their sound through live gigs, taking inspiration from foundational artists across the indie genre spectrum. These influences show up all over "Southbound": drawly and confessional Angel Olsen-meets-Faye Webster vocal delivery, spacey, tinny synths in the track's opening passes akin to Stranger in the Alps-era Phoebe Bridgers, and a consuming, almost overwhelming buildup of guitar riffs fit for a mid-2000s My Morning Jacket record.
"Southbound" opens with warbly, driving guitars that quickly give way to a jangly folk waltz, with metallic synths atop a light and gentle guitar pattern. The track travels through phases of builds and releases that lean into different sonic textures, taking varying forms as the song progresses. There are hints of intensity in the beginning with quick hits of blown out guitars, but that's nothing compared to the captivating psychedelic interlude towards the track's end, with the guitars jamming on a new, darker riff that is escalated by choral synths, deep bass, and sweeping percussion, only to be quickly dropped off in the closing seconds. "Southbound" does not end in the same place it started, taking listeners on a journey of internal monologues set to a back and forth of gentle folk patterns and deep psychedelic tangents.

ladylike take a unique and ambitious approach to structure on "Southbound", with a handful of repeated hooks set up in verses (the polite pleasantry "But it's nice to meet you and it's good to know, I'm doing fine" and the pointed "You've got the patience of a saint but a saints not in fashion," among others) with no succinct chorus. Vocalist and guitarist Georgia Butler says the track "follows a stream of consciousness approach to songwriting where we weren't entirely sure of the song's intent until we'd finished it."
This approach provides a fragmented setting for the track to take place in, giving listeners the ability to apply the musings to their own experiences, while also providing über-specific details ("the light fixtures loose and the ceilings obtuse") that insert the listener into the song's scene. Butler says, "'Southbound' is sort of an ode to being in your 20s and witnessing the people around you attempting to find a spot to settle in."
On "Southbound," ladylike make a striking introduction, inviting listeners into their world of swirling folk-psych and uncertain times.