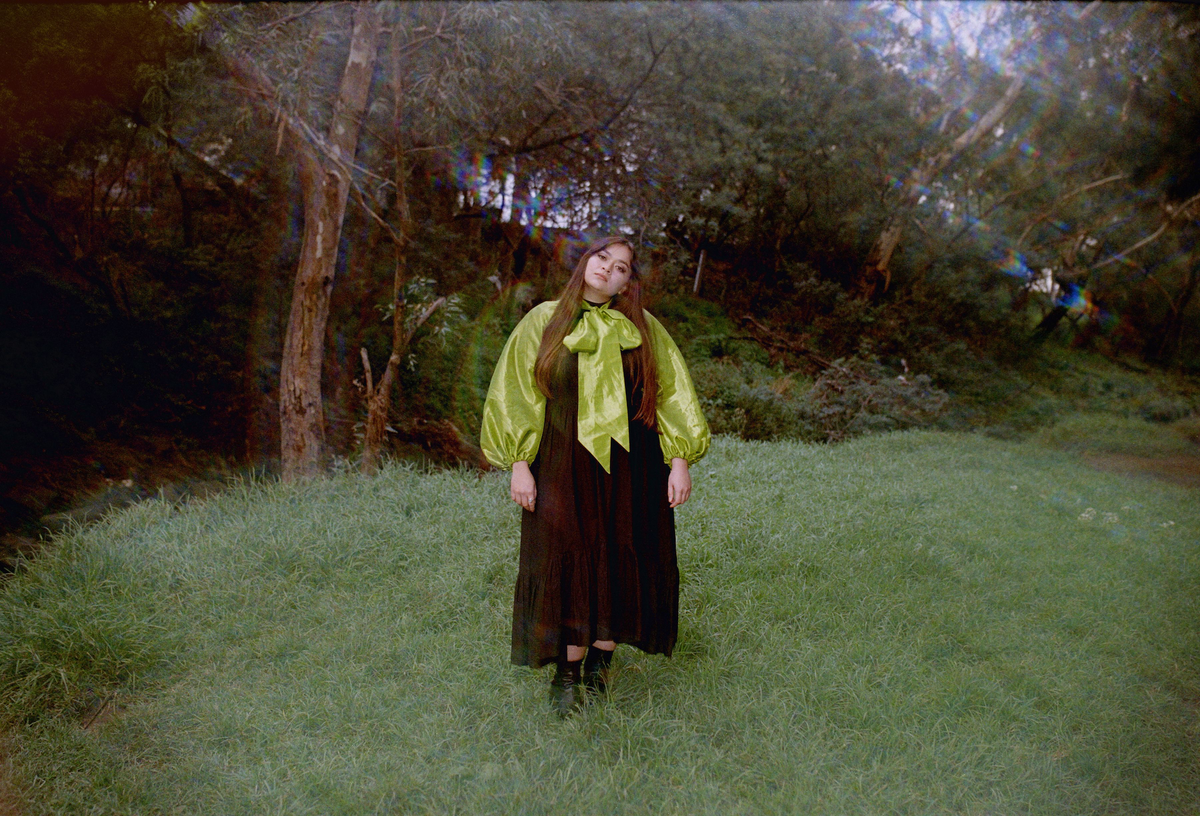 Chitra traces hesitancy in romance in "Go Easy"
"Go Easy" is the latest offering from Chitra, an Australian indie artist taking a fine-tooth comb through the web of tangled relationships she finds herself in.
Originally from the Bellarine Peninsula, Chitra is now based in Melbourne, where she's been gigging extensively, drawing listeners in one-by-one with her intimate soul-searching. Press photos depict a regal vision in red velvet: calm, clear-eyed and ready to get into some serious scrutiny. Her songs generate much the same mood.
Her self-titled EP dropped just before the pandemic, which may as well have been a century ago. But since then, she's been slowly building a heavier sound, with July's release "In My Opinion" pulling away from the gentle indie-folk leanings of earlier work. She counts Adrianne Lenker and boygenius among her influences, and from the probing lyricism and strung-out ache in her voice, it's easy to picture her clasping dog-eared copies of Puberty 2 and Bury Me at Makeout Creek to her heart as well.
In some ways, "Go Easy" feels like a companion piece to "In My Opinion". Where that song focused on finding a way to let go of someone who won't take your help, its video starring a decadent banquet going to waste, "Go Easy" turns the lens still further inward, unpicking a deep-seated reluctance to take action in her own life. They're both songs demanding you confront those demons you've been sweeping under the rug, and identify a starting point for a happier, more secure state of mind.
To elaborate, "Go Easy" is "a song I wrote about sitting on a feeling when you're hesitant to act on it," Chitra explains. "Anticipating the worst but being drawn to it constantly." When she murmurs lines like "I wanna be held, but not too tightly" over jagged, almost gothic-flavoured guitars, you get a hint at the tightly coiled set of emotions driving the track. Meanwhile Chitra's reverb-drenched vocal leaves an imprint like doubts echoing through a restless mind.
If there's a common thread to Chitra's recent material, it's the idea of turning vulnerability into a weapon, combating frustrations by thinking aloud. Finding herself clinging to negative energy, her next move is to boldly put a voice to those emotions, preferably for a roomful of strangers and future friends in the back room of some sun-drenched Melbourne pub. If that scene feels too out of reach right now, just stick on "Go Easy" and hard relate.