So, a trip to the papp-patrolled streets of Hoxton, where if you listen very hard you can sometimes hear the crack of matchstick thighs buckling under the weight of their owners own bodies. So be a Good Samaritan and next time offer some help to that crumpled mass in the shop doorway before passing by. On second thoughts though, be on your way: it might by Johnny Borrell.
The drinking and socialising were in full effect at the Hoxton Square Bar at 8:15, but a deserted venue space was an unappetising prospect for Spires, a fresh young band from Guildford. To their great credit they gamely cracked on, and were rewarded with a gradually gathering audience. The majority of their songs never quite gelled for me – often seeming to be fused from two competing threads running in parallel: top end more melodic vocal lines at odds with a disjointed pounding rhythm section. 'Green Paper' on their MySpace page would be representative. Never been too keen on that jerky Foals kind of sound, so it might just be me, and they had generated some genuine interest by the end of their half hour slot. One criticism I would stick by is that lead singer Andy Clutterbuck needs to project more. He's got something to say, but it was lost last night. He needs to get out there with a bit more attitude or just confidence in his own voice. Still, just about a year into their careers and an EP in the pipeline, so all to play for.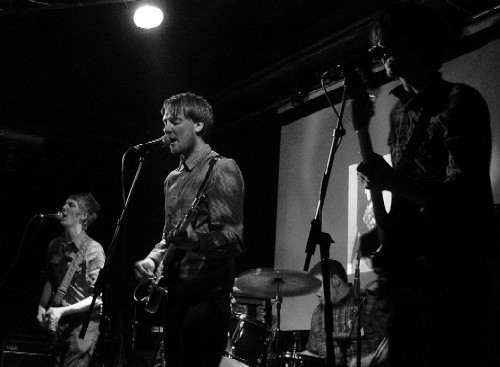 The Mutineers took to the stage looking like they had been around the block a bit more, and lead man Nicholas James Mallins had the Manc boho swagger to prove it. As a unit they are also relatively new, but their credentials are revealed by the list of their previous outfits – The Cardinals (for whom good things were expected), Johnny Marr and the Healers, Marion, Haven, and Bauer. They describe their music as broadly melancholic pop and was what you might expect given their heavy Manchester post-Smiths/Britpop influences and the frequent appearance of Ian Curtis amongst the back projection images. Suede's Brett Anderson fronting anthemic James with a splash of the poppy melodies of The Delays perhaps, nicely leaving space for the suitably intricate guitar work of Michael Read. They exuded more confidence and many in the crowd were swaying by the time they finished off. I'm interested enough to seek out their album when it emerges – where the jangling melodies featured in 'Alone In Our Ideas' should shine further.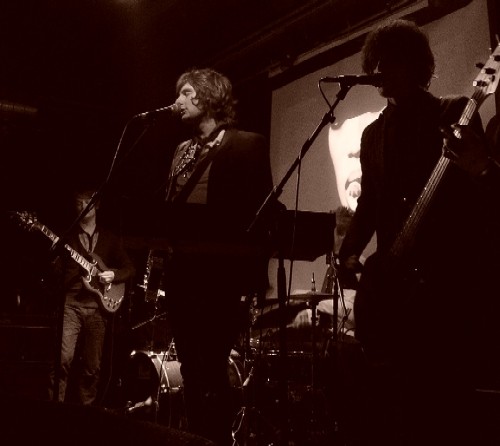 With the two previous bands having removed their layers of amps, drum kits, and general clutter, the stage was clearing, but it was still a small space for the five members of Wintersleep to inhabit. With an air of expectation stoked by a few Canadians in the crowd, they launched into the juggernaut that is 'Miasmal Smoke And The Yellow Bellied Freaks' with the intention of ramping up the energy from its lumbering start to the stellar mid-song explosion. A good intent that was not, however, that well executed. The beginning suffered from quiet lead guitar noodling and missing (i.e. far too quiet) keys and resulted in a lumpen over-long interlude before the heads-down rocking kicked in. They and the sound man recovered with 'Archaeologist', and after hitting their stride Wintersleep then began to fulfil the promise of the magnificent Welcome To The Night Sky, also throwing in a handful of tracks from earlier albums and a new song: 'Encyclopaedia'. Mid set, a switch to acoustic guitar by Paul Murphy signalled the much anticipated start of 'Weighty Ghost' – an open invitation to sing along. It was followed by 'Oblivion'; a great one – two combo, and the room was now bubbling: confirming my view that the latter is the most enjoyably irrepressible cut on the album. Rollicking indie-pop at its best.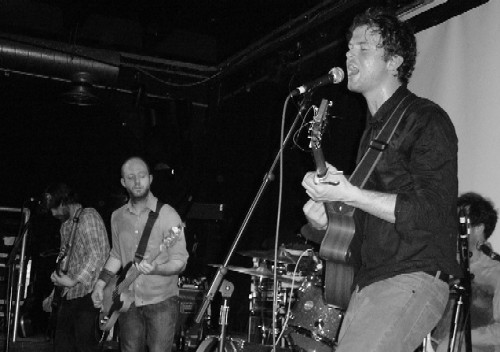 From that point it had turned into a memorable gig. The quiet bit from the quiet/loud dynamic was decidedly underutilised. Loel Campbell's impressive drumming was rapidly becoming my main point of focus. Despite an apparent lack of flourish and outward extravagance, his energy was filling the entire room as he ceaselessly punished his kit and providing the petrol to fire every track. The whole band was wigging out about as much as space limitations would allow, and I enjoyed the contrast between the raw power of the instruments and the unexpectedly penetrating reach of Murphy's reedy pipes. Only at the start of 'Laser Beams' did he falter at the key changes.
There wasn't too much in the way of baying exaltation for an encore, but no one was leaving either: perhaps all were just a bit bored by the whole leaving and coming back charade. Reward for at least staying put came with two further numbers. 'Dead Letters & The Infinite Yes' re-lit the fire after several requests from the crowd. Worth risking missing the last train for, but I didn't succumb to the perils of being out on a school night as TFL clicked smoothly on all required connections. So back to work the next day with a hint of jealousy for the Hoxton crowd probably still snoozing in bed. Maybe it would be sweet to be a student again, if only I could get into those regulation skinny jeans.
Spires on MySpace
The Mutineers on MySpace
Wintersleep on MySpace