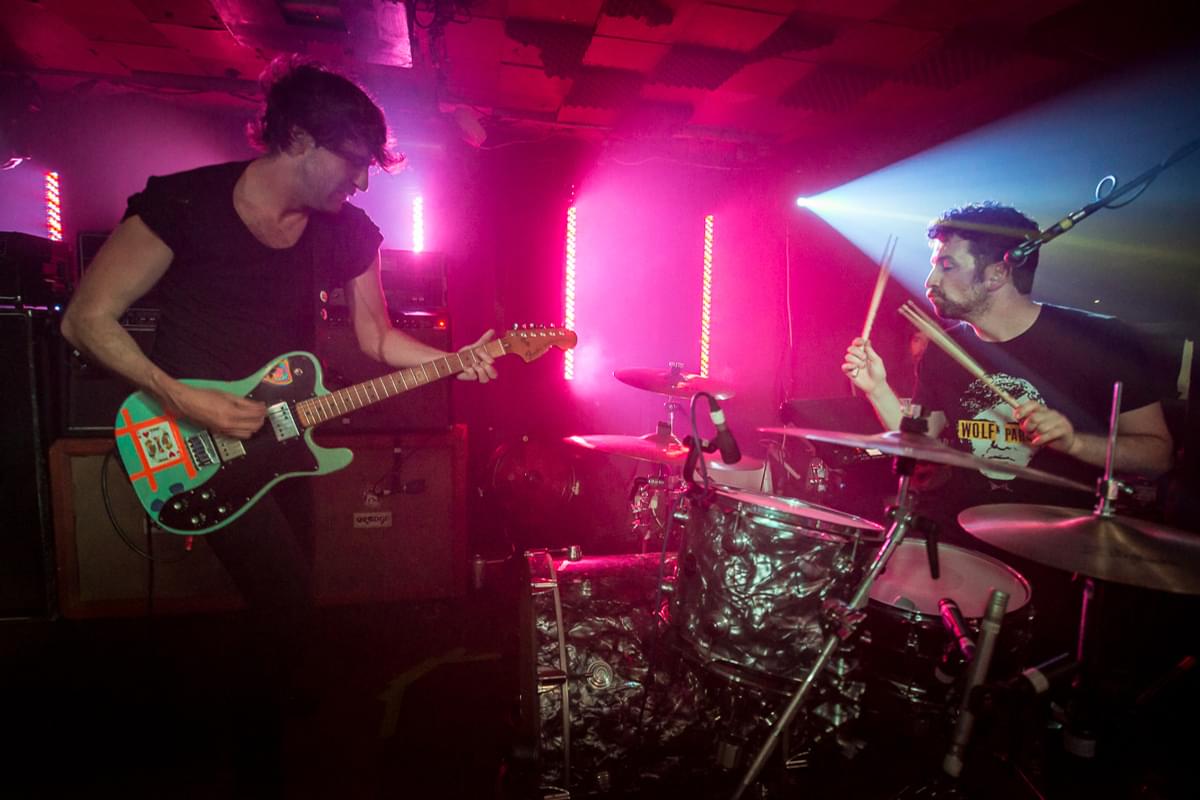 What Worked In 2008: Japandroids, Live in London
In a show pitched as a "Pit Party" (transforming the necessity of playing on the floor at DIY punk shows into a fashionable aesthetic), tonight we get the two members of Japandroids facing one another in the centre of Epic Dalston Events Hall, with their audience flanking them on all four sides. It's an odd set up, with beach balls flying round, crowd surfers coming at security from all angles, and Brian King just "talking out his ass" to some of the crowd. But Japandroids make a good show of what a lot of bands might find awkward, thanks to their electric connection with an adoring, energetic crowd.
They kick into life with the title track of their newest album Near To The Wild Heart Of Life. After returning from their hiatus, the new record sounded a lot cleaner, a lot tighter and - dare we say - a little more boring than the riotous frenzy we've come to expect from Japandroids. Tonight though, the new material finds its life in the concert setting, with an adoring crowd ready to go from the outset - fistpumping along and hitting all the oh-oh-oh-oh-ohs with gusto. The production was polished, but the songs slot into the live set with few problems.
Sadly, some of their best-loved material falls flat tonight. On their latest album, Japandroids can charitably be described as being more mature than they were on their debut. Tonight, they unmistakably just look and sound a bit clapped out at times, especially when trying to go full throttle on their most unwieldy material. The drums don't hit quite as hard, the tempos don't accelerate quite as aggressively. King's voice seems to have taken leave of its youth. The "we used to dream!" of "Young Hearts Spark Fire" should be a snotty, impassioned yell. It falls dead to the ground tonight, barely registering as spoken word.
At these points in the set, you quickly remember that their vital lightning-bolt of a debut - and the live reputation they built around it - actually came out nearly a decade ago now, after you factor in their extended break after Celebration Rock. What worked in 2008 doesn't quite deliver in the same way in 2017, now that time has moved on for both the band and the world. All this talk about "French-kissing French girls" doesn't quite stick the landing ten years later, especially when it gets packaged up in the same set as something like '"No Known Drink or Drug".
Strangely then, it's actually their less beloved material - the stuff from the newer album - which they wear most comfortably tonight. On something like "North East South West", King's voice is confident, and Prowse's driving beats are rocksteady. And although it was disappointing to hear them neuter their energy on record, it makes a lot more sense tonight; the new material signalling towards a future in which Japandroids reinvent themselves as a matured, mid-tempo anthemic rock band. Judging by reaction to both old songs and new songs tonight, it seems they have an audience that's up for it too. On record it sounded like they were losing their edge, but maybe they're just finding a new voice.
Get the Best Fit take on the week in music direct to your inbox every Friday