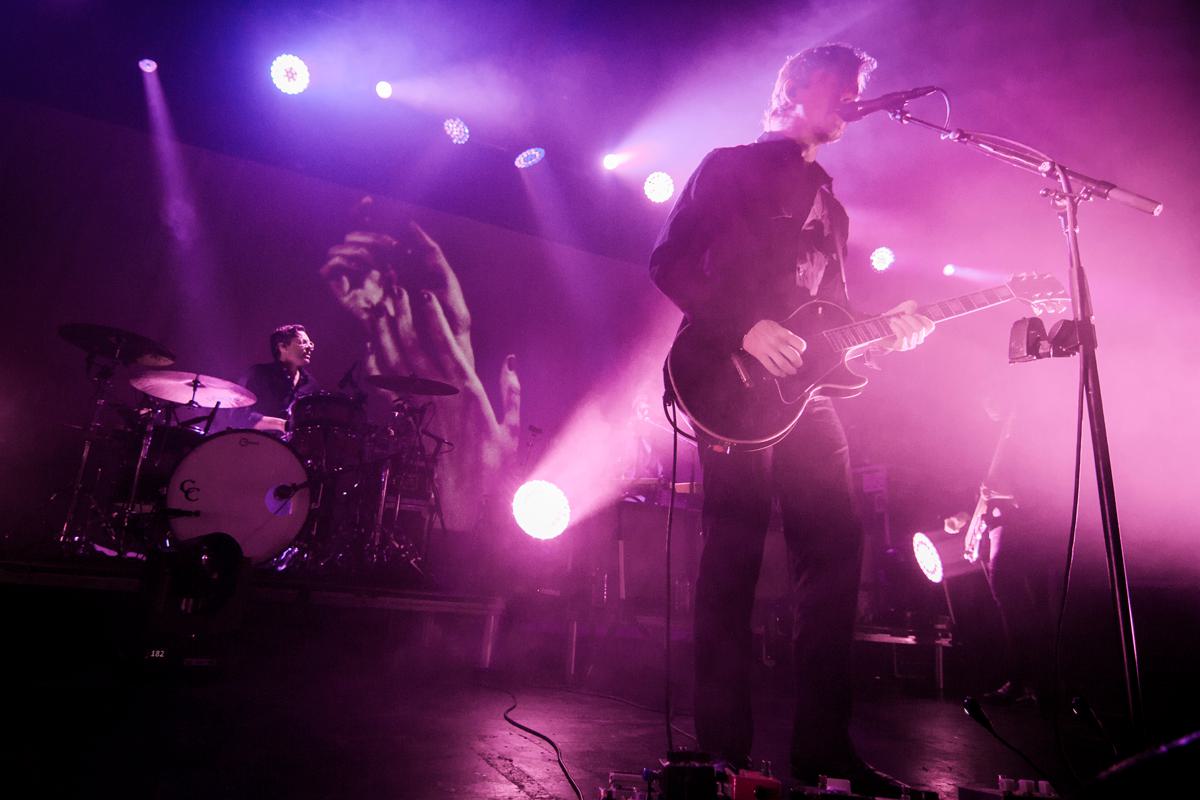 Interpol emerged from New York at a time when the city was spewing out exceptional bands. Brooding and glacial, they stood out from Yeah Yeah Yeah's neon punk and LCD Soundsystem's frazzled strobes, a sombre yin to The Strokes' leather-clad yang.
The band's 2002 debut, Turn On The Bright Lights, perfectly captured the vibe of the city that spawned it; kinetic, painfully cool and darkly electrified. Since then, founding bassist Carlos D has left the band but nevertheless, Interpol are here tonight to celebrate the 15 year anniversary of that debut by playing it in full. As the dapper quartet emerge in sharp, black suits, contrasting with the blood-red backdrop, they unfurl their glowering guitars, accompanying sleek melodies that reflect like lights mirrored on wet city streets.
From the moment Daniel Kessler's shivering riff announces the first trembling salvo of TOTBL opener "Untitled", the band hold Ally Pally's cavernous room transfixed, a reminder they've been making melancholy sound sumptuously elegant for almost two decades. There's very little in the way of crowd interaction, while the visuals too are understated, just subtle shapes shifting under red and blue lights. Instead, the music does the talking, although the grin shared between Daniel and vocalist Paul Banks after the eloquent "Stella Was a Diver and She Was Always Down" proves the significance of the evening isn't lost on them.
From the tense paranoia of "Obstacle 1" (its central line, "You'll go stabbing yourself in the neck" remains explosive), to the angular, pogo-inducing "PDA", the band cast long, hypnotic shadows. It's not hard to see why their reverb-drenched gloom garnered initial comparisons to Joy Division. However, the album's atmospheric highlight, "NYC", takes that spine-tingling dread and adds layers of glissando, minor key guitar topped with Banks' doleful baritone.
For the encore the band, mix up the pace, delving further into their back catalogue and proving with "Not Even Jail", "Slow Hands" and "Evil", they pulled off their most anthemic moments later in their career. Certainly, new track "Real Life" is positively chipper by Interpol's poignant standards, while the lesser-played "Lights", from the band's much-maligned 2009 self-titled release, sounds absolutely thunderous, submerged in creeping tension. But tonight isn't about Interpol's more recent triumphs; it's about playing tribute to not only their modern-classic debut, but to New York City itself.