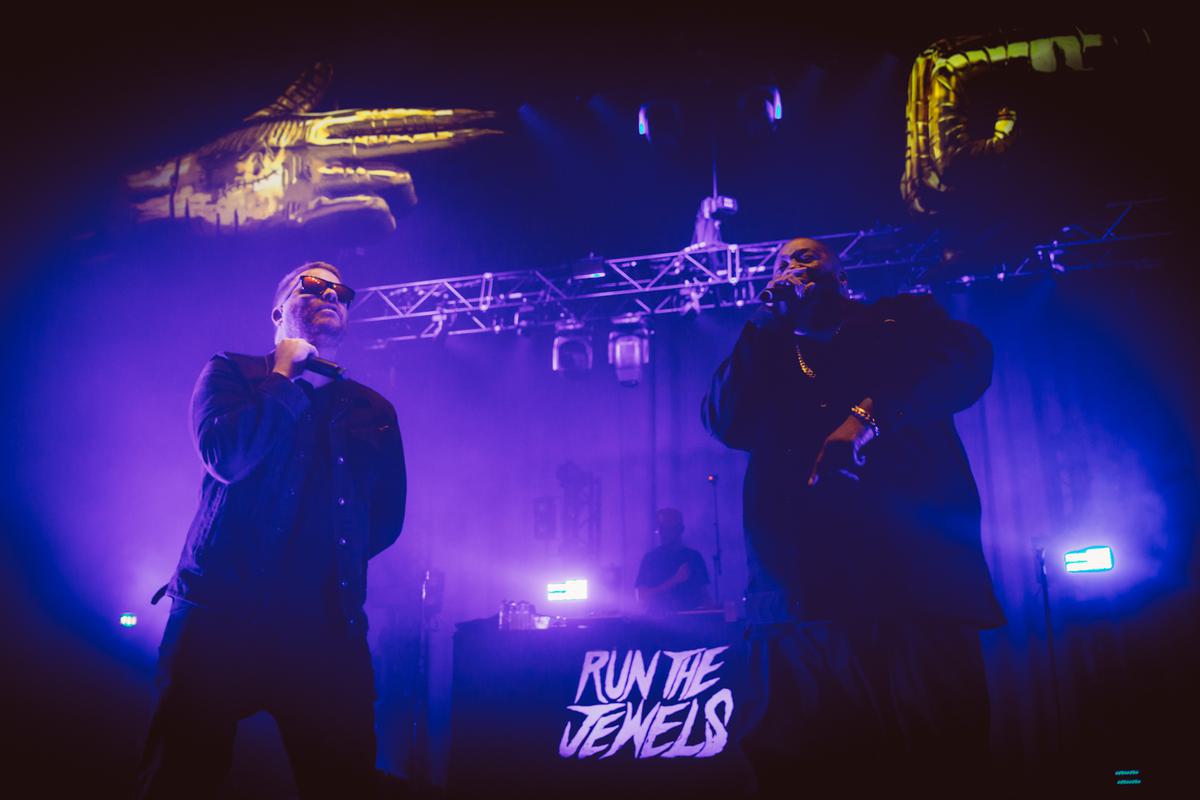 The Power Of Teamwork: Run The Jewels, Live in London
Killer Mike and EL-P have built a remarkable platform for shedding light on political controversy, by using modern hip-hop as a catalyst, and there are few mainstream hip-hop acts who are as celebrated for the political content of their work as RTJ. This evening, Brixton Academy opens its doors for one of the United States' most prominent hip-hop acts for the first of two nights, an important moment for not only the group but for hip-hop's vitality.
Setting their sharp tongued vocal delivery and pummelling beats in full motion, show openers "Talk To Me" and "Legend Has It" provide a swish entrance of hard-hitters from their new album. Mike and El bruise ego and shit-talk Trump ("Went to war with the devil and Shaitan/He wore a bad toupee and a spray tan"), their inventive display of lyrical trickery leading the set. It's a wild tour-de-force of teamwork; the pair bounce off lyrical flows and style tidy improvisation into their set.
El P's knack for intricate beat-making is the glue behind Run The Jewels' creativity, combining as it does some highly experimental elements with pop-leaning hip-hop classicism. The crowd is hit with a barrage of manipulated synth sounds and fluttering bass lines, perfected by wild and gritty distortion.
The pair's deadly vocal delivery floats on a bed of looped vocals on tracks like "Stay Gold" and "Close Your Eyes" move into the set bristly. Hanging around after his appropriately manic support slot, Danny Brown pounced out for his verse on "Hey Kids (Bumaye)". Both hone matching qualities of musicality, thriving off their experimental edge to hip-hop and both leading at the forefront of this sound. A frenzied display of crowd participation and a fierce energy resides in this thriving South London venue, carrying through until the pair lead into an encore with a rightfully seasonal "A Christmas Fucking Miracle" from the first album before closing with their eponymous anthem.
Free-spirited, unapologetic and all continuing to show their potency in hip-hop, Run The Jewels remain top of their game, having cemented RTJ 3 as "the greatest thing that we artistically have done together." El shouts "it's been a great year!" and throughout the performance, the duo exert an energy that implies the show is a celebration of a period, an end of a passage.