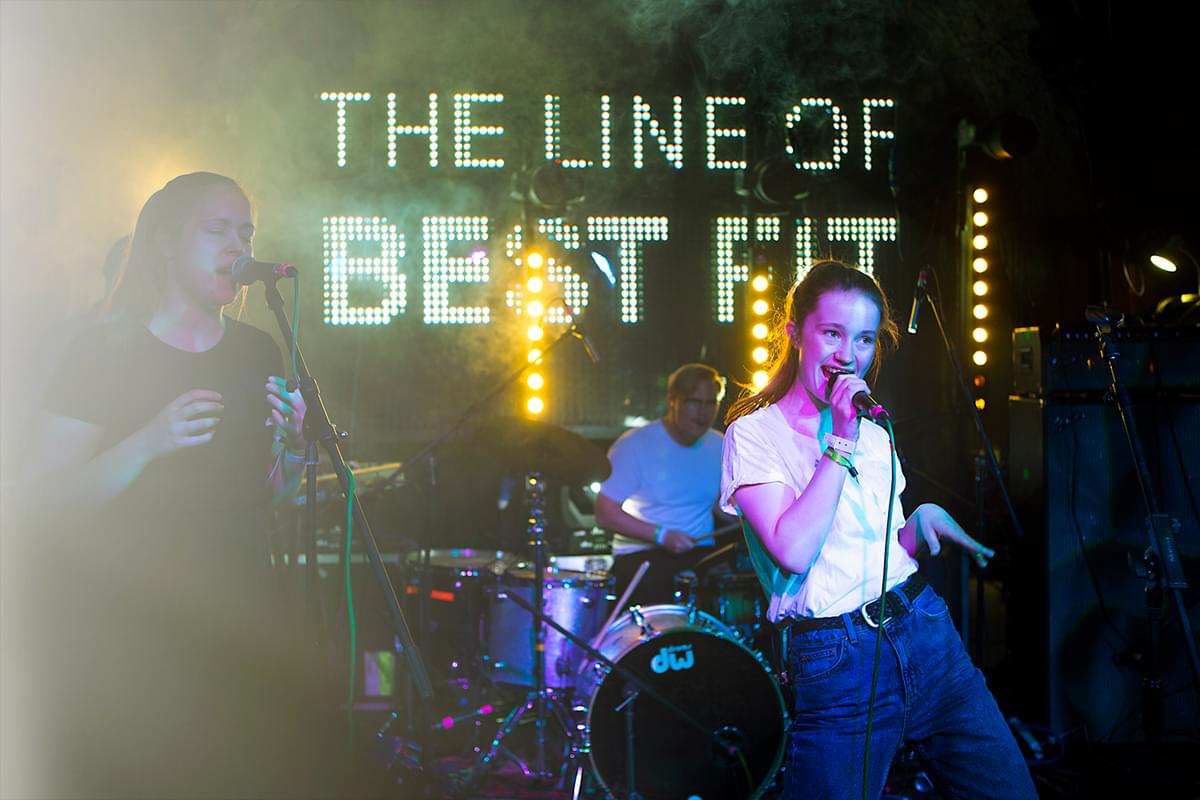 The Great Escape 2017: Our Highlights
Fighting torrential rain and snaking queues, we rooted out the very best new music that Brighton's The Great Escape had to offer over the weekend.
Having continued to expand over the eleven years since its inception The Great Escape is now firmly established as the U.K.'s festival destination for emerging talent. Think Austin's SXSW, but with worse weather and starring all the faces from the music industry that you generally try to avoid in London. Over 450 artists from around the globe found themselves shoehorned into the 30(ish) selected venues this year, and while that number sounds mightily impressive, it takes a decent ear to sift through the din and separate the Sigrids from the, well, a lot of pretty rubbish music, frankly. We gave writers Matthew Kent, Lauren Down and Charlotte Krol that highly enviable task.
Odd Beholder
Shrouded in smoke and wrapped in understated 80s synths, Daniela Weinmann and James Varghese are an enticing live prospect. As Odd Beholder, the pair create a root system of slinky beats, romantic vocals and noodling melodies but it's their use of space and of silence that makes tracks like "Isometry" and "Landscape Escape" so captivating, both on stage and on record. (LD)

Middle Kids
Poor sound levels at Sticky Mike's may have hampered the intricacies of Middle Kids' alt-country gems but vocalist Hannah Joy wasn't to be held back. To see the Australian trio bring their anthemic songs to stage was a delight in itself, bolstered by Joy's honest, assured delivery that managed to cut through the muddied sound. "Edge Of Town", with its rabble-rouser closer, was the epic reward for sticking with them. (CK)
Pip Blom
There is something so perfect about how perfectly simple 20-year- old Amsterdam based artist Pip Blom's songs sound. Perhaps that's because they're not really simple at all, but Pip and her band make their unique brand of Breeders-esque riot girl grunge sound so effortless. It's more than that though, tracks like "I Think I'm in Love" and "Truth" are a testament to Pip's ability to craft groove-laden, honest and raw modern guitar music. (LD)

off bloom
off bloom's fiery electro-pop is already world-shaking on tracks like "Love To Hate It" and "Falcon Eye", but live the Danish three piece add another dimension to their sound. All eyes are on Mette the band's vocalist who knows how to bring it, heading over the barrier at Coalition and into the crowd. Producers Alex and Mads unknowingly doubling as backing dancers as they passionately hammer out their beats with vigour. It's a meticulously crafted set with interludes sampling cult classics like M.I.A's "Bad Girls" alongside the bold and brash "Shut Up And Let Me Walk" and the emotive "Sorry, Not Sorry", which shows a softer side to the versatile, energetic trio. (MK)
Pom Poko
Watching Pom Poko live is the most fun you can have with clothes on. Stumbling into Komedia at some unmentionable hour, we are lucky enough to catch the Norwegian four-piece rip through a fast-paced set of ridiculously fun pop-infused post-punk which culminated in a rip-roaring version of crowd favourite "Jazz Baby". (LD)
Tired Lion
Tired Lion turned up to play 30 minutes of no-frills grunge that played right into the hands of those craving an incessant bout of head-nodding. The Perth quartet, fronted by a confident Sophie Hopes, were pleasingly tight downstairs at Patterns even if some songs appeared to blur into one. Pop-punk has clearly been another influence on the Australian group, who clench together relentless drums, slanging bass and crunchy power chords for gritty gut-punch performances (CK)
Stefflon Don
Rising hip-hop and grime MC Stefflon Don brought serious attitude to her Saturday night headline set at The Great Escape. The British/Jamaican rapper blew so many of her contemporaries out of the water with a set that featured fast lyrics, fast beats, quick wit, jaw-dropping talent and a female empowering stage invasion. We had already heard she was one of the UKs hottest prospects, well seeing is believing. (LD)
Casi
Welsh singer-songwriter Casi's handful of releases barely scratch the surface of the talent she possesses. Casi effortlessly and gracefully delivers the standout vocal performance of the entire weekend. Her immaculate reimagining of Kanye West's "Love Lockdown" provides a stunning standstill moment, while unreleased tracks like colossal set closer "Homesick" are teasers that suggest the best is yet to come from this unique and unmistakable artist. (MK)
Mammút
Icelandic band Mammút pulled in a huge crowd at the Sallis Benney Theatre. The quintet, who formed in 2004, brought their sinewy art-rock to an audience that was eager to be immersed. Vocalist Katrina Kata Morgensen was a commanding presence, hands daubed in red paint, who accompanied the band's proggy interludes with bewitching dances. Mammút's music is hypnotic, escapist and often all-consuming. Every member of the band was lost in their own world but somehow kept the crowd tethered to the drama. A gripping show. (CK)
Sampa The Great
It took just one and a half songs for Sampa The Great to have the crowd in the palm of her hand, and just two songs to have them clapping in unison to break through the oppressive atmosphere of a dark basement venue of a bright, beautiful day. Her energy is infectious, her lyrical flow is genius, the melodies are rich and complex, and – aptly – as bright and beautiful as a sunny day on Brighton's beach. (LD)

HMLTD
Their music may be divisive but HMLTD certainly know how to put on a show. The sado-glam, London-based band cater to practically every heavy taste with their brand of bizarre, agitator rock. One minute frontman Henry Spychalski is stomping around Adam Ant-style with his troupe of pirates, New Romantics and suited businessmen, the next he's flung to the floor as a spasm of dubstep and industrial noise attacks from all angles.
The band, made up of members from Greece, France and the UK, jitter from punk to big beat, glam to techno in the bat of an eyelid, as if to purposefully challenge the audience's patience. Some punters are adoring disciples, others turn their noses up, but no one else is doing quite what HMTLD is doing. (CK)
CRONICLE
In the dark depths of Sticky Mikes Frog Bar, Swedish singer-songwriter CRONICLE laid down a marker on her quest to top the pop world. Having learned the ropes from Robyn, Tove Lo and Icona Pop, CRONICLE left Stockholm for London and fronted a punk band before settling on the sparkling, synth-glossed tracks performed here. Her set is packed with highlights like electro-pop tearjerker "Explosions" and the similarly melancholy "Sad Truth" which finds solace in its classically Scandinavian euphoric swell. CRONICLE is a convincing prospect for pop greatness. (MK)
Cosmo Pyke
18-year-old soloist Cosmo Pyke is one of the most effortlessly talented acts of the weekend. The BRIT-school graduate strokes his guitar as if swishing through water - fitting, really, as his lo-fi jazz-pop easily lulls the crowd into a blissful trance. Raised in Peckham, south London, Pyke sings about the pleasing banalities of life on a wave of fidgety song structures and complex time signatures. While his voice flirts with soul but lacks a polished finish there's a quirky charm to his tone that, judging by the packed-out Prince Albert, has garnered him a whole host of committed fans. (CK)
Get the Best Fit take on the week in music direct to your inbox every Friday