Taylor Swift's Red tour is theatricality in extremis; a camp spectacle of Olympian opening ceremony proportions with a Riefenstahl tint, built on some of the most absurd conceptual drama you'll ever see. It's an evening as baffling, delighting and dazzling as its central protagonist – and just like the 24 year old Pennsylvania born singer and songwriter, it's also kinda brilliant too.
Swift occupies a space quite unlike any of her stadium filling pop contemporaries so far this decade. Perhaps only Lady Gaga comes close to matching her on spectacle alone, but they also share the component mix of talent, backstory and a heavy dose of audience empathy that makes popstars happen. Yet there's far less in the way of smoke and mirrors with Swift – her appeal is filtered through a book-laid-open honesty that stretches way back to her early days.
Those credentials are referenced heavily tonight – the second of five sold out shows at The O2 – chiefly through a fast-cut film that recounts her year-by-year rise to fame and prefaces an awesome take on "22″. Ahead of "Mean", she delivers a rehearsed confessional that delves deep into the emotionally overwrought well she's made her own. It could come across as insincere and manipulative, but there isn't a hint of that here. Recollections of channeling fears and slights into songwriting ("I write my songs in the middle of the night, when I'm trying to forget the hardest thing") and overcoming those who screwed her over are delivered entirely with the same folksiness and confidence that keeps the likes of Glee on the air. Catch the (occasionally tearful) eyes of the kids in the stalls tonight and there's connection that goes both ways. It's as profound as they come to the girls and boys holding neon, homemade 'RED' signs.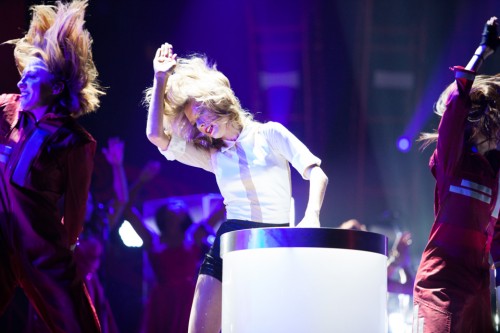 Swift – like Gaga – knows her audience well and never indulges it beyond the palatable. These reflective moments are largely breathing points in a neat set that sees every stadium show cliche thrown into the mix (fireworks, confetti, a moving stage). The cute ensemble of supporting dancers, backup singers and musicians are having a riot as they play their parts in the ridiculously fun theatre surrounding each segment of the show. "The Lucky One" casts a 40s' Howard Hawks melodrama around Swift's tale of showbiz life while the latter part of the set sees the same fairytale take on Versailles that UK audiences witnessed at last year's BRIT Awards on a grander scale.
The sum of these parts is a sensory joy on all levels, and despite a few misfires ("I Knew You Were Trouble" sounds great, but its faux-dubstep wubs don't translate well, and a serviceable duet with special guest Sam Smith fails to excite), it's a fantastic injection of school-night serotonin.
Setlist
"State of Grace"
"Holy Ground"
"Red"
"You Belong with Me"
"The Lucky One"
"Mean"
"22″
"Fifteen"
"Sparks Fly"
"Money on My Mind" (with Sam Smith)
"I Knew You Were Trouble"
"All Too Well"
"Love Story"
"Treacherous"
"We Are Never Ever Getting Back Together"
Photos by Jason Williamson – see the full set.