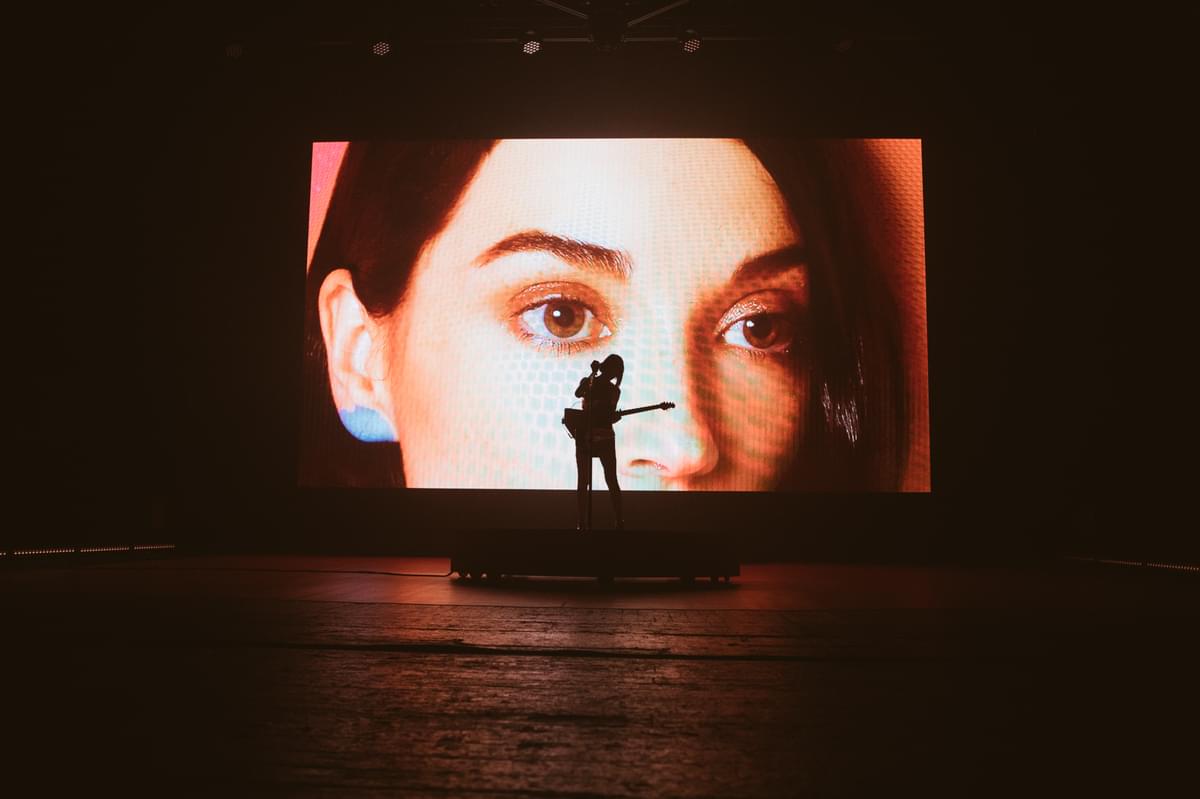 Don't Fear The Future: St Vincent, Live in Manchester
Anybody hoping that Annie Clark might arrest her maverick sensibilities at her biggest Manchester show to date will have been sorely disappointed tonight.
In fairness, it wasn't like they weren't warned. For a start, there was her bizarre, closely-scripted stage banter at her show at the tiny Deaf Institute during her 2012 Strange Mercy tour. Then, at the Cathedral in support of her breakthrough self-titled long-player in February of 2014, every move - every shuffle of the feet, every flick of the elbow - was disconcertingly choreographed. When she played the city's Albert Hall as part of a victory lap in October of that same year, a daring bit of balcony-climbing during "Your Lips Are Red" offered a thrilling touch of respite from the careful control that has defined the St. Vincent stage show for a long time now.
She's not willing to relinquish that tonight, or indeed to cede to the handsome surroundings - this is the biggest room you get to round these parts before you play the arena. A night before, she took this same show to Brixton Academy, and was met with a decidedly mixed response afterwards on social media. It says a lot about London, supposedly our most cosmopolitan city, that so many of the assembled indie collective there saw fit to kick off about the fact that indie pop's premier avant-gardist didn't just turn up and deliver her greatest hits.
There are two sets this evening, which follow Clark replacing any kind of support act with her own short film, The Birthday Party - which, if you're really that curious, can be found on Netflix as part of a horror compilation called XX. The first half of the show itself is a procession through fan favourites from before Masseduction, last week's fifth LP, which was met with a wave of critical fervour. Here's the rub: this gig is a genuine solo one. No band.
In its place, a clattering backing track. There's no backdrop either, for this opening half. "Cruel", "Cheerleader" and "Rattlesnake" are all robbed of a bit of their subtlety; the pre-recorded instrumentation is a touch too noisy. The idea is nice, but there's no visuals - just diagonally arranged curtains, which are meant to be Twin Peaks-y but just look naff. The inconsistency of the artificial rearguard means that some of these well-loved tracks feel like a mere warm-up, especially when viewed through the prism of what came next.
After the quickest of intervals, Clark returns to fire through Masseduction in its entirety. This is where she comes into her own, because this is an album that works just fine within the confines of this setup. It's so garish that maybe the ostensible refinement of a live band would spoil it; we're spared that possibility by charged takes on the likes of the maddeningly catchy title track (file "Pills" alongside that too). When she hits the rawer moments - the open sore of "New York", the crippling crisis of identity of closer "Smoking Section" - you realise that Clark is not merely capable of commanding rooms of this size, she can toy with them.
Most crucial of all is the fact that, shorn as she is of a band, Clark's virtuoso guitar prowess comes to the fore - she plays with a slick assuredness that posits her as Prince's heir apparent. Don't pay any mind to those who dismiss this Fear the Future show as karaoke. It isn't that. It's an exercise in creative daring.
Get the Best Fit take on the week in music direct to your inbox every Friday