In a match seemingly made in TLOBF heaven, Constantines were a late addition as support act for this much-anticipated show from the former Okkervil River side project – now exclusively the preserve of Jonathan Meiburg after the amicable departure of co-founder Will Sheff. Personally though, these dirty rocking Canadians were to be a new experience and my pre-conceptions were that their thundering might jar with Shearwater's more tempered arty emotions. Wrong on both counts actually, since Constantines offered a much more focused thrash than expected, and Shearwater can bring the house down with the best of them when their varied repertoire demands.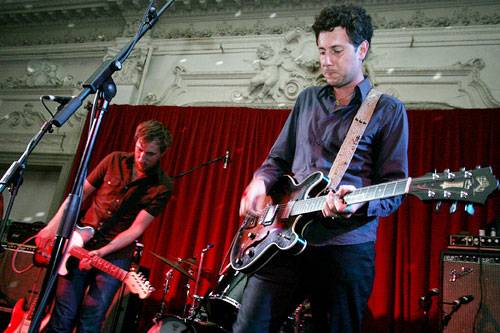 Constantines were welcomed on stage with a transatlantic whoop of "Party Hard!", which immediately made them feel at home and set the tone for a fun set of 10 songs. They have a sound seemingly honed to carry as far as possible across the rolling Prairie, but also the intelligence not to let themselves slip into the realms of brutish squall merchants – loud sure but not distorted. Full marks Mr. sound man too. Their offerings range from dissonant and punky to bluesy chugging Led Zep – but free of any indulgence in elaborate guitar solos. Tracks emphasising Bryan Webb's Springsteen-like dry vocals scored best, with 'Nighttime/Anytime (It's Alright)' a new favourite. 'Trans Canada' and 'Shower Of Stones' fuelled by Dallas Wehrle's pummelling bass also stood out. Most important of all, they seemed to be enjoying themselves too.
New England born but Texas based Jonathan Meiburg is the Clark Kent of rock – always mild-mannered, and one moment singing like a choirboy in fragile falsetto, but the next abruptly strident in soaring roars of naked emotion. For a shy guy he puts it all out there on stage and the audience is transfixed. Rarely have I heard so little sound from the floor at the times when the band themselves are so hushed. His politeness is contagious it seems. The warm reverent atmosphere feels agreed from the off by the word of mouth expectation for current album Rook. Its first track, 'On The Death Of The Waters', gets things started – timidly but concealing the crashing mid song climax. It is characteristic in its use of contrast – the beautiful and the harsh. Such is nature: a pervading theme through most of Rook. Songs are as likely to fade fleetingly with delicate key strokes as end in a swirl of guitar feedback. The set is a sixty-forty mix of songs from Rook and previous excellent release Palo Alto, the former getting most immediate recognition. Maybe I'm typical in having only recently fallen under their spell.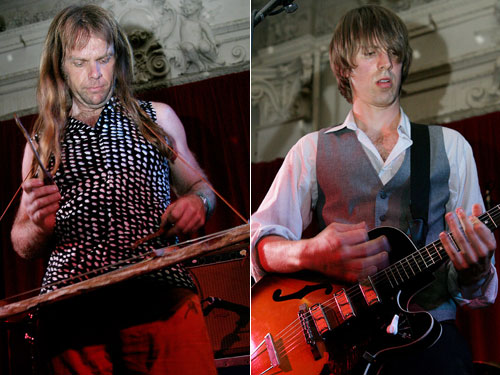 Meiburg flits between keyboards, guitars, and banjo for a couple of tracks too. As his adopted nickname suggests, drummer Thor Harris looked like he had earnt a day-pass out from Valhalla, but the muscled part-time carpenter is no leaden-handed beater of skins – having a subtle variety of approaches and indeed doubling up on clarinet, home-made dulcimer, and various atmospheric effects. Standing serenely throughout in contrast to this larger than life character, third core band member Kimberly Burke covered two varieties of bass and part-time glockenspiel. With two additional multi-instrumentalists on board, it was fascinating to see them play musical chairs; swapping roles as they wove their rich full sound from seemingly so organic and simple ingredients. 'The Snow Leopard' materialised out of an extended mystical soundscape and the gentle other-worldliness of 'I Was A Cloud' was mesmerising. Tracks like 'Rooks' got pulses racing with its exuberant hooting and strident trumpet. The stage roving Thor was literally to the fore on pinging dulcimer for 'Leviathan Bound', and my own personal favourite rocker 'Century Eyes' had the momentum of a freight train. It was dedicated to John McCain. Who said Americans can't do sarcasm?
Eleven songs had slipped by all too soon, but the encore offered up two more. When Meiburg announced "This is our best show by far in London" you could believe his sincerity, and when he followed with a "song by a local outfit" I was expecting a Who number (Bush Hall was the rehearsal space for those local boys after all). Instead, Shearwater acknowledged one of their influences by covering Talk Talk's 'The Rainbow'. To my taste it was too arty and unstructured, though it was interesting to see them hold it all together through the extended sprawl of its second half. Time for Meiburg to spring the final contrast of the evening. With a pointing "we're going over there", the band trooped to the back corner of the hall and a rendezvous with the in-house grand piano. An unplugged rendition of 'The Hunter's Star' followed. The most overtly pretty and melodic song on Rook, it was a lovely exposed way to close (if hidden from view to most of the audience) and was the talk of the crowd as they filed out into the bustling street.
Unless there is some serious payola involved (please leave a comment with contact details below if interested), Rook still seams destined for album of the year status for this reviewer, and I'm fighting off a bad case of man-love.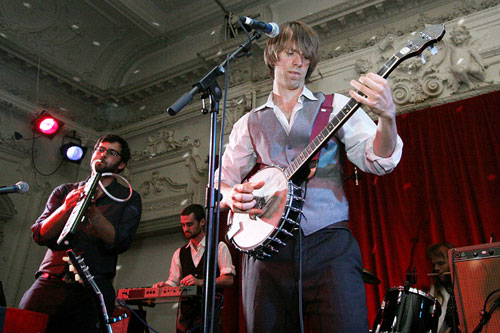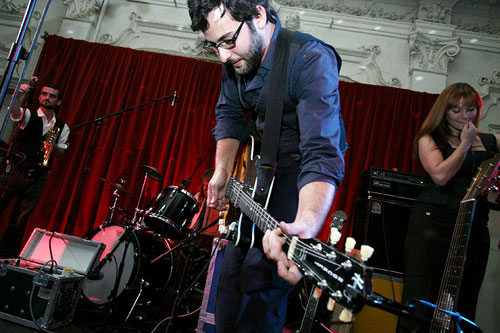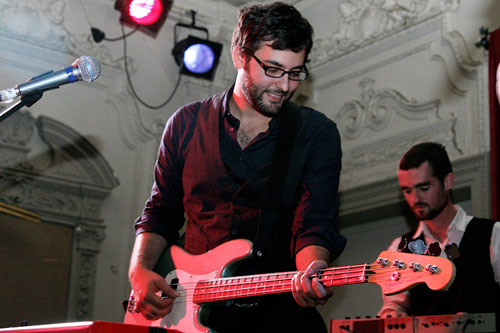 Constantines on MySpace
Shearwater on MySpace