Sharon Jones has more personality in her left eyebrow than the entire UK Top 40.
From the moment Jones struts on stage following an introduction from lead guitarist, label owner and master of ceremonies the masterful Binky Griptite, Jones has the audience in the palm of her hand. Raising the aforementioned eyebrow when the speakers feedback she stops, asks for the house lights to change because the purple is "putting the speakers off", then drops straight back in to the song, smile beaming across her face. In the Dap Kings, Jones has probably the tightest funk and soul outfits around. Defiantly old school rather than retro pastiche, the Dap Kings are as sharp as their finely tailored suits. Despite their talents, it is the sheer charisma of Jones herself that carries the evening.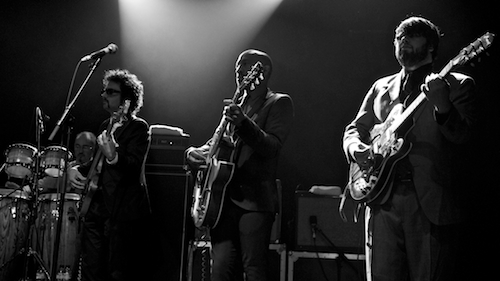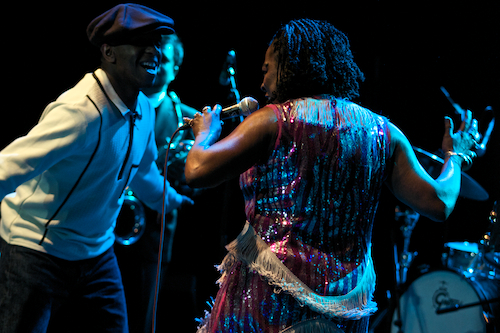 Hailing from Augusta, Georgia, Jones spent years singing in churches and at weddings, taking a job as a prison guard before hooking up with the Dap Kings. Since then she has appeared alongside the likes of Al Green, David Byrne and Lou Reed, to name but a few. All of these experiences feed in to her tour de force show. With quick wit and quicker hips Jones is a delight to behold, be it flirting with the bouncers, slowing things down with a soulful ballad, testifying, or inviting everyone onboard the "Soooooooouuuuuuuuul Train", during which we are treated to her renditions of the boogaloo, walking the dog, tighten up, the swim and the mash potato. Clad in a sequined, tassled gown, she shimmies, shakes and shrugs for all she iss worth-kicking off her shoes and whirling around her stage. And then there is the voice: from pained moan to full on soul wail Jones has one of the finest soul voices around today, or any other time for that matter.
Looking back at the last 40 years of soul music, Jones and her Dap Kings take the showmanship of James Brown, the shimmy of Tina, the laid back soul of Al Green and add their own special twist that is equal parts West African, American Indian and "Church". One suspects that had their classic soul and funk sound been released forty years ago, many of the songs performed tonight would now be hailed up as classics. As it is, they should be looked at as classics of our time. There would be few in the grinning, dancing Koko audience tonight who would disagree.
Put simply, if you want to be entertained, go to a Sharon Jones and the Dap Kings show.