The Junction 2 venue is perfectly suited to this kind of event. And by "this kind of event", I mean an evening where you can sit down in the company of some of the best Jazz musicians currently performing. A slight change in tact and content for me in fact. I'm usually to be found in dark and dingy pub backrooms, supping a light ale and getting my ears torn apart by a barrage of feedback. It's also slightly weird to be at a gig with no support act as Polar Bear have split the night into two, very different, sets.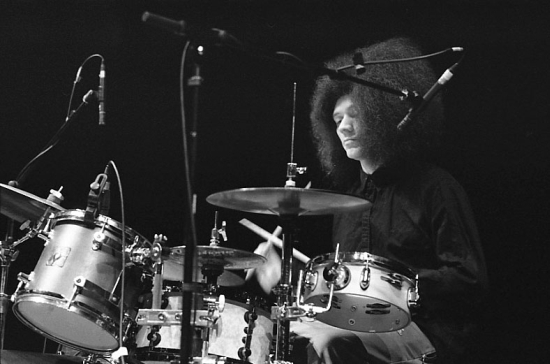 The first 45 minute set begins with an admission – they're going to be playing plenty of material from the new, very impressive, Peepers album. Which is fine by me. What I'm not ready for is just how good Polar Bear are as a live act. The two sax's take centre stag, the unmistakable Seb Rochford to the right, double bass behind and, the less obvious, electronics man to the right. Who plays balloons. Oh yes, balloons. Whilst some might chuckle and point at the fact that this is what's wrong with "modern" jazz, as the squeaks and whistles from the balloon echo around the venue, if you closed your eyes and listened, it's makes the perfect sound.
As their tight, rhythmic and boisterous set takes in higlights from Peepers such as 'Bap Bap Bap', 'Fluffy I Love You' and 'Happy For You' we're treated to some of Rochford's dry sense of humour. Tales of what the songs about raise chuckles from the crowd as Seb's delicate voice cracks one-liners after one-liners. The set bounces to a halt to rapturous applause. This is modern Jazz at it's finest – willing to experiment with the more modern elements of music, but without losing the great timing and epic beats and rhythmic timing of its past.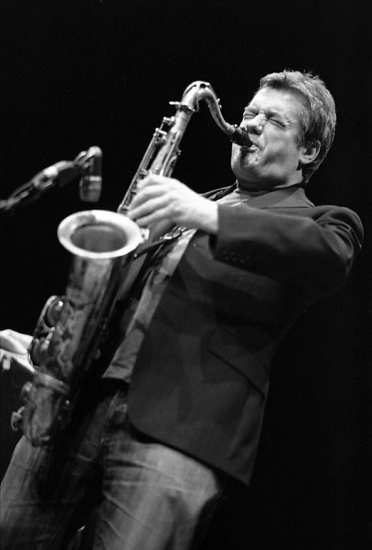 The band are late on for their second set. Apparently someone left some clamps backstage, which is a cue for practical jokes. Their laptop, however, was less impressed, failing to recover from its little nap. As the computer was rebooted, to the usual jokes, there's a cry of "Get a proper instrument", to which Rochford smiles politely and mentions he might just come down and take exception to that, and the crowd being mean…
This second set was a vert different beast. It was practically an hour of improv-Jazz. This can be a little daunting. But there's something amazing about watching a song be constructed and then deconstructed time and again, picking up new threads of rhythm. The addition of a Wii controller was also unexpected, the electronics guru performing gesture mulching of noises to perfectly match the squeaks and whistles from the sax's. For all the experimentation though, the entire session hinges on Rochford's unassuming drumming and rhythmic prowess.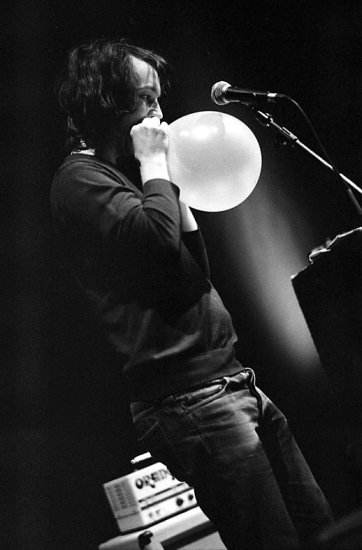 The improv section was all about being varied, free and unhinged. Each player exploring a different seam of musical influence, and whipping it into another direction, shuffling expertly between themes. Of course, with a set like this it doesn't always work. Some of the sections were more interesting and involving than others, but that's part of the fun. There'll always be something for someone in the set.
As the evening drew to a close, the band returned to the stage for an encore of 'Peepers'. Rochford declaring that this piece was written for "People with cheeky eyes", which he can tell some of the audience have, even in the dark… A barrage of clipped tenor sax and beats are probably the closest thing the band would write to a "pop song", just without lyrics. The glorious guitar gliding over the rhythm perfectly and finishing the evening on a musical high.