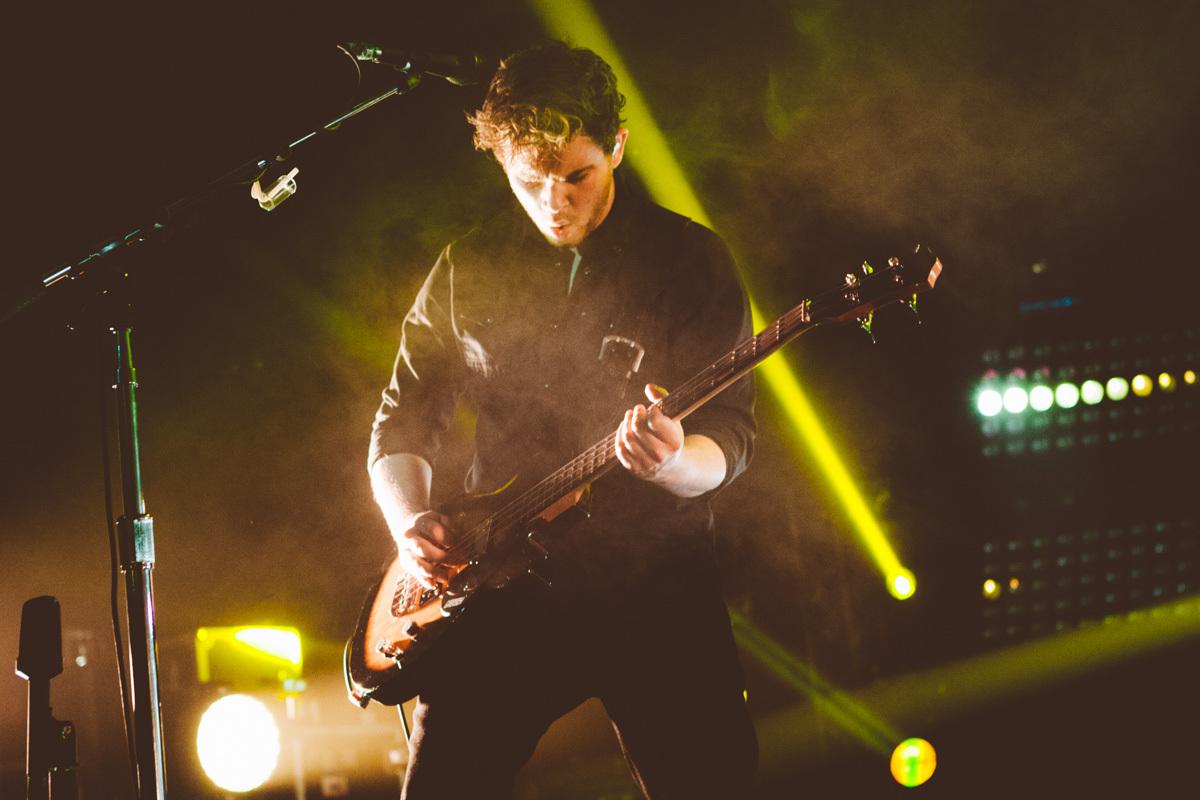 Muscle & Brawn: Royal Blood, Live in London
It's difficult to recall a band who has risen up the ranks faster than Royal Blood. The duo have only been a band for four years and have just two albums under their belts. Yet they've sold out the 10,000+ capacity Alexandra Palace tonight, as well as tomorrow night ... and the night after that. To put that in perspective, that's a combined audience big enough to sell out Wembley Arena twice and then some.
Fellow Brightonians Black Honey kick off proceedings with their breezy grunge. "Dig" and "Hello Today" are amped-up, vintage Americana, replete with a dash of Hole, a splash of Wolf Alice and sprinkling of Best Coast, equal parts sugar and spike. Up next, eschewing sweetness for chaos, At the Drive-In are the outliers on tonight's bill. When this writer saw the band at Leeds festival earlier this year, it was a sullen performance that failed to connect with the audience. Tonight, the band fall prey to the Ally Pally curse - their fragmented post-hardcore idiosyncrasies and sonic acrobatics are lost in the venue's cavernous space. But even crummy sound can't suppress the El Paso quintet whose primal, white-hot energy on "Enfilade" and "Cosmonaut" is burning bright enough to propel them through the majestic glass ceiling.
It's pretty clear though that the crowd are hankering for meaty, rather than squalling, grooves. As Royal Blood kick into muscular opener "Lights Out", surrounded by a cage of lasers and backed by huge screens, the duo spark a tangle of riff-chanting, pogoing bodies that lasts the entire evening. At one point bassist and frontman Mike Kerr has to stop the gig to prevent a crush.
The duo, Mike and drummer Ben Thatcher, have come a long way in a short space of time. After some high profile support slots and two incendiary Glasto performances, they've found themselves gazing out into this vast room. Genuinely overwhelmed at the scenes before them, the pair mouth a disbelieving "fuuuuuuuck" to each other. Their second album How Did We Get So Dark? was slinkier and sexier than it's raw, self-titled predecessor and the groovy "She's Creeping" and "Hook Line & Sinker" are more roll than rock. It adds a new dimension to their otherwise juggernaut sound that revels in taut simplicity, Mike even hammering out the intro to "Hole In Your Heart" on a keyboard. On the whole though, despite augmenting the set with a drum solo and bass solos which show exactly what one can do when its turbo-charged to sound like a guitar, there isn't an inch to pinch in the set. From the metallic Muse-aping "Figure It Out" to a vitriolic "Out Of The Black", tonight Royal Blood sound as brawny, focused and as arena-sized as the venues they'll no doubt be selling out when they next return.