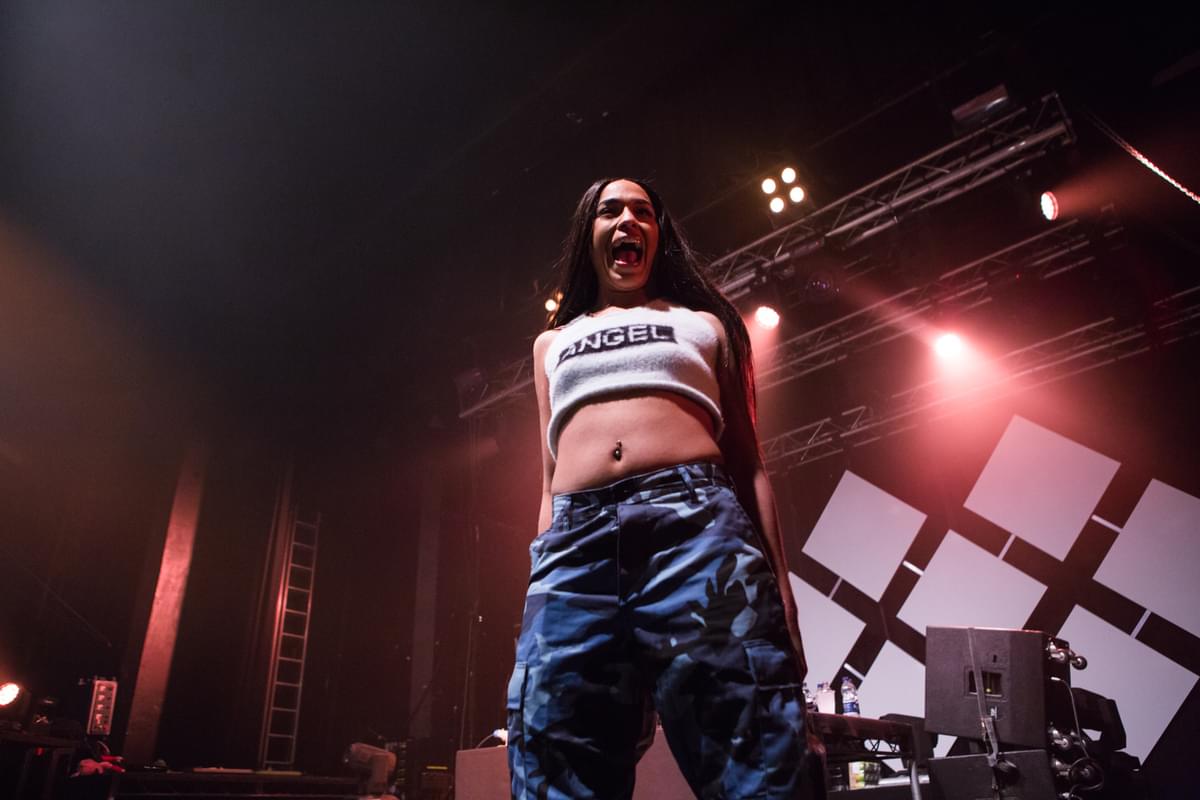 Long May She Reign: Princess Nokia, Live in London
After Kero Kero Bonito's anticipation-building set, Princess Nokia storms the stage at half-past midnight to Sum 41's "Fat Lip", screaming "How we all doing?" to a sold-out Brixton Electric. The DJ behind her lets out a wry smile as the track comes to an end and Nokia kicks off her show with hit, "Tomboy". Soon, I realised this was not going to be a typical hip-hop show.
Princess Nokia's increasing momentum comes off the back of her 2016 deluxe mixtape 1992; in her own words it is the record that "freed her soul". It made perfect sense then, that the show contained little material from earlier releases such as Metallic Butterfly or indeed any of her tracks as Wavy Spice. This is an artist who knows herself now more than ever and this incredibly strong identity manifests itself throughout the performance, she forces us to understand her the way that she understands herself.

As the anthemic "Tomboy" draws to a close Princess Nokia sets some ground rules. She makes it clear to everyone that this is a femme friendly concert and expresses joy at the amount of women of colour she can see at the front of the crowd. Even as I watched the venue fill up before the set it was very refreshing to see a diverse roomful of people, which is something I see all too rarely. Princess Nokia summarises that if you're not here with the intent of showing respect for everyone and having a good time, then you're at the wrong night.

Having set out her stall, she explodes into Mortal Kombat-inspired "Kitana", Princess Nokia at her most aggressive, chaotic and raw. The synth hook and trap hi-hat rolls serve as a perfect backdrop to the repeated shout "Kitana, Kitana, Kitana, Kitana/Mortal Kombat, I'll see you mañana!" .The crowd chants along (in an amusing transatlantic chorus) and strobes pump whilst Princess Nokia herself cruises across the hands of the crowd. She throws her head back in laughter while she is in amongst the audience, but when she returns to the stage she cools it back for the next verse.
It's clear that Princess Nokia has a certain playful versatility in her vocal delivery. At times throughout the show I am reminded of the different characters and tones used by Kendrick Lamar, Nicki Minaj and Tyler the Creator. I feel these exaggerated vocal changes more obvious and disarming live than on record as you see her expression switch when she is saying something she must know is clever. For example, personal favourite "Brujas" contains the witty finisher "And I come from an island and it's called Puerto Rico/And it's one of the smallest but it got the most people" to which I observe a sea of grinning faces all around me. I then realise I am laughing in exactly the same way.
Throughout the show Princess Nokia talks about how her experiences put 1992 together. At one point she warns that "Goth Kid" is "for everyone who felt like they were a weirdo…people will make fun of you then they try to be like you". She offers candid insight into challenges she has faced because of her identity, to which many in the audience roar in appreciation and understanding. She raps through the whole album with a continued charisma and rapport, owning the room through the tension in "G.O.A.T" through to the East Coast ode "Green Line".

1992 is a personal, honest record and tonight she gives it an enormously powerful performance filled with humour, energy and fun. Towards the end she confuses us by singing a couple of Lana Del Rey verses a capella, but then a new friend dances with her onstage and the DJ spins "Tomboy" and "Fat Lip" one last time, which more than makes up for it.
Get the Best Fit take on the week in music direct to your inbox every Friday