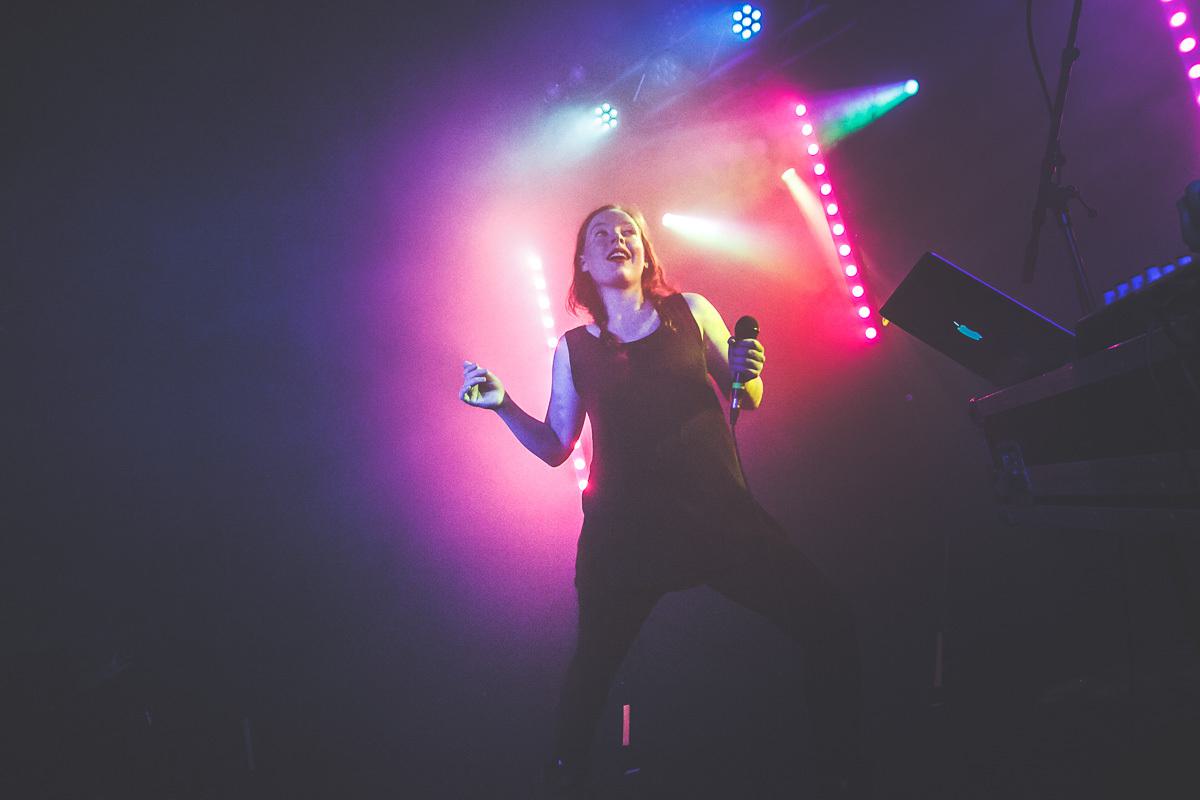 Joyful, Unaffected Abandon: Sylvan Esso, Live in Manchester
The wall of sound that greets North Carolina duo Sylvan Esso as they take to the stage of Manchester venue Gorilla is nothing short of deafening. The band laugh awkwardly between songs, unable to get a word in over the tumultuous roar. Ducking out into the street later that night, it's hard to know whether the ringing in your ears is due to the pair's tectonic basslines, or to the fans' consistently thunderous appreciation. As frontwoman Amelia Meath pointed out to us earlier this year, though they may not have fully broken the mainstream yet, "people who like our band… really like our band!"
Sylvan Esso's second full-length album, What Now, was released earlier this year following a string of well-received singles. Poppier and perhaps more accessible than their eponymous debut, it's no surprise the new record has only widened their appeal. This tour boasts a setlist peppered with complementary tracks from both LPs, delivering the strongest of their catalogue directly to adoring fans around the world.
Meath holds herself like a dancer. In the words of Sylvan Esso, "she don't know the gravity she holds." Her extraordinary voice captivates on record, but is a different beast altogether when performing live. Every ad-lib demonstrates simultaneous power and control; elevating favourite songs to new heights before reeling them back in to dive headlong into another euphoric chorus. Producer Nick Sanborn dances too, as though each grinding beat is wrenched from his own soul in some kind of painful ecstasy. Combined with Meath's energetic, unselfconscious stage presence, delivery of each song feels like a rounded whole–a performance art, if you will.
It's rare to see such joyful, unaffected abandon onstage, particularly from a self-proclaimed "goddamn electronic band." Despite the plaid-clad, septum-pierced twenty-somethings comprising the bulk of the crowd, Sylvan Esso isn't a band that's too cool for anyone. The crowd is dotted with plenty of older fans, and everyone seems totally caught up by the duo's infectious enthusiasm. As Sanborn told us earlier this year, one of the special joys of Sylvan Esso is that "we get people who normally don't openly have a good time at shows to openly have a good time at our shows."
The setlist itself is an expert construction, with singles both old and new garnering the warmest reception. The reactions to "Coffee" and "Radio" are perhaps the most earsplitting, but album tracks such as What Now's "Glow" and "Signal" are still so buoyed by the pair's energy that it's hard to find a low point to the evening.
Early in the set, Meath asks the crowd to look out for each other, "because there's not enough spaces like that right now." It's one of the few admissions that there's a world outside this show that we all have to return to at the end of the night. The sheer volume of the demand for an encore only serves to indicate the crowd's reluctance to do just that.