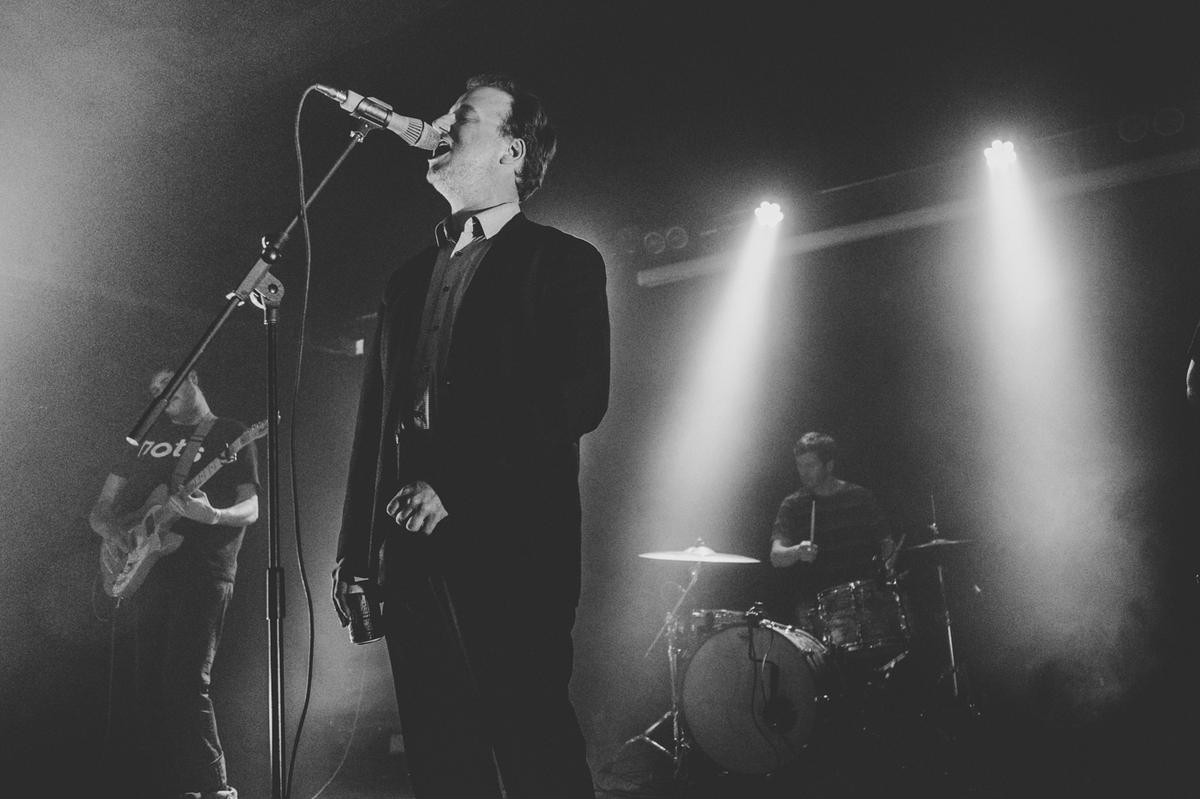 Industry & Insight: Protomartyr, Live in London
Much is often made of Protomartyr's Detroit heritage, and there's little fresh to say about their relationship to their Michiganite forbears in the MC5, The Stooges et al, so I won't bother. But, to an outsider at least, their home city seems to impress a somewhat more esoteric influence on this band. In a manner semi-reminiscent of acts like The Fall and Joy Division, to whom Protomartyr are compared on a regular basis (largely inaccurately – it's important to underline that), the grind and throb of decaying, formerly industry is woven into the very fabric of their music.
As those groups' entire approaches were haunted by the spectres of late-'70s Manchester, Protomartyr's songs clang, whirr and groan, harmonic analogues to the collapsing automotive industry to which their home city has so spectacularly fallen victim. To draw this comparison too concretely would be a gross oversimplification of Protomartyr's aesthetic – far from being a band whose sound is limited to their musical forefathers and narrow geographical location, Joe Casey and co are a phenomenally inventive group whose songs address complex, wide-ranging issues with remarkable eloquence – but it's a tricky parallel to ignore, particularly while watching them perform live.
Like those aforementioned forebears – who I'll stop rambling on about now – Protomartyr are a simultaneously utilitarian and contrarian live proposition, whose performances are not so much uncompromising as clearly driven by a belief that their audience is intelligent and attentive enough to keep up. There's no need to compromise if your listener understands your intention. Their new album, Relatives In Descent, is a layered, thoughtful record, and its constituent songs, like tonight's opener, "My Children", barrel along with great physicality, with Casey spitting his lyrics, preacher-like, atop Greg Ahee's caustic guitars. From thereon in, this is a career-spanning set, with debut album cut "Three Swallows" proving an unexpected and unusually tender highlight. The newest material shines brightly, but it's heartening that none of their choices here feel misplaced. Tracks like "Ain't So Simple" provide ample opportunity for flurries of youthful pogoing to erupt throughout the audience, and the band largely reciprocate such displays of energy.
However, it's the darker, meaner songs here which leave the most profound impression on these ears: "The Chuckler", from its title down a hollow laugh at the disintegrating state of American politics, is near-transformative in its sheer dourness, while "Male Plague", with its refrain of "…everybody know it's gonna kill you someday", sees Casey incandescent with rage and exasperation, each syllable loaded with more potent venom than its predecessor. He's a fabulously human, expressive frontman, whose sardonic gloom is perversely invigorating. Similarly exhilarating is Alex Leonard's insistent, mechanistic drumming, a galvanising force that pumps through each track. I'm a sucker for an inventive rhythm line, and Leonard's are up there with the best. The broiling tumult of his playing on tracks like "A Private Understanding" and "Why Does It Shake" is irresistible; in many ways, his efforts hold the key to this band.
Protomartyr are fast becoming one of America's most vital bands, accessible enough to be cross over to the mainstream, but inquisitive and idiosyncratic enough to make bold statements in a voice that is entirely their own. They deserve our attention as much we need their terrific, incisive work.