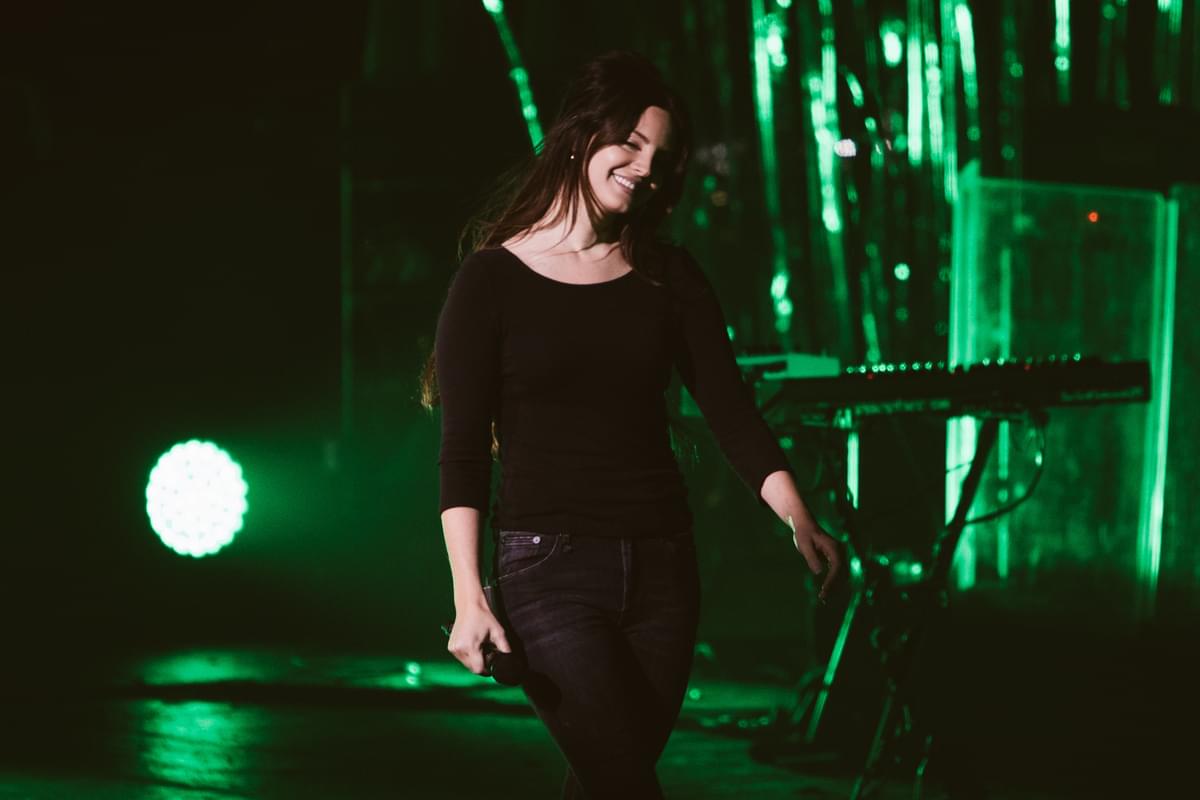 Hollywood Melancholy: Lana Del Rey, Live in London
After releasing her highly-anticipated new album Lust For Life on Friday, Lana Del Rey brought her sparkling, nostalgic brand of Hollywood melancholy to London for a rare, one-off UK show.
Dressed down in black jeans and a black long-sleeved top with her hair up in a beehive-style do, Lana Del Rey was visibly surprised as she was greeted by applause and fanatical screaming as she took to the stage. Every move she made sparked a new fit of screams, as though many of the adoring fans were pinching themselves and could not believe that they were finally seeing their idol in the UK.
Accompanied by two backing dancers, who stood on illuminated podiums on either side of the stage, Lana played through a set that spanned the backdrop of her five albums, including hits such as "Born To Die", "Ultraviolence" and even surprising the sold-out crowd with a rare performance of "Ride".
The highlight of the set came when the singer was forced to sing new song "Love" completely a capella, and despite the track only being out for a short amount of time, the crowd sang every word with her. It was another rare display of the artist's true vocal ability as she pointedly sang with impressive control and strength, a side we don't always get to see as it is hidden behind the sweeping production of her studio albums.
Lana Del Rey has always been untouchable in her nature, exuding a weird kind of Hollywood melancholy that is glamorous, bizarre, nostalgic and fascinating. She has not always presented herself as an accessible person, and lives outside the realms of everyday reality, instead sweeping us away to a dream world of bad boys, fast cars and long summer nights. Tonight, however, we got a glimpse of the star underneath and the real vulnerability behind the songs as she movingly displayed her soul for all to see and appeared completely at ease on the stage, as though she had finally found her place of contentment.
Her final song "Off To The Races" was nothing short of a pounding explosion of sound, with choreographed dance moves and impressive lighting to match the mood. The show was brought to its absolute climax, though it felt somewhat premature as there was no encore. The whole set clocked in at just over an hour and, in true Lana style, simply had the crowd wanting more and praying that it wouldn't be another five years until they would get the chance to see her in the UK again.
Setlist
Cruel World
Cherry
Shades of Cool
Blue Jeans
Born To Die
Summertime Sadness
Video Games
Serial Killer
White Mustang
In My Feelings
Ultraviolence
Ride
Love
Off To The Races
Get the Best Fit take on the week in music direct to your inbox every Friday