Verdant. It's a nice word. One the best, actually. But like, oh I dunno, holocaust, it covers just a multitude of sins. In this case, the amount of water needed to maintain such lush greens. We arrive at Green Man in the sunshine and spirits are high. I used to come round here hill walking when I was a youth and a committed outdoor type. And now I have brought my kids to see the hills, the beards and, of course Super Furry Animals. But for me the real draw of the Black Mountains this weekend is Black Mountain. I have not seen them before (a decision that is shortly going to make it clear to me that I am quite dull-witted).
So we throw up our stupidly large tent in a pretty cool spot next a tiny sign*. Being a responsible parent, I make my kids (6 and 3) a swift and nutritional tea and dive into the winebox. Then we bound off with our variously acquired glows to look for glow sticks and music. It is for sure rather beautiful here. An unnaturally terraced, grassy amphitheatre is ideal for the main stage. Everyone can see. A shocking, forgotten and somewhat ancient idea. James Yorkston or someone is on the mainstage. Very nice but not overly involving. A planned game of count the beards is soon replaced by one of find someone who hasn't got a beard. Keeps the kids busy. A cynical ex-pop star friend of mine watches Yorkston intently for a few songs and then says "oh god, it's all going to be like this, isnt it".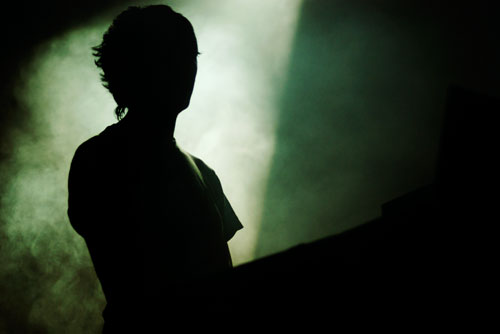 He is right. And, of course, wrong. There is a lot of it about fer sure, the vaguely rootsy, folky, niceness. And the bands are worse. I jest. Although the folks are very nice here. Full marks for atmosphere. I saw a lot of people sharing breakfast with neighbouring tents. Very good people skills, people.
More folksiness is left wibbling Welshly on the main stage as we head off down the middle for Fuck Buttons, who I am new to and absolutely smitten by. My son on my shoulder shouting "dance fast daddy, I want to go crazy" drew some looks, I can tell you. But he is smart. So I do. My word but it really does look like they moved the ping pong finals to a very smoky disco on that stage but Christ-in-stereo, what an amazing racket. Amazing. I get the album on my return and it is a bit scarier. In a very very good way, mind. But live they are a lot of fun. And invigorating as fuck.
Some other stuff passes by and is boring except we all love King Creosote, especially the La-di-da song. Funny men. I then palm the kids off on my long suffering wife, fire up the bong, and go climb the Black Mountain. Admittedly I am so high that, at one point, I think perhaps I really am back in 1967, but they are my NEWFAVOURITEBAND. One part Northern Soul era Verve, one part Led Zep III, and 43 parts Jefferson Airplane; they are stunning. And huge. They could only exist in widescreen. They are only beginning to reveal the point of some songs in the time it would take The Pigeon Detecitves to play all of their top selling single-cell singles. And it doesn't seem indulgent. Or flaccid. It seems necessary. They NEED at least 6 minutes for each song. And they are very welcome to it. It is occasionally preposterous but just when you look down to check that you aren't wearing moccassins and flowers, they utterly mock your wavering compass with a toweringly simple bazooka riff that could and does cut through a mountain. 'Druganaut', from the first album is a galvanising and massive moment. The crowd goes nuts. It is raining a little so I can't tell if the folks arrived here for them or the shelter. Whatever. There are many thousands of people watching and they are all absolutely loving this. You can see it in the smiles. Thousands of guilty, guilty, happy happy smiles. Like I said, amazing. An event. And worth it for Saturday's, ahem, challenges. You, reader, would be well advised to buy their new record. Now. This piece is over. Skip the next paragraph and get thee to a virtual record store. I think I might grow a beard now.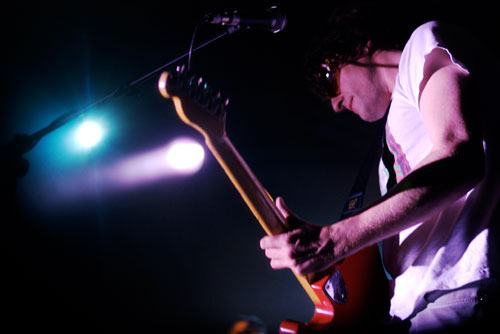 I head back toward my tent, lingering a while to catch a bit of Spiritualized, whom I like a great deal but they are not doing it for me with their one chord wonder after Black Mountain. Like Rothko after Bosch maybe. Like I say, I was a bit stoned.
Sleep.
I wake up. Well I would have, if I had had one ounce of sleep. *I take a closer look at that little sign, while eating a bacon sandwich. It basically says "this is the left luggage tent and liable to be noisy all night. Do not camp here if you need your sleep". It ought to have also said, "we are the biggest twats in Wales and you will not sleep but not because of the noise per se but more to do with being able to clearly hear and shudder at every mind-wrenchingly moronic word we say and will be filled with a murderous and enthusiastically euthenasiastic rage."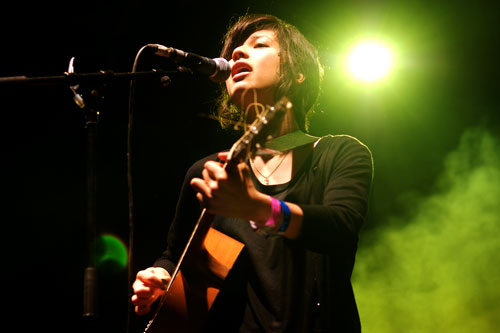 So we deftly move the tent. As we do, it starts raining. And does not let up for FOURTEEN HOURS STRAIGHT, except to surprise you by briefly raining yet harder still. It is bad. Swamps erupt out of the ground. Things float. Spirits dampen. Ahem. We watch Transformers on DVD in the tent and drink wine. It is nicer than going out. Staying in is the new etc….
I pop out to catch Emmy The Great who plays to a massive crowd and charms them all, expanding her usual set with a couple of new songs and the footie scores. The band is getting goooood now but the first half is still a bit quiet. Maybe she should get Metallica's sound people in. I love her. She is great. Her lilting songs about boys and abortions and whatnot are still as disarming and brilliant as when I fist heard them and now, with a band behind them, they are getting bigger.
Then more rain. More mud. More dullness. I retire to my tent much as I do LOVE watching drunk people fallng over in the mud. The sun sets. I catch a few shining singles of Super Furry Animals, whom I love with a passion unrivalled (Black Mountain excepted) but am too damn damp to have fun. Many of friends have fled to high ground. I go to bed and leave. For Yorkshire. It rains there too.