What's a year without an Emmylou Harris concert? A pretty lousy year I would suggest. But after last October's joyous visit to the Hardly Strictly Bluegrass festival, I had some reservations as to whether this might prove to be an anti-climax. It's true the open air atmosphere there could not be topped, and I do have a soft spot for the purity of her bluegrass Carolina Star line-up, but the touring band that Emmylou has assembled this year was a revelation. As you might expect for someone with her contacts and stature, they were assuredly gifted and yet had the generous sensibility to complement rather than compete with the most exquisite instrument on show – Emmylou's peerless voice. With the history of several, shall we say, rumbustuous characters who have contributed to/graduated from Emmylou's touring academy over the years I'm pretty sure this tough Southern belle could put anyone who happened to step out of line back in their place anyway. Maybe that's another reason why she still sports cowboy boots beneath the shimmering cream glad rags that sparkled angelically from centre stage. To paraphrase the old standard, the rest of those angels were most definitely rejoicing in heaven last night, if a little further back than the upper balcony (but then they do get in for free don't they).
There seemed a fine balance between electric, acoustic, rock and traditional elements in the skills of the band that enabled them to tackle the widest range of styles present in Emmylou's rich back catalogue. Of this she seemed fully aware as she grabbed the opportunity to plunder it far and wide – rolling back the decades as well as featuring five tracks from this year's All I Intended To Be. In fact, with exactly half the show lifted from or subsequent to The Wrecking Ball, her 1995 watershed album of reinvention, I can't think of a single artist of her reputation and longevity whose recent work fits so seamlessly with that of the past. Indeed, Emmylou has continued to grow as an artist, most definitely finding her feet with her own song writing now in addition to continuing to wear her wondrous "interpretation hat", as she put it, most elegantly. It could be all about the singer not the song with her vocal talent, but she's damn good at picking the right songs too. Before recent cut 'Broken Man's Lament' she generously told of her "grovelling" apology to writer Mark Germino after the early production typo that credited the song to herself, and self deprecatingly admitted to having dropped a crucial verse the previous night that meant this narrative tale lost much of its impact. It was performed with the first inkling of suppressed power from the band, that later also surfaced under the beautiful wailing chorus of 'The Pearl'. A further cover from the latest album, 'Kern River', was a treat, with Emmylou loving to perform it because; as she said with a smile "it's just so sad". There's a perversity in the love of the beauty of these melancholic songs that's shot right through her country music. Emmylou acknowledged this when again in interpreter mode introducing 'Pancho And Lefty'. Quoting Townes Van Zandt on the existence of just two kinds of music: "The blues and zippedy-do-da", then giggling: "I'm pretty sure you're going to hear the blues tonight".
The Apollo is a venue Emmylou knows well and likes, having headlined here since the mid seventies. She paused to pay tribute to the UK (and Dutch) audiences who had sustained her when things were more desperate at home – as she said, it got so bad that she used to admit: "Yes I play country – but I don't inhale". A fan is always going to miss a few personal favourites (Steve Earl's 'Goodbye' is just so exquisitely poignant, and Emmylou's own 'Gold' for example), but by the same token there are always unexpected treasures to compensate. With an audience fully seated and generally ageing with her of course, there's a respectful reverence about the proceedings, but swells of applause and the occasional whoop great every song, with some additional vocal appreciation after the more up-tempo numbers. I hope she felt the love. It's a decidedly knowledgeable crowd too, with warm receptions at the start of older favourites or at the mention of a famed songwriter. There was a special greeting for 'Return of the Grievous Angel', the first of a couple of Gram Parsons numbers. It was an unspoken salute acknowledged by both audience and performer.
The sound was crisp and well-mixed from my location, with Emmylou's voice given the space to float out across the audience and hit home. It was actually about the best I've heard her live, without even the couple of songs to warm up that I'd come to expect. It's not widely known that Emmylou has been employed as a session guitarist in the past too. Nice to know she's got something to fall back on should the voice pack up. As if. Those picking skills were most exhibited during 'Going Back To Harlan' and 'Bang The Drum Slowly' – the song written for her air force pilot father (a Korean War P.O.W.) and performed almost solo with a touching hummed 'Last Post' twist at the end. The more moving, almost for the first time for me, for being stripped of the ponderous billowing background tones that weigh it down on record. It's almost a given such is his ability, but mandolin and violin maestro Rickie Simpkins was understatedly economical yet affecting throughout, with an especially sweet mandolin break during Green Pastures and also a fine voice for general harmony duties (actually spread throughout the band) and dueting on 'Old Five and Dimer Like Me', a track Emmylou "finally got old enough to sing". He was also one third of the trio that held the audience in silent rapture for the a cappella 'Bright Morning Stars'. Emmylou never shirks from testing her own mettle with these naked displays of her talent, and she never fails to pass the test. Colin Linden's subtle slide guitar provided texture throughout, and when not on electronic keys, the relative novelty of sweet accordion from Phil Madeira added colour to several new arrangements. He completed the 'Bright Morning Stars' trio too – even appropriately removing his hat for what Emmylou termed "the Vespers". Brian Owings and Chris Donahue were in the boiler room on drums and bass respectively. Opening act Kimmie Rhodes came out to sing the song she co-wrote that featured on Emmylou's album of collaborations with Mark Knopfler, 'Love and Happiness' (from All The Road Running), and stayed out front to lend her rounder, sweeter, voice to 'Shores Of White Sand'. Apologies to Kimmie that my particular ticket arrangements on the night meant I could not see her set – not something I make a habit of doing.
The set list has seen some variation each night, which again is a feature of Emmylou's love of playing live and of "working up a song" on the road. 'Red Dirt Girl' had a particularly enjoyable new feel, with Emmylou quick to point out that she had to lie and feign unhappiness when she wrote the tenuously autobiographical song about growing up in the place of her birth: Alabama. To tour as long as she has, the need to make music must be in your blood, and that is especially evident when Emmylou lets her hair down in songs like the honky-tonking 'Born To Run' and the fervent zeal of 'Get Up John' – demonstrating the primary reason for still wearing those boots as she jigs around the stage, often enjoying just being one of the band and withdrawing to let another take the spotlight with a solo. The latter song didn't trigger the stage rush of last October in San Francisco, but it was as ever a storming finale to the main set and the signal for a deserved standing ovation.
The encore started with a lengthy intro tale featuring legendary road manager and body snatcher Phil Kaufman (Parsons/The Stones/Emmylou). If I caught the whole story correctly, he has recently married his ex-girlfriend of 40 years ago. They became estranged, led separate lives, and then got back in touch across continents via the internet. On the third date of the rekindled love affair he proposed, and Emmylou played the song that followed, 'Together Again', at the wedding reception. The punch line though, delivered with Emmylou's dry wit, was her quoting him: "You know, when you get this old 'til death us do part' is really no big deal". I need to read his autobiography one day. The most energetic song was saved until last: 'Leaving Louisiana In The Broad Daylight'. As Kaufman would say, the "chick singer" had not come remotely close to disappointing after all. It's a nice change to leave a concert without ringing eardrums; an absolute pleasure to see an artist who knows that power is about the heart rather than the volume dial, and this was truly an emotional blast. See you next year Emmylou, and anyone reading this should make sure they're there too.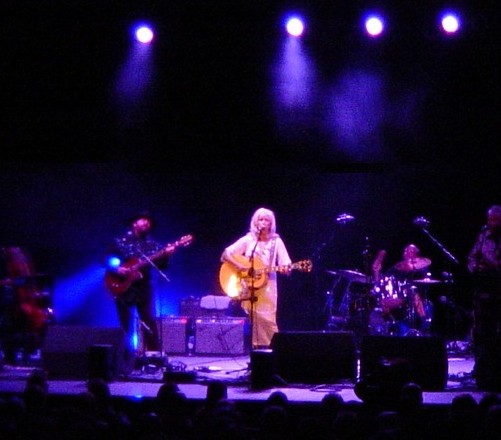 Here I Am
Orphan Girl
Sweet Dreams Of You
Blue Kentucky Girl
Return of the Grievous Angel
Kern River
Sailing Round the Room
Going Back To Harlan
Pancho and Lefty
Red Dirt Girl
Love And Happiness
Shores of White Sand
???? (The perils of writing in the dark)
Broken Man's Lament
Wheels
Green Pastures
Born to Run
–Band Intros
Bang The Drum Slowly
The Pearl
Old Five and Dimer Like Me (ft. Rickie Simpkins)
Bright Morning Stars (ft. Rickie Simpkins & Phil Madeira)
Get Up John
–Encore
Together Again
Leaving Louisiana In The Broad Daylight
Emmylou on MySpace
Emmylou Official Site