Sometimes good things come in small packages, and you're probably going to hear an awful lot of Duffy in 2008. Amy Ann Duffy has a voice of truly seismic proportions, effortlessly raw and thankfully without any of the pointless soul diva 'look at me' vocal gymnastics that are so often mistaken for emotion. Comparisons are being drawn with Aretha and Dusty, and of course there's the possibility of a gap in the UK pop-soul market with Amy Winehouse either locked or lagered up. It just might be her year: Kylie with an actual voice.
Definitely not as edgy as Ms. Winehouse, Duffy seems more interested in music than image, and thankfully is more secure in herself as a grounded personable individual about to make the final drive for a breakthrough. Emerging from the coastal hamlet of Nefryn on the Lleyn Peninsula, Duffy has been nurtured and managed for the past three years by Rough Trade's Jeannette Lee, with a reportedly huge promotion budget from her label. Welsh readers may already have seen her on S4C a few years ago entering a TV talent show and finishing as runner up (probably a good thing). Only now is she beginning to properly perform in public with her band and this month released first single 'Rockferry', a collaboration with ex-Seude guitarist Bernard Butler. A self-penned album is imminent.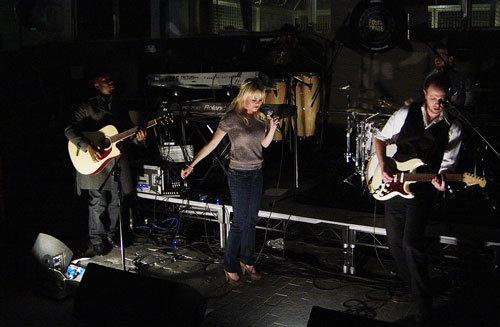 No little effort had been spent in preparing for this little promotional gig at Rough Trade East. Usually artists go 'lite' at Rough Trade, but here a full band and a deal of equipment meant that there was not enough space on the small stage for Duffy herself. A small but, by the end of the performance, newly converted enthusiastic crowd had collected, and then that voice was unleashed. I'm not particularly a soul/r'n'b fan (largely because it's got too smooth and full of bling for me in recent years), but I love classic Motown and Stax as much as the next man, and presented with this much vocal talent live and so close it was impossible not to enjoy it. The set of six or seven songs started with "Rockferry", one of a few slower numbers that saw her growling about love's twists and turns with the drawn twang of Tina Turner – controlled but forceful and with perfect tone. An initially over-loud sound balance was corrected, the rhythms got faster and raunchier, and Duffy turned up the power herself to let rip – enough to register highly on the handy Joplinometer I had brought along. The place started to swing. Even hardened cooler-than-thou Rough Trade employees were lapping it up. Next single 'Mercy' is a sure-fire floor-filler on a par with "Rehab", and with a classic handclap break. Shame it was too late for Christmas party season. Everything is in place for Duffy to achieve future success on a scale rarely seen for a TLOBF featured up-and-coming artist, but you cannot begrudge it to anyone that personable and naturally gifted. If and when it comes I will count myself lucky to have had this little glimpse into the future.
Links
Duffy [myspace]