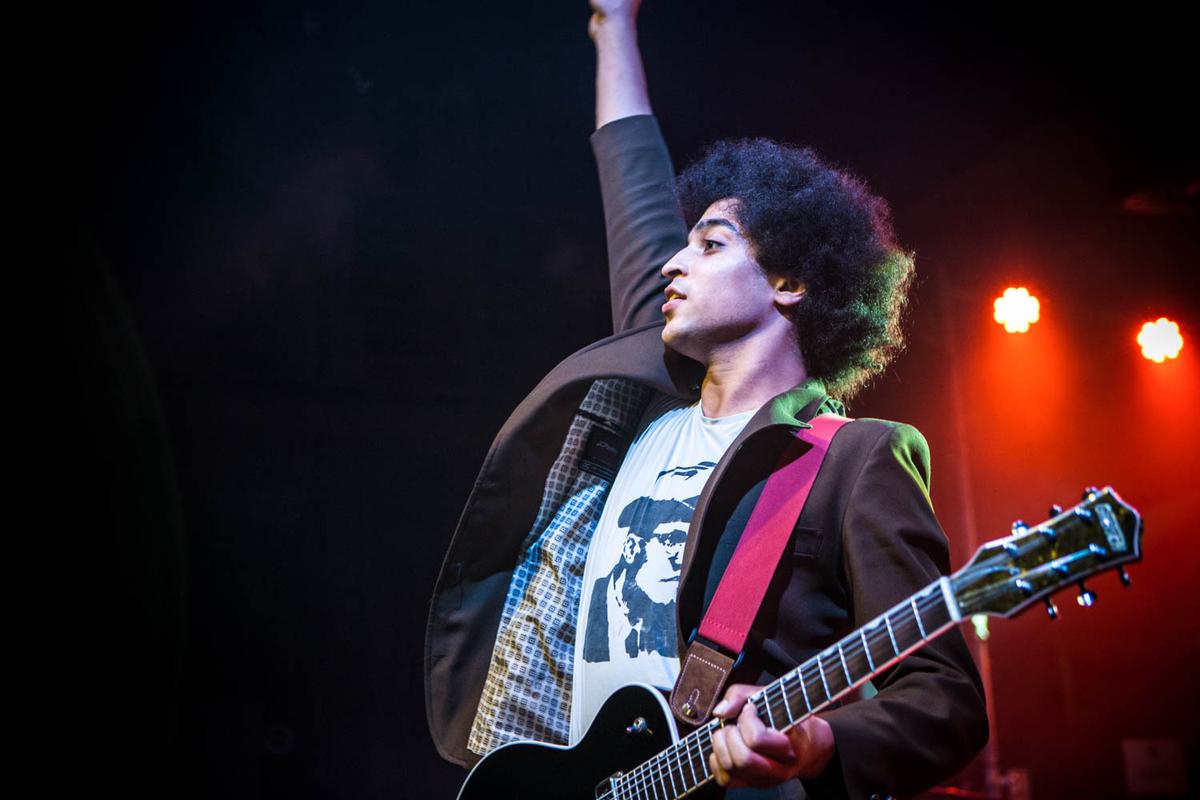 Colour & Confidence: Childhood, Live in London
The bitter chill lingering on this London night evaporates at the doors; the tiled floors and wooden walls of Scala, reminiscent of a hot-tub or sauna, are set to warm the bones and rid us this frost. Tonight the summer of '17 is alive and kicking, housed in technicolour in this former cinema by King's Cross Station.
We're here to see darlings of the music press Childhood, who, on the back of four/five star reviews of their recent effort, Universal High, have sold out London's prestigious Scala. The temperate climes inside the venue are however jarred by notable support act black midi [sic] who emerge with an astonishingly original sound that somehow weaves disjointed guitars, anti-melodic bass and breakbeat drums into something not only enjoyable but challenging and captivating. They harmonise periodically, but their discordant incongruent riffs win out and provide their strongest moments.
The summer breeze then rolls onto the stage - Childhood emerge and are all silk shirts and suede jackets. Where they first formed as a four-piece in 2010, they have now blossomed into a live nonet, featuring none other than frontman Ben Romans-Hopcraft's Father on trumpet duty. Amongst the fine attire and family connections are some of the keenest pop songs of recent times. The group segue between the playful indie that built their reputation to the Mo-town cool of new tunes like "Californian Light", a highlight of aforementioned sophomore effort Universal High.
Singles "Blue Velvet" and "Falls Away" rouse personal nostalgia of headier youthful days, whilst the cool funk of "Cameo" evokes dreams of top-down Cadillacs and Californian boulevards. The Mo-town/funk influence is evident in the song structure and the catchy chorus, and the use of deeper instrumentation in the horns and the soaring West Coast synth arrangements (more Lana Del Rey than Dr Dre) are given space to breath in the live environment.
They are delivered with conviction evident in the shimmying shoulders and jutting jaw of Romans-Hopcraft and Thomas Tomaski's Busted-esque jumps and high kicks which are witnessed as jovial hijinks rather showboating, although they both appear to be in very fine shape. It is also striking how, after only a few months, the group's audience has assimilated each word, hook and inflection of the latest songs - looking around at the girls on boyfriends' shoulders and boys bouncing around in front rows, each chorus is volleyed about and held aloft like plastic cups in toast. The band mock the dogma of encores, unleash a flurry of songs and exit on the same soft wave that brought them out. They may be looking further afield for influence these days, but they are doing it with the same London panache that has served them so well, and will continue to do so in the future.