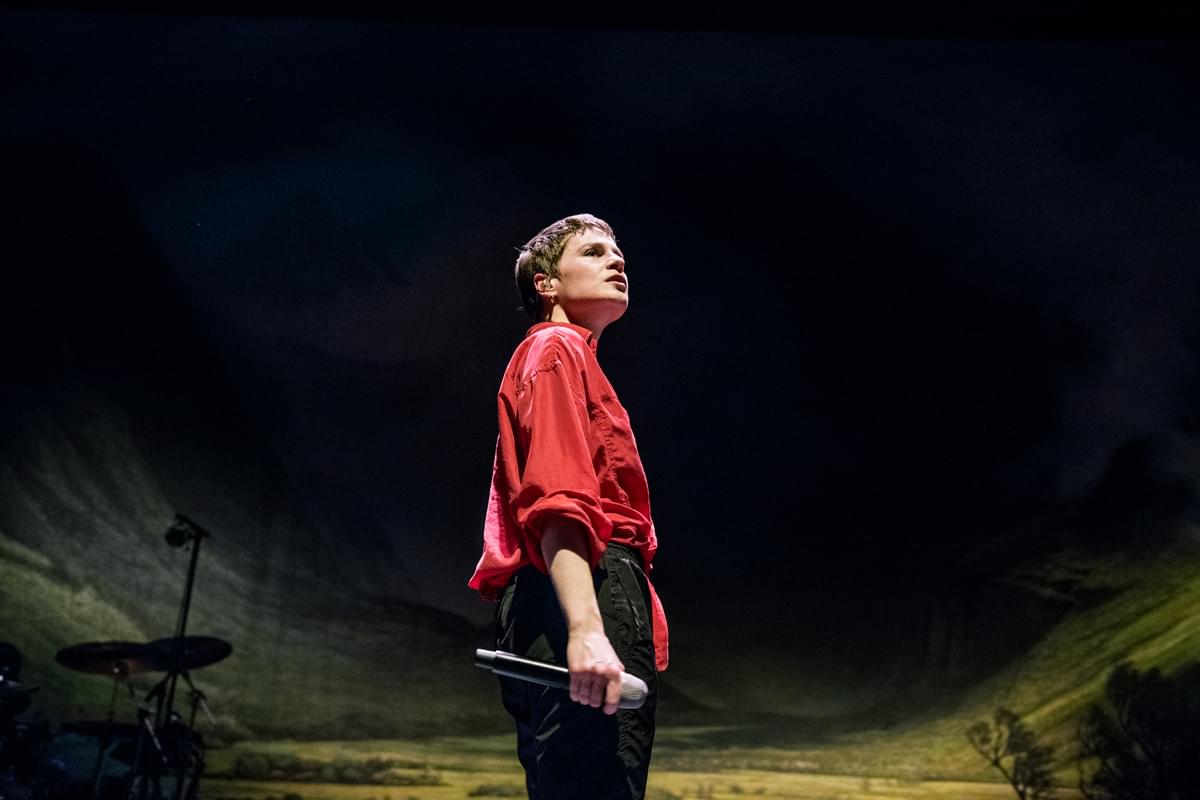 "Call me Chris. I feel stronger and I can run faster now": Christine and The Queens, Live in London
"This is a safe space, you can be who you want to be"
Since the release of debut album Chaleur Humaine, Christine and The Queens have gone from unknown to iconic. Adopting the new identity of Chris for her namesake second record, Chris and her queens have carefully carved their way in to pop culture. Born out of London's drag queen scene, they embody a fierceness that can only be found in the freest of individuals and tonight, live at London's Hammersmith Apollo, Christine and The Queens are brilliant.
Illuminated by simple white light, six dancers create a street scene. They're almost akin to West Side Story's The Sharks gang but someone is missing; Chris cooly struts on to the stage. On entrance alone, it's clear that she's more confident than ever and a force to be reckoned with. Launching into opener "Comme Si", we're swiftly inserted into her brave - funky - world.
Every inch of the show is choreographed; from body contorting dance moves to the brilliant 4-piece band at the back. Having started her music career in London, It's clear that tonight's show is special: 'I have some fun memories of our time together.... usually I need some bad jokes but you seem warm enough. Let's get sweaty' she rallies before playing "Science Fiction".
No matter how structured Christine and The Queens' show might be, her solo section is a stark contrast. "Make Some Sense" is a beautiful ballad while French cover "Paradis Perdus" is not only a nod to her French influences but, with an added verse of Kanye's "Heartless", it's clear that her covers are poignant and meaningful. Similarly Michael Jackson's "Man In The Mirror" gets an airing at the end of an acapella "Nuit 17 à 52" as Chris asks us to 'Make a Change'.
Tonight's performance is both political and provocative; "iT" is victorious transformation anthem that seems to resonate with the sold-out crowd. However, her message is met with a level humanity that is engaging and endearing. "5 Dollars" is a sweet sing along moment while break out hit "Tilted" is a faithful recreation of the music video: "I spent ages trying to fit in but, I was EXHAUSTED... I guess we're all just a bit tilted".
Visually, the show is stunning. Pairing picturesque back drops with stark strobe lighting, Chris and her dancers accentuate the beats of "Whats-her-face" all in slow motion. Dressed androgynously they move as a machine however, alone, Chris is a triple threat; "Here" is phenomonal. Returning to funk roots, Chis rattles through "Goya Soda" and "Damn (what must a woman do)" before finishing on latest single "The Walker": 'Every song is written about a wound and every song is about getting up and walking that bit further'.
It's an uplifting ending but it's clear the crowd want more. Returning for a well-deserved encore, Chris appears up high in the balconies with her dancers in tow. From afar Chris seems larger than life but, up close, she's tiny and earnest emotion is conveyed through a heart-warming rendition of "Saint Claude". Receiving a standing ovation, she is amazed. However that sentiment is quickly smashed to pieces as she closes with the pulsing "Intranquillité". Tonight's show is courageous yet theatrical and, carried through the crowd by her loyal dancers, its clear that Chris is the people's pop princess. Long may she reign.
Get the Best Fit take on the week in music direct to your inbox every Friday