Boston is often stereotyped as a sports city. Which makes sense, as sports fans are always the loudest residents of any major city, Boston being no exception. More than most, however, Boston accounts for some of the loudest, drunkest, "are-you-kidding-me-ref?!"-ing-est kind of hardcore sports-fanaticism around.
For proof, one needs only attempt to leave a parking garage after a Red Sox game, to encounter a parade of car horns honking to the tune of residual stadium anthems. Or hop on the subway after a Bruins game to find a sea of black and gold jerseys…as well as a cacophony of boorish chanting and incoherent bantering. Even Facebook blushes a little at all the profanity it endures with every missed goal and/or surprise victory. After all, Bostonians will curse the birth of a newborn baby just as emphatically as they will that f#$%-ing prick who didn't see the light turn green the very second it did.
But Boston is more than just its sports and at Boston Calling, the city's first official music festival taking place May 25-26, a gap was bridged (at least somewhat) between what Boston is brazenly known for, and what more it can be.
Boston Calling was an event long overdue. In the U.S., it remains clear that all the good summer festivals take place way far west. Coachella is all the way in California; Lollapolooza is held in Chicago, Illinois; Bonaroo – Manchester,Tennessee; SXSW/Austin City Limits – Austin,Texas. New York has the Governor's Ball and Rhode Island has the Newport Folk Festival (more locally-speaking). But what about Boston? It seems unfair that this fine city should get none of the love in its own backyard, and that its festival-deprived inhabitants should have to endure life-and-mind-altering cross-country pilgrimages to truly experience the finer points of indie rock all laid out like a wedding buffet.
Well, it seems somebody important overheard all these desperate pleas and finally decided to organize a chamber of commerce-behooving 'big deal' that Bostonians could finally take claim to. And it is a big deal.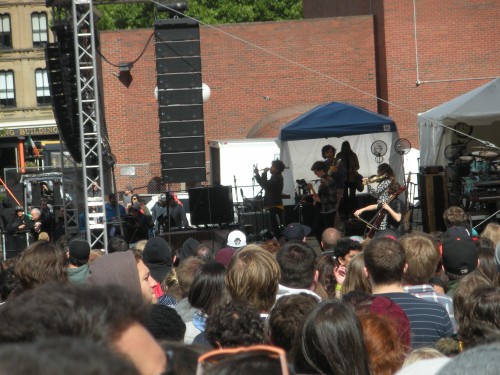 Ra Ra Riot
Curated by none other than The National's Aaron Dessner, who's done his share of curating (see 2012's All Tomorrow's Parties and Crossing Brooklyn Ferry), the lineup is as huge as it was bound to be: The Shins, The Walkmen, Ra Ra Riot, fun., Portugal. the Man, Andrew Bird, Of Monsters and Men…all leading up to a headlining Sunday performance by the National, the very first in their tour in support of Trouble Will Find Me.
All of this is very exciting, and even more so is the notion that this may very well become an outright institution. In addition to how quickly Boston Calling sold out, a wrist-crutch-dependent Mayor Menino makes an appearance on Saturday night, ushering in the Shins and offering a public endorsement.
"Now I trust the young people of our city," Menino says. "An event like this doesn't happen without leadership." This is met with clamor and uproar, a notable step towards a healthier relationship between this city and its art community, even before Menino goes on to sully the transaction with an obligatory "Go Bruins!" (Come on man, this is a place of music.) But as Menino himself notes–19,000+ people made this musical wet dream a reoccurring possibility, with Aaron Dessner breaking the news on Sunday night that Boston Calling will be happening again in September.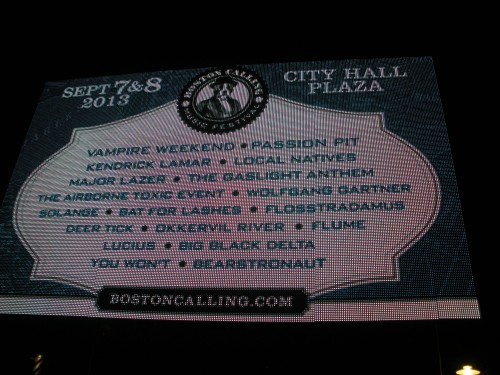 The lineup for Boston Calling #2 is announced.
The first night of the event, however, looks like a bad omen. Forecast: unseasonable cold and a whipping rain – terrible weather for an outdoor concert, although sort of just an inconvenient shrug for New England. But it all feels so resolute, and is thoroughly reassured on the other side of the festival entrance: nothing is going to stop this thing from happening – not the weather, nor any blistering scars. Ponchos are at the ready, as are rain gear-clad Boston Police, whose abundance is as felt as it is welcomed.
Alexandra Hynes, a co-founder of 44 Communications, a public relations firm hired for the event, assures that security for the event was already an implicit guarantee, but that in the wake of the Boston Marathon bombings, "they definitely lasered it in."
Just past the handheld metal detectors and bag searches, however, is a garden of Eden, and one which you could leave and reenter at will with outside food and drink – without the kind of wrath and scorn that makes indoor concerts such a drag. In fact, according to the Boston Calling website, exploring the surrounding area is fully encouraged. This freedom to roam and spend is more than anything a case for what a tangible force of good an event like Boston Calling, and music festivals in general, can be for the local economy. And how it is.
A fillafel place just down the road from the festival, called Piperi, stays open all day Sunday, a day on which it usually remains closed. On Sunday, Piperi receives an unusually large influx of customers, being mostly festival attendees looking for a quick tank fill between sets. Co-founder Tim Oliveri, who decided to open the store up last minute, says that they had already received triple the business they ever have on any given Saturday, and the day is still only half over: "Rock and roll is great for business," he said, adding "I'd love to have a festival every weekend."
Flashback to Saturday. An unshakably unpleasant chill and incessant spray offers reports from the colorless sky above. During an equally unshakable performance by MS MR, a dance circle breaks out. The music offers the colour the weather won't. The lead singer's bright smile, pink hair, leopard/camouflage tights do the same. The beat is infectious. Everything is good here.
The presence of intermittent dance circles suggests a few things; one of them is the spontaneous invention of community. Another is that sort of free-love-for-all ethos that has been a festival mentality dating back to Woodstock, carrying on straight to Bonnaroo. It becomes apparent that Boston could offer refuge to this sort of communal mentality, if only it were more regularly encouraging. Boston Calling is a start, and this dance circle is the symbolic nucleus of the whole thing.
The MS MR dance circle is started by one couple, named Cass and Josh. Of the pair, Cass has never been to a music festival, while Josh has been to several – most recently, an EDM festival that took place in Chicago. Josh says, "I'm actually glad it's 50 degrees , that dance circle warmed me up."About Boston's first music festival he says, "I was a little skeptical at first, because this is so not like Boston, but people came out."
On stage, singer Lizzy Plapinger keeps the dampened crowd's morale floating on high, spiritually desiccated, hands flapping as she instructs the crowd to "throw your hands up Boston." During a break, she tells the audience, "Remember you're already wet so just go for it," then proceeds into a song called "Hurricane."
MS MR play their set on the second of two stages set up so that the music remains continuously on tap, without the fear of overlap that other festivals with much more stages frequently pose.