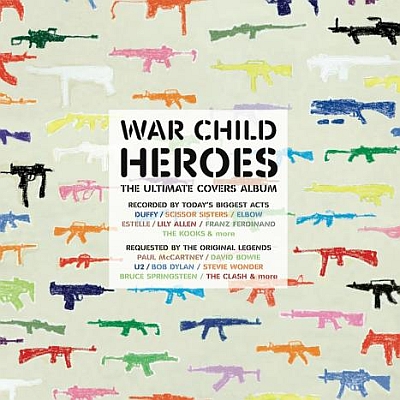 The cause behind
Heroes
is more or less the only thing about it that's completely watertight. A charity compilation following hot on the heels of the Red Hot Organisation's
Dark Was The Night
effort,
Heroes
is the latest in a long line of previous charity albums by
War Child
. The hook this time is that various musical legends have selected an artist from today to cover a track from that legend's back catalogue. Legends include Paul McCartney, Mick Jones of The Clash and Stevie Wonder, whereas the artists chosen to craft the new interpretations include Franz Ferdinand, Estelle and TV on the Radio. And as you might expect, the end results are all over the shop. Of course there's no real unifying theme to any of the choices made here, which only adds to the compilation's haphazard sound. As with a lot of compilations, listeners will find themselves skipping several tracks to focus on others - the rendition that most demands this treatment is Duffy's horrendous version of Wings' 'Live and Let Die'. The stripped-down style adopted here not only robs the song of every ounce of excitement it originally held, but also gives Duffy an ideal platform from which she can whip us with her painfully awful vocal style, with its affected, drawn-out notes. Most criminally of all, she even sings "fellow" instead of "fella" and in the process sounds completely ludicrous. You'll soon find yourself wanting to hear the Guns N' Roses version a hundred times on repeat rather than endure this one again.But for every out and out song murder like that, there's another version which will prove at least fairly entertaining. Estelle's version of Stevie Wonder's solid-gold classic 'Superstition' is quite a good effort - her vocals are a tad laid-back for my tastes, but by staying largely in reverence to the original, it is, broadly speaking, something of a success. Equally, while
Beck
is similarly unwilling to radically change Bob Dylan's 'Leopard-Skin Pill-Box Hat', his attempt is suitably dirty and fuzzy, and makes a strong opener to the compilation. Conversely, while The Clash's 'Straight to Hell' is attempted by Joe Strummer's god-daughter and pop starlet Lily Allen, we end up with a bizarre oddity. Whereas the original was a devastatingly effective and bleak plea for justice on various fronts, this version turns it into curious downtempo twinkle-pop. Allen's vocal delivery is remarkable by how unremarkable it is - it's unlikely that anyone could equal Strummer's original venom, but the approach taken here is just baffling, unlikely to whole-heartedly entertain either Allen's fans or anyone who's heard the original version.If there are good and bad efforts here, then there are also ones that yield mixed results, and so represent the compilation in microcosm. One example that springs to mind is TV on the Radio's version of Bowie's 'Heroes' which acts as the compilation's title track. The band are more willing to make dramatic changes to the song than most of the other artists here, but it doesn't all come off. What really drags it down is arguably its mixing, which downplays much of what good there is by overstating the cyclic beats.
Heroes
is difficult to recommend as a musical product because of how scattergun-inconsistent it is. There is definitely some good music here, and the nature of the songs and artists chosen will mean that everyone will disagree on which parts are the good ones, but I struggle to imagine there being many people who could whole-heartedly enjoy the whole thing.
56%
War Child: Heroes Official Site