The Twilight Sad - Nobody Wants to Be Here and Nobody Wants to Leave
"Nobody Wants to Be Here and Nobody Wants to Leave"
Release date: 27 October 2014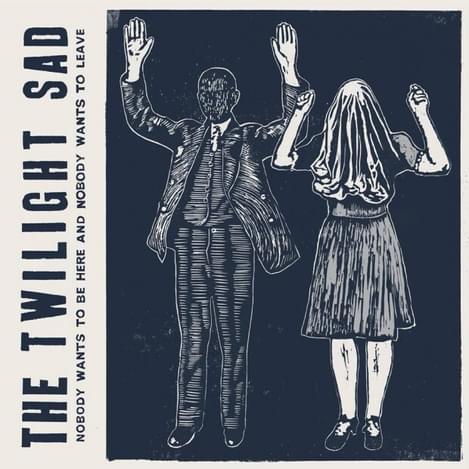 ​
The Twilight Sad
release their fourth album as a band who have firmly established themselves as a staple for any self-respecting follower of miserable music. As such, there are dreary expectations to meet and dismal standards to abide by. Thankfully, on Nobody Wants to Be Here and Nobody Wants to Leave, the Kilsyth gloom-merchants are at their maudlin, woeful, and dreadful best.
Vocalist James Graham cited that the period leading up to the recording of this album was a difficult time for the band due to a busy touring schedule after their critically acclaimed third album No One Can Ever Know. However, buoyed by being back in the studio and coming off a successful tour of their debut, Fourteen Autumns & Fifteen Winters, the band could be said to be in high spirits - which in The Twilight Sad's terms is about 3/10 on the average human's happiness scale.
Nobody Wants to Be Here and Nobody Wants to Leave comes off the back of those turbulent two years to showcase a sound which embraces and combines all of The Twilight Sad's previous releases. There are flashes of the industrial, krautrock tones which lit-up the dank factory sounds of No One Can Ever Know, such as the machine-like percussion of the record's leading single, "Last January" and "It Was Never the Same".
Elsewhere, there are traces of the band's earlier sounds. The title track sees that frantic mechanical pulse meet the perma-punch of tremolo guitars and anthemic vocals typical of earlier albums. The angular guitar riff of "There's a Girl in the Corner" turns, unsurprisingly, yet not unsatisfactorily, into the indie-cum-shoegaze noise-wall which the band has mastered over their career.
Then there's the excellent "In Nowheres" which, despite the obligatory onslaught of marshy, reverb-sodden guitars, stands out as a refreshingly clean, forward moving, and cathartic track in the Twilight Sad repertoire. The LP signs off with the hauntingly bleak "Sometimes I Wished I Could Fall Asleep", a ballad over which Graham's trademark vocals bawl some of his frankest and most emotionally resigned lyrics to date.
That said, the general mood of Nobody Wants to Be Here and Nobody Wants to Leave is one that, like the title suggests, is of an uneasy sense of stasis, sonically and emotionally. Percussion like clockwork, lingering synth-tracks and clouds of reverb guitar tend to hang heavy over lyrics which tell of impossible romantic endeavours, long nights staying indoors and not getting much sleep. A handful of frustratingly illogical song titles alone such as: "I Can Give You All That You Don't Want", "It Was Never The Same" and "In Nowheres" is just scratching the surface of this album's fraught and mysterious emotional make-up.
Although by no means an instant classic, Nobody Wants to Be Here and Nobody Wants to Leave shows an integrity to The Twilight Sad which cements their position as one of the more creatively important bands operating today. But this isn't an album for the weekend gloomster. No no, this is for full-timers. The Twilight Sad have nurtured their sound into one that, in comparison, would make Radiohead's "Street Spirit" sound like the feel good anthem of the summer, and The Smith's "Heaven Knows I'm Miserable Now" apt backing music for a Zumba class. If that's not an achievement, then nothing else is.
Get the Best Fit take on the week in music direct to your inbox every Friday