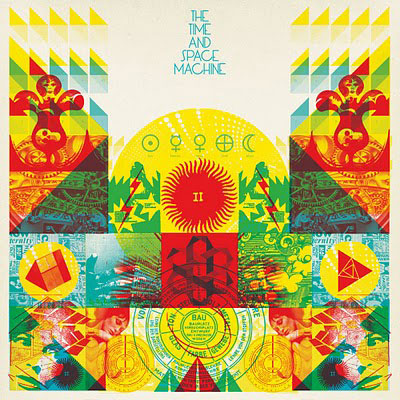 Richard Norris, creator of "Swamp Thing" (The Grid), occasional broadcaster on Psychic TV and member of Beyond The Wizards Sleeve has gone it alone with his project,
The Time and Space Machine
. Essentially an outlet for his overriding interest in the prog/psychedelic frequency of the musical spectrum, this collection is part homage and part exploration of the reaches just before the outer-reaches.Psychedelia has the capability to be utterly mind bending when it wants to be, but there's nothing on
Set Phazer To Stun
that will twist melons to the point of explosion or require the listener to admit themselves to a psychiatric hospital for observation. That said, this is an album that gently tickles the serotonin centres of the brain just enough to make it a pretty perfect for any day where there's any chance of sun and a few hours to kick back.Opening with "Time + Space", Norris quickly finds a groove to settle into and digs at it with the enthusiasm of a five year old tunnelling their way to Australia. A wave of organ introduces the song, with some bubbling electronics belching away as an ambient partner before a tidy drum roll gets things moving. "Tiiiime and Space" drawls Norris in his best stoned Bobby Gillespie impression as the song drifts along supinely in spite of its driving drum beat. There is, naturally plenty of time and space for Norris to play with, and he utilises it well, dropping in a few clever electronic motifs and breaking things down for a slow fade to the track. It's all rather blissful."Path Through The Cathedral" makes use of a nice church organ riff before wandering around the pews having quick drink from the font. It's certainly a hazy path that Norris takes; drenching guitars in reverb and delay, layering up effects and sneaking a xylophone into the mix as he goes, which makes for one of the more interesting cathedral visits available.The title track borrows a little Krautrock attitude and thrums away with an uneasy purpose. A fantastically solid bassline keeps the thing moored to the ground as a breathy vocal creeps in and out of the mix like some kind of monumentally stoned cosmic being. Norris' undeniably ear for a melody is also in evidence here as the organ motif that appears every so often has dancing shoes pumping at its pedals. It's exactly the kind of thing you'd hear at Blow-Up, or on an 70's exploitation movie.There are however a few clunky moments that hamstring the album somewhat."Children of The Sun" starts off with a bouncing spring in its step, only to take an unexpected dawdle through a field full of daisies and biting insects. It doesn't really go anywhere, and aimlessly wanders around with a weak vocal before lying down to have a bit of a rest. Similarly, the close vocal harmonies and backward loops of "Midsummer Night" don't quite connect as well as they should. The cover of Neil Young's "After The Goldrush" (utilising the Buffalo Springfield riff "For What It's Worth" for added smart-arse points) feels out of place with its flutes and bursts of brass. Alongside Norris' own material it doesn't quite work and should perhaps been left to one side as a single. It does however allow the wonderfully breezy vocals of the Mummers' Raisssa to take centre stage, which is no bad thing.These slight gripes aside, Set Phazer To Stun is well worth checking out. If the thundering percussion and soaring guitars of "Zeitghost" or the fuzzed to fuck bass that grumbles throughout the admirably named "More Cowbell" doesn't tweak the pleasure centres, then
you
my friend are dead.