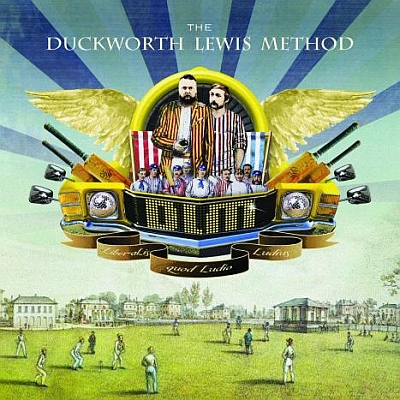 It's not every record that gets described by the artist as "possibly the least necessary album of recent years", but then it's not every day you come across a concept album about cricket. Even less likely at that, one made by two Irishmen. That said, that clue given you'd probably immediately guess that one half of
The Duckworth Lewis Method
is
The Divine Comedy
's Neil Hannon. (The other is Thomas Walsh, leader of power-pop outfit Pugwash.) Taking their name from the formula designed to even out the scores in rain affected one day games, all twelve tracks have some lyrical or titular connection to the sport.Clearly, this is not your average album, which presents an issue to those wanting to properly review it. There are certain artists - Half Man Half Biscuit spring readily to mind - who cannot properly be reviewed in this humble writer's opinion as they work on a completely different set of scales to everyone else. You can't really compare it to anyone or analyse the lyrical profundity because it is what it is, and what it is isn't the same as what everyone else is. Take, for instance, 'Jiggery Pokery'. It's a song sung from the perspective of Mike Gatting just after he has been bowled out by Shane Warne's 'ball of the century' in an Ashes test in 1993. Performed by Hannon on piano in the style of Noel Coward, it details the circumstances in detail, quotes Graham Gooch's supposed assertion that
"if it had been a cheese roll it would never have got past him"
and midway through features a large group of men - including Phill Jupitus, Alexander Armstrong and Matt Berry - chanting
"baboon, baboon, baboon"
. Weigh all that up against your Grizzly Bears and Animal Collectives and see how it pans out.Just because it's not the most serious venture either will or have ever participated in doesn't mean there aren't moments where something of a quality lasting beyond September emerges, as might be gleaned of someone whose biggest hit was about a National Express coach. 'The Age Of Revolution' is decorated by a trumpet loop reminiscent of one of the 1990s' great one hit wonders, White Town's 'Your Woman', before detailing the rise of the game on the Indian sub-continent from colonial pastime to moneyspinner, or as Hannon puts it
"always denied entry by the English gentry/Now we're driving Bentleys, playing Twenty20"
. 'Flatten The Hay' is an elegaic recollection of attempting to play the game in local fields as a boy, excellently opening
"finding the sun in an Irish summer is somewhat akin to Russian roulette"
. 'Gentlemen And Players' has a sweetly grandiose harpsichord-led laid back summery lilt which just happens to detail the 19th century division between pros and amateurs, during which a batsman is given out hit wicket when his top hat is hit by the ball and falls onto the stumps.You don't really need a detailed knowledge of the sport, in blessed truth. In fact there's just as many songs that can only come from the idea of two men let off the leash, lifted from the need to sell records and continue a music career in the aid of pissing about. The Electric Light Orchestra-ish glam stomp of 'The Sweet Spot', equating the term for the best part of the bat to hit the ball with to comic lusting, for instance. Sometimes the terminology is more a cypher for songs about the simple pleasures of watching events from afar ('Mason On The Boundary') or the hope for courage in adversity ('The Nightwatchman', which nearly turns into the Divine Comedy's own 'The Frog Princess'). Even taking into account that it's by two Irishmen it's a very English record, not only about a pastime that largely remains very English in origin despite its global sweep but celebrating a pastoral charm that's almost antiquated. What
The Duckworth Lewis Method
nails is that cricket is a faintly silly game at heart, but one that a lot of people retain affection for. Of limited necessity, yes; of limited entertainment, very much not.
75%
The Duckworth Lewis Method on Myspace