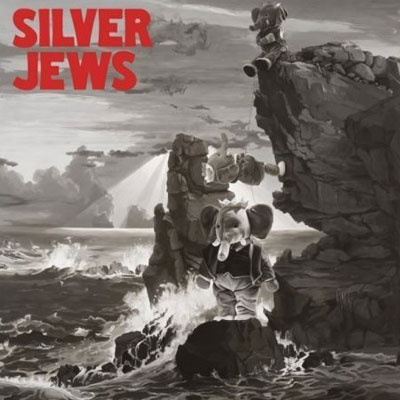 Once again, the tremulous Baritone of David Berman washes over us, his laconic storytelling and wit rings throughout this, the sixth release of their 14 year career. Long looked upon as a studio only project, with Berman steadfastly refusing to play live shows,
Lookout Mountain, Lookout Sea
is the first record to be released after
Silver Jews
broke the habit of a life time, and hit out on to the open road. It takes in his touring band, including wife Cassie, who also handles backing vocal duties on the record. While previous records have featured ex-Pavement folk such as Steve West and Stephen Malkmus, Berman goes it alone here, with varying effect. In dispensing with Malkmus and co, Berman has allowed more of a role for his wife Cassie. Although he claims to have been worried about bringing her in to the group, and about what people would think, she comes across well, and at times you begin to wonder whether this album marks the emergence of an alt.country Lee and Nancy, or even a Johnny and June. Sure, at times her vocals leave a little to be desired, but the heart is there, and somehow it works.Musically at times the record plods, and is very much 'more of the same' from the
Silver Jews
catalogue. It may be argued, however, that it was ever thus, and lyrically Berman is on top form as ever here. Being a fan of Silver jews is similar in many ways to being a fan of Half Man Half Biscuit, in the sense that it is not necessarily the music that one remembers, but the laughter, and wry observations of life delivered within the songs. On 'Strange Victory, Strange Defeat', Berman seems to look out from his Tennessee home, at the state of the scene he helped to birth, and asks
"what's with all the handsome grandsons in these rock band magazines? / And what have they done with the fat ones, the bald and the goateed?"
, seemingly perplexed that what was music and art for people outside the mainstream has been co-opted and sold back to the world in a more sanitised version. The highlight of the record however is 'San Francisco BC' the chiming, rolling tale of a doomed young couple with principles who move to San Francisco, before she decides that she needs someone who can provide for her, leading Berman to plead
"what about the things that we quote 'believe?'"
. The tale continues, and ends with a fight , described as 'Fist cuisine', and a haircut that
"wasn't new wave, it was human error"
.The album is spattered with such tales, and for the most part continues to extol Berman's life view, as told from the front porch of his Tennessee home (he has, he claims,
"Tennessee tendencies and chemical dependencies"
). The jaunty 'Party Barge' makes liberal use of a ships foghorn and seagull sound effects before the mood returns to the gentle country arpeggios of the schmaltzy
"We could be looking for the same thing"
.All told, this is the latest in a line of very good records from Mr. Berman and co, and is a return to the more country side of the band, providing plenty of mischief and melancholy in equal measure along the way.
78%
Links
Silver Jews [
myspace
] [
official site
]